Quick Links
Introduction
DeFi, or Decentralised Finance, enables you to conduct financial transactions using protocols, connectivity, software, and hardware. The use of advanced technology eliminates the need for middlemen and helps investors, merchants, and businesses to conduct financial transactions directly.
It further eliminates the need for a centralised financial model as investors can use various financial services regardless of their location. Through internet connectivity, they get access to distributed databases at several locations and can lend, borrow, trade, or invest.
With the evolution of technology at a rapid pace, investors across the globe are seeing DeFi as one of the most promising ways of multiplying their money. It has witnessed a whopping deposit of $160 billion in just one year. More than 2 trillion capitalisations in DeFi indicate that the cryptocurrency market is here to stay.
The increased number of investors is directly proportionate to the increase in the number of platforms supporting DeFi investments and growth. Yield farming has helped most investors to maximise their profits, minimise their risk and save a lot of time required in transactions.
However, it is not a bed of roses for both techies and investors. Techies need to work constantly to come up with various technical, financial, virtual, and practical problems in DeFi investments. Several platforms have come up with promising solutions to such problems and they have helped investors to a great extent.
Problems with Best Liquidity Determination!
Before we venture into liquidity determination, let us understand what liquidity is. It refers to the ease with which an investor can trade one cryptocurrency for another on a cryptocurrency exchange. In other words, the liquidity of a token refers to the number of tokens locked in a pool. If in any particular pool, the liquidity or number of tokens is less, then it will be difficult for the investor to sell the tokens as per their wish.
In yield farming, a user is supposed to invest in a pair of tokens such as ETH and USDT in a particular pool. In return for their investments, they have rewarded an LP or liquidity provider token as proof of their investment in the pool. Now the investor is entitled to share profits proportional to their investments from the pool.
They can either earn profits by converting their LP token into the base token and reinvesting in the pool or by reinvesting the profits earned in the pool to compound the interest also known as APY (Annual Percentage Yield).
Impermanent Loss: One of the problems in liquidity determination is impermanent loss. It is the loss that the liquidity provider may have to incur if the value of the token they have invested in the liquidity pool reduces. The loss is temporary as an investment can be recovered when the pool rebalances. If an investor withdraws at the time of reduced price, this loss can also become permanent. Investors do not face this loss of value in their investments if the tokens are stored in their wallets only.
Placement of liquidity: Another very big challenge faced by liquidity providers is to analyse the profits offered by various pools and place their investments in a pool offering the highest APY. Since the number of liquidity pools is high, manually analysing the performance of each pool and then shifting the investments is confusing as well as time-consuming. At times, you may miss the right chance and your investments continue to stay in an inefficient pool. Since protocols pay you every minute, every hour, daily, monthly, quarterly, and annually, keeping a track of returns and manual investment is an open invitation to mistakes.
UNO.farm
When liquidity providers across the globe suffer from problems due to market volatility and lack of technology, here is where an UNO.farm comes into the picture. It is one of the most powerful yield generation platforms committed to bringing the best sources of yield in DeFi in one tool. You can use UNO farm to kickstart your investments in the cryptocurrency market, maximise your profits and minimise your risk in the minimum time possible.
Unlike other yield generators where you need to follow multiple steps (more than 10) and a fair number of technical skills to make investments, UNO.farm has made your work very simple and convenient. It is a simple three-step process to kickstart your DeFi journey.
The first step is to choose the Autostrat pool of tokens you trust or the tokens already present in your wallet.
In step 2, you just have to deposit the tokens and UNO.farm will take over from here. Its automated system will find the best DeFi protocol for your deposit and you will start earning maximum profits with minimum risk.
In step 3, you can keep track of your investments using beautiful analytics designed by UNO.farm. You can use it to keep a track of your portfolio growth, redeem your deposits or redeem your investments.
Interestingly, UNO.farm started like most other yield aggregators in the market. Like all others, it also helps in automating liquidity deposits and reinvesting profits. What makes UNO different from all is its simplicity, convenience to use, and profitability? It is designed to keep new investors with low technical skills and market understanding in mind, to help them kickstart their successful journey in DeFi.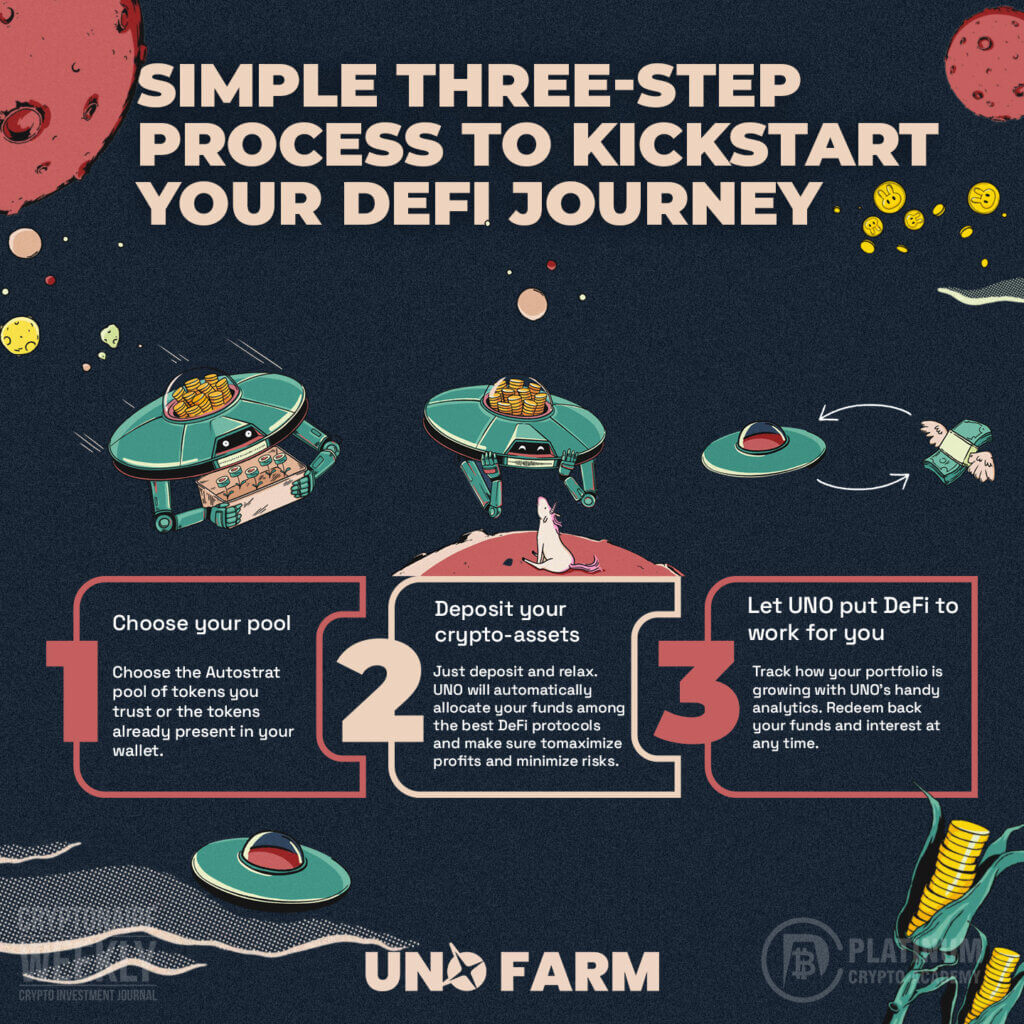 Sustainability of the Product!
The best way to judge the sustainability of any product is by backtesting it against actual data rather than depending only on forecasts and anticipations. Backtesting of UNO.farm gave a fair assessment of its strategy and work model. UNO.farm are back-tested against data retrieved from Beefy Finance API, a giant yield aggregator in the market.
The top 3 standards on which UNO.farm strategies were tested against conventional stakes and hold strategies are:
Changes in APY across various pools
Balance in deposits of users due to market volatility
Profits earned by liquidity providers
Backtesting also included analysis of APY and profits offered by other yield aggregators such as Sushiswap, Pancake, and Curve on DeFi and compared it with APY and profits produced by UNO farms.
UNO.farm gave out a spectacular result by outperforming its competitors by a difference of 55% in terms of APY and profits. In some funds, there was also a whopping difference of 143% and 202%.
The back-testing analysis also showed how UNO.farm quickly responded to market volatility and delivered the highest APY to its liquidity providers.
It can be seen that UNO.farm is a sustainable product that has outperformed conventional stakes, hold strategies, and other yield aggregators in the market.
White label solution!
UNO.farm is a white-label solution to all liquidity determination problems in DeFi.
Market Volatility Problems:
It can protect the investor by minimising the risk in an otherwise volatile market.
They run a pre-audit of every yield source before making it available for the liquidity provider. You can completely trust the yield source suggested by UNO.farm as it is audited and verified by a team of experts.
It offers an anti-rug pull system as a front-running solution to its users.
UNO.farm have moved one step ahead of their competitors by offering an insurance fund to cover every potential loss in yield farming.
It also provides you with an inheritance mechanism to ensure you always have access to funds. In case you lose your key to your funds, the inheritance mechanism can come in handy for you.
UNO.farm not only audits outside yield sources, but it also has strict audit policies for its codes and smart contracts created with the liquidity providers.
Technical Problems:
UNO.farm brings all the yield sources under one tool.
It has simplified the entire method of liquidity depositing, yield farming, and liquidity mining into three steps. With a few clicks on your computer, you can easily harness these complicated processes.
Liquidity depositors will not have to waste time, money, and energy in a manual search for the best yield in the market. UNO.farm runs on multiple blockchains and has automated processes to determine the best yield for the user. It prevents a lot of confusion and user deposits are not left unattended in inefficient pools with low APY.
Detailed analysis of every transaction helps the user to keep track of their investments and growth. They are spared from the tedious job of manual tracking and make investment decisions without any confusion.
Conclusion
UNO.farm is one of the best yield farming platforms offering maximum choices to its investors with minimum risks. It aims at bringing various farming, lending, and liquidity providing opportunities on one platform for exponential growth in DeFi.
UNO.farm is all set to organise investment in DeFi, add to the clarity and authenticity of the process, declutter confusion from the user's end, simplify the process and help them earn maximum profit.
Now, users don't need to analyse or track various pools manually to make investment decisions. The automated process of UNO.farm finds the best yield source with the highest APY and reinvest the liquid fund of the user in that to maximise the growth and profit and minimise the risk.
Hopefully, you have enjoyed today's article. Thanks for reading! Have a fantastic day! Live from the Platinum Crypto Trading Floor.
Earnings Disclaimer: The information you'll find in this article is for educational purpose only. We make no promise or guarantee of income or earnings. You have to do some work, use your best judgement and perform due diligence before using the information in this article. Your success is still up to you. Nothing in this article is intended to be professional, legal, financial and/or accounting advice. Always seek competent advice from professionals in these matters. If you break the city or other local laws, we will not be held liable for any damages you incur.