The cryptocurrency industry keeps getting better and bigger each passing day. Would you like to be part of it? That has most likely been on your mind, and the only problem is a chance to do so. You might not need to look for it longer. As an investor looking for a cryptocurrency-investing opportunity with high chances of it paying off eventually, look no further. After all, the iZOBi Ecosystem offers you precisely that. Would you want to buy a crypto token for as low as €0.05? Your answer will most likely be yes, since such opportunities are hard to come by. However, it exists no doubt, and all you have to do is take that first step.
However, before
However, before doing so, it would be nice to understand what you are getting yourself into to be sure it is worth the risk. That's why this article focuses on the iZOBi Ecosystem, its crypto token, and the cryptocurrency-investing opportunity it offers anyone looking for ways of joining the crypto sector. Read on to find out that and much more about the platform.
HOW DOES THE IZOBI ECOSYSTEM WORK?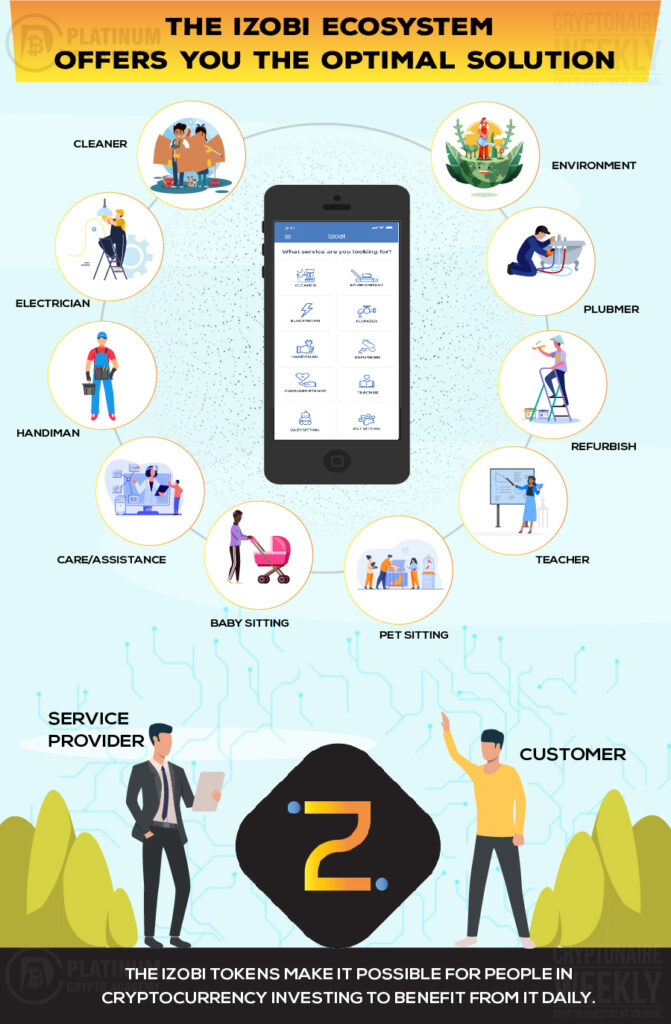 iZOBi Ecosystem will be created for a platform that offers services to homeowners on demand. It will use blockchain technology and will keep evolving as time goes by. With its help, its users will readily engage with various service providers. Doing that will be as easy as it could get. The Ecosystem will also prioritise safety and security due to their importance in such a situation. Last but not least, the transaction cost will also be affordable and reasonable.
However, unlike other on-demand ecosystems, this one will be controlled by the iZOBi token. Interestingly, any platform offering home services on demand will be at liberty to utilise iZOBi technology and iZOBi Ecosystem. After all, they will be free and open-source.
This Ecosystem will have two major modules. One of them will focus on the service providers, whereas the other will serve the customers in this case. As a customer, you will have two different hourly rates to choose from every time you want to order a service. Upon doing so, what you will have to do is wait for a handyman to accept your work. Once it is complete, you will pay the service provider using a credit card, debit card or iZOBi tokens.
The bottom line is that it works like most similar apps, including the famous Uber app. Using it is as simple as searching for a service provider and then getting in touch for the job to be completed as per your requirements. You get the job done and the handyman earns some bucks. Since you may need those services daily, the designers have made it as simple as possible. It is a win-win situation for both homeowners and handymen, indeed.
PROBLEMS WITH THE CURRENT ON-DEMAND ECOSYSTEM
As of now, the on-demand ecosystem is facing several challenges. Let's take a look at them.
1) High risk during hires
One of them is having to take a huge risk as you hire a service provider. There is no way of being guaranteed that the person you hire for the job will do well. For instance, what do you do upon hiring a cleaner who doesn't do your floors the justice they deserve? How fair is it to pay someone your hard-earned money who hasn't done the job well? There is nothing acceptable about it. However, you find yourself having to do so to avoid confrontation. Otherwise, you might end up exchanging insults. which is also degrading. Who wouldn't want an ecosystem that makes that a thing of the past?
2) A time-consuming and complicated hiring process
Another issue with the current on-demand ecosystem is the complicated process. It makes it hard to locate a specialist who will do an excellent job in the first place. As a matter of fact, customers spend a lot of time finding a service provider. There is a wide array of listings, apps and websites offering platforms where customers and service providers can communicate and even initiate a collaboration. Unfortunately, they ended up doing more harm than good. They are confusing, with unfair terms and conditions.
3) Availability of middlemen
The on-demand ecosystem also faces the common issue associated with go-betweens. The platform owners end up pocketing quite a chunk of the money. As much as a platform fee is justifiable, the fraction is often too significant. As a result of that, service providers may receive peanuts, despite customers paying handsomely for their work.
4) Lack of industrial leadership
The biggest company in this ecosystem takes up a small percentage of the entire market – 10% to be precise. The fact that it is that small means that the industry doesn't have giants. The missing industry leaders have left the sector without role models or a particular path to follow. Without that, a problem is bound to happen. Last but not least, worldwide standards are still not well outlined.
These are problems that could have been solved like yesterday. As long as they remain unsolved, the involved parties will continue suffering and being inconvenienced. The customers are the most affected, and so are the service providers to some extent. Is it all lost, and they have to learn to live with them? Not at all.
THE IZOBI ECOSYSTEM OFFERS YOU THE OPTIMAL SOLUTION
Fortunately, the iZOBi Ecosystem has what it takes to solve the issues. The main problem with the existing on-demand ecosystem is conflict. iZOBi Ecosystem designers understand that all too well, explaining why they have chosen to adopt blockchain technology.
Thanks to such cryptocurrency investing, you will also save a lot of time. For instance, there are over ten services provided on the Ecosystem. As a result, you don't need to have several apps for the various services. Instead, visit the site and get almost every service you may need to maintain your house. One can say without any fear of contradiction that it manages all home services.
Equally importantly, all the services are already described in the app. Consequently, you won't spend a lot of time jotting down the services you are looking for. On the contrary, your job will be checking the boxes, which doesn't take much of your time. Therefore, a homeowner will book a handyman to do what's needed to be done within a short time.
The Ecosystem also eliminates middlemen who have for a long time exploited customers and service providers. That would be good news to the two parties since the customer will pay less, whereas the service providers will pocket more.
Last but not least, you only pay once your job is completed as per your requirements. Interestingly, you have a myriad of options when making payments. From credit cards to debit cards, there are various payment methods. The most outstanding one is using crypto tokens to pay for the services. The iZOBi tokens make it possible for people in cryptocurrency investing to benefit from it daily. After all, you get to pay for your home services using crypto tokens.
WHAT ARE TOKENS IN THE IZOBI ECOSYSTEM?
Tokens in the iZOBi Ecosystem will be the main currency for every transaction or payment carried out using the platform. The crypto tokens are built using the BEP-20 protocol, which is based on the Binance Smart Chain. Additionally, it ensures any buyer owns a certain percentage of the funds going towards the investment of the iZOBi platform. Each crypto token is created and sold under iZOBi, whereas a Smart Contract regulates the sales. The Binance Blockchain deploys it on this platform as a decentralised BEP20 token. All that is done to protect every participant and at the same time maintain a high level of transparency.
As far as the iZOBi Ecosystem is concerned, the crypto token is used in various ways. First, a customer can use them to pay a handyman for his services. Secondly, the service providers receive them as bonuses. Therefore, they are a crucial part of this Ecosystem as they benefit all the involved parties.
HOW IZOBI ECOSYSTEM IS THE SAFEST
The importance of safety is indisputable, especially when working with home service on-demand services. For instance, the customer wants a place to get service providers who will work as per their demands. They don't want to pay for mediocre services since everyone appreciates the value for money. On the other hand, the service provider doesn't want to work hard only to go unrewarded. Fortunately, the iZOBi Ecosystem uses blockchain technology to make its platform as safe as possible.
It will ensure that every contract signed between a customer and a service provider is recorded. To avoid duplication that could lead to confusion, each record has a unique digital code. In addition to that, the records are stored in a shared database to ensure transparency at all times. However, no one can delete, edit or update existing records.
Under such circumstances, conflicts would be minimal. What do you expect when each payment, task, process or agreement is in the form of a digital record with a signature? First of all, sharing and storing the records would be a breeze. One would also easily identify a transaction and, above all, validate it.
Consequently, intermediaries and mediators may be unnecessary. Bankers, brokers and lawyers will no longer be part of the equation. On the contrary, organisations, individuals, algorithms and machines will interact seamlessly and perform various transactions without conflicts. That is only possible with the blockchain, and that's why the iZOBi app has prioritised it.
IZOBI ECOSYSTEM OFFERS CRYPTOCURRENCY-INVESTING BENEFITS
If you are looking for a cryptocurrency-investing opportunity, the iZOBi Ecosystem is worth your time and money. The platform has an ICO program that gives you a chance to get a crypto token or as much as you wish. By buying them, you become an owner of a certain percentage of the investment. You can exchange it with any asset or choose to trade them, and in both cases, you are most likely going to gain profits. The good thing is that the ICO enables you to buy them at a relatively low price. There are high chances that the value of every crypto token will increase over time. Once that happens, you are at liberty to exchange them with other currencies or assets. However, that's not the only option because you can continue owning them and instead, use them for cryptocurrency trading.
Do you feel like this is the cryptocurrency-investing opportunity that you have been waiting for all along? If your answer is a resounding yes, then you'd better grab the opportunity. iZOBi has an ICO program that closes at the end of the month. Its price is quite reasonable since one crypto token will only cost you €0.05. Besides Euros, they also accept Bitcoin, Ethereum and Binance Coin. With up to 2,400,000,000 tokens, equivalent to 2.4 billion, that's quite an opportunity.
CONCLUSION
Clearly, the iZOBi Ecosystem is changing homeowners' lives for the better. Through crypto token, it is enabling the use of cryptocurrencies to pay for house-related activities. It is also simplifying how customers find and hire handymen. The designers have identified the problem facing the current system and have gone ahead to look for solutions. It saves time, since you only need a minute to book a service provider. The absence of middlemen is also a breath of fresh air to customers and service providers. It has what it takes to change how customers pay the service providers for work done. Besides cards, one can also use a crypto token.
Last but not least, its ICO is an incredible cryptocurrency-investing opportunity. With less than a month left to benefit from it, one better hurry up and do the necessary before the time lapses. It may mark the beginning of a great crypto investor in the future.
Hopefully, you have enjoyed today's article. Thanks for reading! Have a fantastic day! Live from the Platinum Crypto Trading Floor.
TOP 10 UK CRYPTOCURRENCY BLOGS, WEBSITES & INFLUENCERS IN 2021
Earnings Disclaimer: The information you'll find in this article is for educational purpose only. We make no promise or guarantee of income or earnings. You have to do some work, use your best judgement and perform due diligence before using the information in this article. Your success is still up to you. Nothing in this article is intended to be professional, legal, financial and/or accounting advice. Always seek competent advice from professionals in these matters. If you break the city or other local laws, we will not be held liable for any damages you incur.