Quick Links
Over the past 18 months, DeFi protocols have taken the crypto markets by storm. There has been an unprecedented rise in the total value locked (TVL) of DeFi tokens. Now, as many institutional investors are jumping the DeFi bandwagon as retail and private investors, the data released by the top cryptocurrency exchanges reveal that more and more conventional investment giants are now betting big on decentralised finance.
Lately, we have been introducing our readers to promising upcoming and ongoing projects that we see are spinning investor eyeballs. While the DeFi space is yet to mature, some issues have been disenchanting investors.
The challenge to find the best DeFi project and the top rewarding token becomes more challenging as the options seem to be plenty. However, not all projects are the same and not one box fits all. Kaiken Inu is a promising DeFi project that has garnered investor attention, compelling us to discuss the project further. In this article, we will go in-depth with our Kaiken Inu review and explore what it has to offer. 
What Is The Kaiken Inu Project?
Kaiken Inu is a DeFi project but with a difference. It is a feature-packed, deflationary token with a complete ecosystem that is perfectly created to help mid-cap investors looking to tap into the DeFi markets. Strategically, the project also leverages the power of meme tokens. Kaiken Inu calls itself a decentralised staking token on Ethereum Network with a community-governed platform, NFT Marketplace, and Hybrid HD Game. The idea behind the Kaiken Inu project is to provide an advanced alternative to conventional DeFi protocols and also make DeFi easily accessible to all. In addition, it also offers more scalable passive income opportunities and utility, contrary to typical meme coins. Most meme coins have no intrinsic value. That is not the case with the Kaiken Inu token. The Kaiken Inu project is a complete ecosystem with different features that allow token owners to get access to more exciting income opportunities. Also, it is essentially a DOG coin that is driven by a purpose. If you're an animal lover, by owning Kaiken Inu tokens, you will be automatically contributing to their wellness.
The project will donate  a certain percentage of the circulating token supply to a chosen recipient which will be announced later. The project also has a broader vision and is futuristic in approach. From the very onset, Kaiken Project is committed to making progress on the development front by adding new products and platforms to its ecosystem. Kaiken plans to launch a native NFT marketplace, launchpad and more. 
What Are Kaiken Inu Tokens?
Kaiken Inu tokens are decentralised tokens built on the ultra-powerful Ethereum Network . These tokens are native to the Kaiken Inu ecosystem (we discuss the details in the subsequent section). The native Kaiken Inu tokens have multiple utilities within the Kai ecosystem. They can be used to generate a passive income as token holders are guaranteed rewards, which increase in perpetuity as the transactions on the network grow. Kaiken token owners also get to participate in the governance of the platform and have a say in the decision making. Investors can also get access to various features of the Kai ecosystem and explore additional income opportunities like staking Kaiken Inu tokens. In addition to Kaiken Inu tokens, the platform also offers other tokens built for specific purposes allowing users chances to earn more Kaiken Inu tokens by participating in different activities.
It is important to note that Kaiken Inu tokens are highly scalable and they are greener tokens. Kaiken Inu tokens leverage the Ethereum network, which is a proof of stake (PoS) blockchain. Unlike the conventional proof of work (PoW) blockchains, Ethereum network consumes minimum power and it is highly environmentally friendly when compared with cryptocurrencies like Bitcoin. The ecosystem design also makes the tokens not only more profitable but also sustainable.
Issues such as liquidity and security are dealt with. A certain percentage of the transactions are locked in liquidity to keep the liquidity floor stable. Also, the continuous  burn and contribute to increasing token prices because of reduced supply and scarcity. Moreover, game lovers will appreciate the soon to be released game which will be built by a real game developer company.
Kaiken Inu Token Features
Kaiken Inu tokens are a next-generation meme coin that not only represents the internet culture and is cause-driven but also provides investors with seamless opportunities to grow their crypto wealth. We already discussed the use of the Kaiken Inu tokens and what sets them apart in the previous section. Here, we would like to focus on exclusive features that make Kaiken Inu Tokens stand apart from the typical DeFi Coins.
1. Innovative DeFi token that expands the horizon for meme and Dog Coins: The limited utility of typical meme coins has been one of the biggest investor pain points. Even coins such as Dogecoin and Shiba Inu, despite being so successful, lack utility. All investors can do is rely on the price movement, which is not something they can control. If the prices go down, the investments suffer. Kaiken Inu takes it to another level. As a meme token, it is advanced because it also leverages the best of DeFi protocols to provide users with a unique opportunity to earn passive income. Without having to rely on market prices, Kaiken Inu token owners earn fixed rewards on their holdings. Moreover, they can use their Kaiken Inu tokens across the Kai ecosystem to access advanced features and participate in more innovative earning opportunities. 
2. Connecting philanthropy and blockchain: The Kaiken Inu project is planning to connect philanthropy and blockchain and is pioneering the philanthropy 1.0 concepts. Its decentralised mechanism allows for the automated distribution of funds to DOG shelters across the globe. A certain percentage of circulating tokens is given in charity to Dog shelters. While token owners continue earning with their Kaiken holdings, they also get to participate in charitable activities. 
3. Non-Fungible tokens: Kaiken Inu will also be used to create NFTs. 
Exploring Kaiken Inu Ecosystem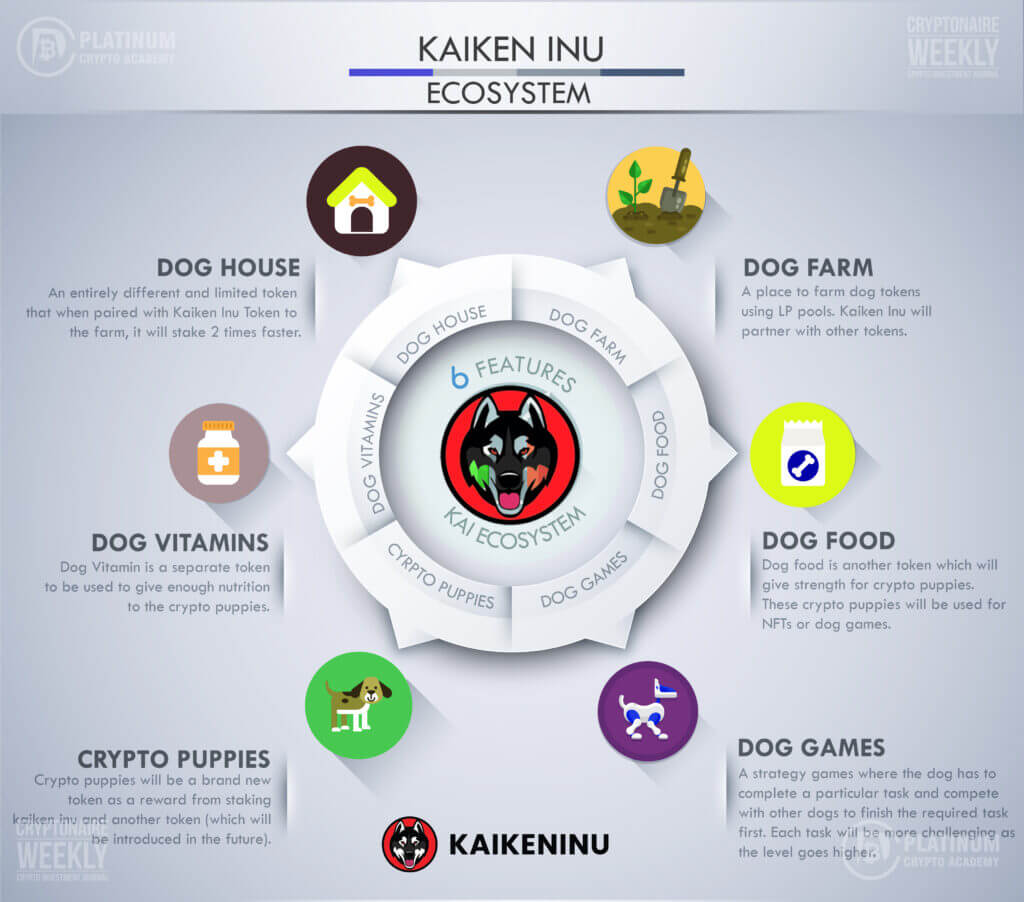 Kaiken Inu is not just a typical DeFi project where you get to buy a coin and it promises a fixed reward. Kaiken is laden with all the features of a conventional DeFi token but also offers an advanced and robust thematic ecosystem, which makes DeFi investments fun, profitable, transparent and, most importantly, highly secure. Let's take a quick look at the Kaiken Inu ecosystem.
1. Dog Farm: Kaiken Inu dog farm allows Kaiken token owners to stake and increase their crypto earnings. In the dog farm, Kaiken Inu tokens are paired with other coins like Ethereum's ETH to earn staking rewards.
2. Dog House: This is another Kaiken token that users can leverage to earn Kaiken Inu tokens. It can be paired with Kaiken Inu tokens and earn rewards. The best part is these tokens generate quicker rewards and almost twice that of the Kaiken Inu tokens.
3. Dog Vitamin: These are other tokens powering the Kaiken Inu ecosystem. These tokens are used to feed the crypto puppies within the ecosystem to help them become powerful fully-grown dogs for Dog Games.
4. Dog Food: Another token to provide more strength to crypto puppies. These tokens help crypto puppies to become NFT or digital assets, which can be traded on the open market.
5. Crypto Puppies: Crypto puppy is a special token that users will earn as rewards for staking Kaiken Inu tokens.
6. Dog Games: A set of native games where Dogs will compete with each other to get to the next level. In the process, token owners will be able to earn more rewards by participating in these games.
On top of these, the Kaiken Inu ecosystem has other components and plans.
– Kaiken NFT Marketplace: Non Fungible Assets have been gaining immense popularity. The Kaiken Inu ecosystem hosts a native NFT marketplace where Kaiken Inu token owners can get access to the hottest NFTs on the market. The Kaiken NFT Marketplace is a "decentralised marketplace for buying and selling of Non Fungible Tokens. It offers special benefits for $KAIKEN token holders, including discounts, gifts and fee incentives. More features could be added through Kaiken Governance." Kaiken Inu token owners can use their tokens to acquire NFTs and also participate in the governance to decide the features and functionalities of the marketplace.
All in all, the Kaiken ecosystem offers a complete package to investors who are looking to tap into the DeFi markets. The most important aspect is it gives control back to the community. As such, even a mid-cap or retail investor remains in full control of their token ownership and gets exclusive opportunities to multiply their crypto wealth. It makes Kaiken Inu one of the top rewarding tokens on the market.
How To Earn And Grow With Kaiken Inu
DeFi is exploding. Kaiken Inu provides investors with an opportunity to leverage their crypto wealth and earn a steady income. The best part is that users have multiple different earning opportunities and don't have to rely solely on the price movements. There are many different ways that users can earn and grow their crypto wealth with the Kaiken Inu project:
1. Staking Kaiken Inu Tokens: The Kaiken Inu Dog Farm allows users to stake their Kaiken Inu tokens and earn static rewards. The process can be automated to generate fixed and guaranteed passive income. An exciting update is that Kaiken Inu is already planning to partner with other staking tokens, which will provide investors more options and flexibility to earn better staking rewards.
2. Other Rewarding Tokens: The Kaiken Inu ecosystem offers many different rewarding tokens, and users can choose to leverage what suits them best. For example, the Dog Farm, which has a separate token, when paired with Kaiken Inu tokens, will allow investors to earn rewards twice as fast.
3. Dog Games: By participating in Dog Games with their tokens, users on the platform will be able to earn additional rewards. There are native Dog Games to participate in, and with every level, the earning can increase.
Conclusion
Both DeFi and meme coins are on a roll. Kaiken Inu is a hybrid token that leverages the best of both worlds and provides investors with unique opportunities to grow their crypto wealth. Most importantly, Kaiken is a full ecosystem of different products and token sub-sets, which not only provides Kaiken token owners with utility but also gives them the flexibility to participate in rewarding activities of their choice. Kaiken is also futuristic in approach and offers practical utility to investors. The project will also feature its native NFT marketplace. Not to mention that it also serves the purpose of helping dog shelters globally. On top of all these, Kaiken Inu team will bring the most anticipated high-end 3D dog game where Kaiken token and other token offerings can be fully utilized. As such, if you're looking to grow your crypto asset with DeFi, Kaiken Inu should be on your list of top DeFi projects to consider.
Hopefully, you have enjoyed today's article. Thanks for reading! Have a fantastic day! Live from the Platinum Crypto Trading Floor.
TOP 10 UK CRYPTOCURRENCY BLOGS, WEBSITES & INFLUENCERS IN 2021
Earnings Disclaimer: The information you'll find in this article is for educational purpose only. We make no promise or guarantee of income or earnings. You have to do some work, use your best judgement and perform due diligence before using the information in this article. Your success is still up to you. Nothing in this article is intended to be professional, legal, financial and/or accounting advice. Always seek competent advice from professionals in these matters. If you break the city or other local laws, we will not be held liable for any damages you incur.