You may be wishing for a platform to help find and invest in solid, well-founded projects and access to research them further. That might be confusing if it involves crypto. As a crypto investor, such platforms are rare. But, there is one of a kind platform that solves this puzzle.
Loop Ventures provides a unified investment portal that takes much of the guesswork out of finding truly extraordinary projects by diving deep into researching them before partnering with the project and presenting them to you, the investor.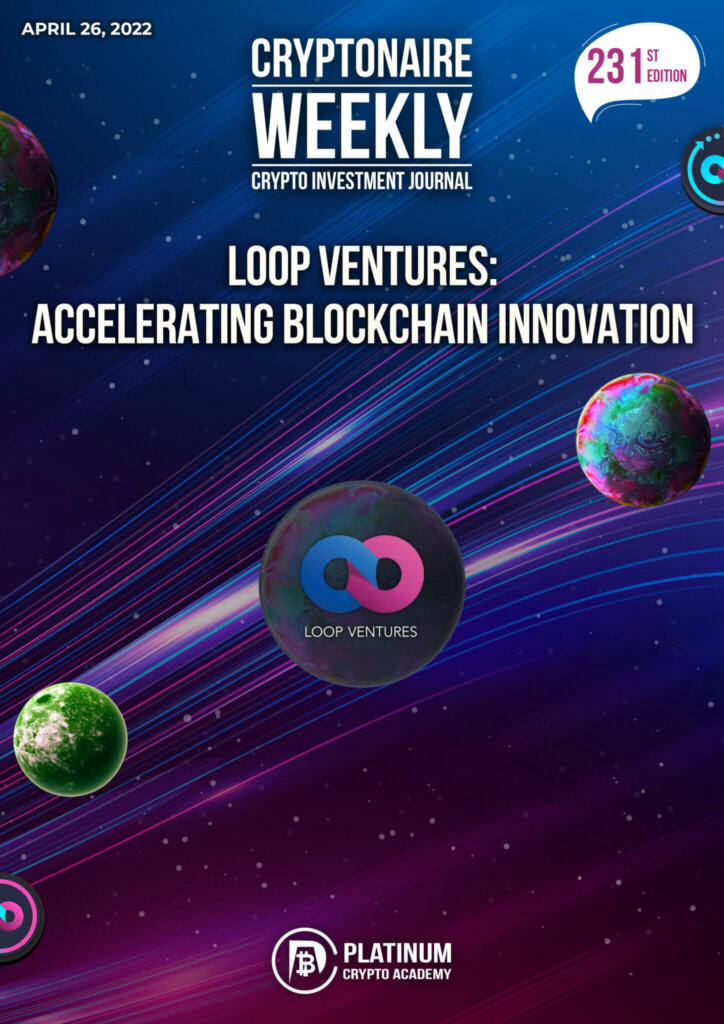 Introduction to Cryptocurrency Investing
A long time ago, people used to save and invest their money in banks. Governments would snoop to monitor the activities of the accounts even without your consent. Woe on you if they wake up on the wrong side of the bed. They could freeze all your assets. Such circumstances forced the development of decentralised structures for investments. Cryptocurrency and blockchain came in handy.
The decentralisation of blockchain saw most people embrace it. With time, other products such as Decentralised Finance (DeFi) and Non-Fungible tokens (NFTs) followed. The level of security while transacting through the blockchain led to more people embracing it. Smart contracts would help you transact without meeting the other person.
Even though investing in cryptocurrency looks enticing, some guidelines are essential to observe as a new investor.
The first step is to become familiar with significant currencies' market capitalisations and prices. Because the Bitcoin market is so unstable, keeping up with the latest news is crucial. At first look, most of the market appears to be a risk, but by researching each of the tokens and the underlying projects and technology, you can become an informed crypto investor. With information everywhere on the internet, determining market caps should not be a task. Yet, you can check sites such as CoinMarketCap and Crypto Pro.
Besides, invest what you are ready to lose. When I initially became interested in the cryptocurrency market, one of the essential pieces of advice I heard was to invest only as much as I could afford to lose entirely. Limiting your assets to your disposable money helps relieve the stress of potentially jeopardising your lifestyle. Remember that digital currencies are not regulated by any central authority, financial institution, or government.
Rather than a stock or bond, cryptocurrency is better equated to a product. Profits are distributed to shareholders, and dividends are paid out.
The long-term worth of cryptos is determined by their scarcity and the fact that they have a finite or limited supply.
What is Loop Ventures?
Loop Ventures is the world's first unified investment portal on Terra, and was built by leading blockchain experts with years of experience across a wide range of products and projects. It provides investors early access to the most innovative blockchain projects which have been comprehensively vetted for quality and validated for market demand by their expert team.
Loop Ventures also helps in actualising ideas to become long-lasting blockchain businesses. It accelerates the establishment and growth of creative ventures that address real-world problems. All of their projects are thoroughly evaluated for quality with curated token engineering, allowing them to proceed fast to IDO and deliver exclusive chances to seasoned investors.
Loop Ventures employs a unique process to connect innovators with mainstream and blockchain capitalists, allowing us to build a blockchain ecosystem that is durable, marketable, and adaptable. Loop Ventures offers both private and public investors exceptional opportunities through carefully selected and validated programs.
How does Loop Ventures use their incubator, Nova, to assist and accelerate projects' growth?
Loop Ventures has developed several innovative approaches that will propel cryptocurrency projects to the next level. Here are some of the techniques:
Blockchain Consultation & Advisory
Loop Ventures assists projects in effectively launching an IDO by guiding them through the blockchain cosmos. Loop Ventures' skilled staff has a history of success, has direct access to TFL, and collaborates with some of the world's most knowledgeable blockchain consultants.
Liquidity, Tokenomics, and Business Modelling
Tokenomics tailored to company and revenue models boosts the likelihood of meteoric rise and long-term growth. Regarding liquidity, reward mechanisms, and DeFi expertise, direct collaboration with the Loop DEX offers unrivalled benefits.
Legal Structures & Incorporation
They advise on rules that may represent a danger to a project's establishment and operation. Over 200+ blockchain companies have been incorporated and launched by Loop Ventures' world-class legal experts across numerous chains and jurisdictions.
Capital Raise
Loop Ventures facilitates the entire capital raise process by investing in projects and making critical investor introductions for the private round. Partnerships with numerous launchpads for public token sales and IDOs provide various fundraising options.
Accelerated Product Development
Loop Ventures' development teams are among the Terra ecosystem's most significant and quickest expanding. Their technical competence across every form of product innovation, specialising in Smart Contracts and NFTs, allows projects to minimise their product roadmap timescales.
Launch & Go-to-Market
Loop Ventures creates a full-scale launch strategy that maximises target audience reach for an explosive launch. Also, they generate integrated marketing tactics to be implemented to acquire the proper clients.
Rapid Scale-up & Partnerships
They create hyper-growth routes and establish strategic partner connections to produce a network impact. Loop Ventures' global network of partners and relationships is rapidly expanding, creating synergies for reciprocal collaborations.
Loop Ventures has worked with decentralised, multi-chain protocols to help blockchain-based companies with fundraising, token distribution, and enhanced liquidity, giving founders and investors the best value.
Using their partner protocols to launch a project provides unrivalled security for all parties involved. They also connect entrepreneurs with a community of crypto capitalists and fans who are eager to learn about and invest in new ventures.
Loop Ventures aids in the creation of a project's ecosystem. Furthermore, these networks frequently cross paths, culminating in a network effect.
The vision of Loop Ventures – The Three i's
Innovation, investments, and impact are Loop Ventures' guiding principles.
Innovation may be a buzzword in the crypto world, but Loop Ventures is showing everyone what it really means. They want to solve real-world problems using leading-edge blockchain technology, and are finding and incubating the projects to do just that.
'Investments' seems cut and dry, but it's about connecting the right investors with 'smart money' for projects. Loop Ventures has relationships with leading VC firms and private investors globally, and they're making it easier than ever for public investors to make their way into the crypto world.
Finally, impact – the real reason Loop Ventures works so hard. They want to create a better future for communities, the environment, and the planet through creative solutions that have real, tangible impacts.
Expert Team Behind Loop Ventures
Loop Ventures has a lean team of seven. The team is made up of the following:
Executive Director Maz Zaman. Mr Zaman is a tech and blockchain scaling advisor. Besides, he has specialised in venture growth. His profile indicates his ability to push Loop Ventures to the next level.
Chief Operating Officer Marcela Rodriguez. Marcela has been managing enterprises in several industries for the past nine years. She earned her MBA from RMIT in 2012 and previously worked as a portfolio manager for public funds. She has expertise in product management, sales, human capital, accounting, admin, and event planning. She co-founded Vamos Melbourne, a Melbourne CBD hospitality venue, and Red Match Music, a music licensing marketplace for young artists in Australia, the United Kingdom, and Colombia.
Chief Technology Office Simon Rahme. Rahme has experience with startups. His expertise in blockchain also places him as a critical person in the seamless integration of blockchain with the real world.
Chief Blockchain Officer Thomas Norwood. Thomas is a co-founder of Loop Finance. This is a product for the Terra blockchain and beyond.
Other team members include Mo Zaman, Chief Project Officer at Loop Ventures. Rowan Hill is a Chief Growth Officer, and Rachel Moss is the Chief Marketing Officer.
The team behind Loop Ventures is well experienced and can push the blockchain industry a notch higher.
Conclusion
Loop Ventures may be the most innovative and hardworking platform on all of Terra. Not only are they creating unique, high-value opportunities for both private and public investors, they're also incubating and collaborating with some of the world's most creative blockchain projects.
If you are looking for a unified investment platform, Loop Ventures is your go-to shop. This is not just an ordinary cryptocurrency investing platform – this is an exceptional new platform from a professional team that is well structured and dreams to propel your investment. Take part in the blockchain revolution.
Hopefully, you have enjoyed today's article. Thanks for reading! Have a fantastic day! Live from the Platinum Crypto Trading Floor.
Earnings Disclaimer: The information you'll find in this article is for educational purpose only. We make no promise or guarantee of income or earnings. You have to do some work, use your best judgement and perform due diligence before using the information in this article. Your success is still up to you. Nothing in this article is intended to be professional, legal, financial and/or accounting advice. Always seek competent advice from professionals in these matters. If you break the city or other local laws, we will not be held liable for any damages you incur.