Today's Article has a primary focus of dicussing the QoinSuit platform and the benefits it brings for cryptocurrency traders. Many investors feel that cryptocurrency is nothing but a simple way to store value. However, there is more to crypto investing and trading. Whether you are new or among professional cryptocurrency investors, you must know that they have the potential to transform the political and financial world in the future. There are hundreds of crypto platforms that offer a wide range of cryptocurrencies for trading.
But it is crucial to choose one that simplifies the entire cryptocurrency investing process. This is where innovative platforms such as QoinSuit offered by QoinIQ can transform and simplify the crypto trading experience.
DISCOVER THE BENIFITS OF THE QOINSUIT PLATFORM FOR CRYPTOCURRENCY INVESTORS AND TRADERS
The crypto market operates on a 24 hours basis since it isn't controlled or centralized by any governmental body. Cryptocurrency investors can trade anytime, anywhere, which also implies that they can organize their schedule, as well as trade whenever they want to.
In addition to this, cryptocurrency investing is a transparent process. Cryptocurrency trading is based on blockchain tech, which implies that while transactions are visible, personal details remain hidden. This also makes crypto investment and trading highly secure as the protocol is difficult to manipulate by any individual, government, or organization.
Crypto investment is highly secure as users can fully control their transactions by keeping their cryptocurrencies in the wallet. Apart from this, no one can steal identity as personal information isn't required while conducting transactions. Another facet of crypto investments is that they are highly volatile. Since volatility makes the crypto market very exciting, they have made trading bodies popular among cryptocurrency investors as it allows them to exercise complete control over their trades. With cryptocurrency trading, investors can indulge in both day and long-term trading. Also, the crypto market is both fast and easy to access. In the absence of any centralized governance, traders can carry out their transactions directly among themselves in any part of the world. Lastly, the crypto market offers immense opportunities for earning profits by trading a wide range of cryptocurrencies, backed by decentralized and blockchain technology.
TOP BENEFITS OF THE QOINSUIT PLATFORM THAT CRYPTOCURRENCY INVESTORS AND TRADERS WILL ENJOY
QoinSuit is QoinIQ's revolutionary decentralized and multi-exchange trading platform and order management system, designed to enhance trading efficiencies in the most versatile and potent manner. The platform allows you to manage books and execute your orders in a wide range of cryptocurrencies on different crypto exchanges, with excellent execution efficiency.
After carefully analyzing the market, QoinIQ identified the areas that needed improvement and further established a platform that has the potential of getting rid of such flaws. With QoinSuit, QoinIQ intends to meet the growing needs of the cryptocurrency community.
FOLLOWING ARE SOME OF THE BENEFITS OF THE QOINSUIT PLATFORM: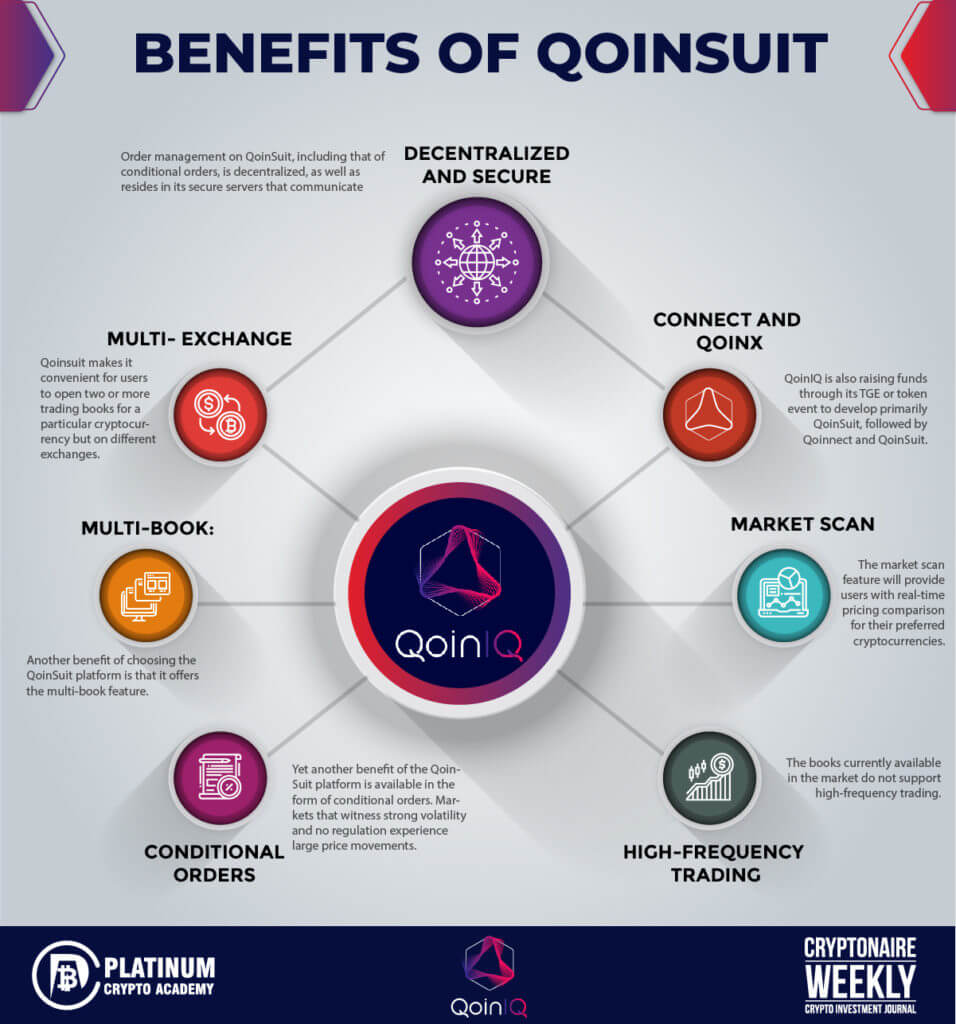 Decentralized and Secure: Order management on QoinSuit, including that of conditional orders, is decentralized, as well as resides in its secure servers that communicate with different exchanges connected to QoinSuit. Using this feature, traders can operate autonomously, and enter as well as manage orders, which are distinct from those being provided by other exchanges. This also arms QoinSuit against any market manipulations and sets high standards of excellence in hardware and security.
Multi-exchange: QoinSuit makes it convenient for users to open two or more trading books for a particular cryptocurrency but on different exchanges. Users can also manage the books from a single screen and compare the prices of a crypto pair on multiple crypto exchanges. Cryptocurrency investment enthusiasts can also exploit arbitrages between cryptocurrencies and futures or options, without the need to open multiple screens on their computers. Thus, the multi-exchange feature provided by QoinSuit allows users to manage all their accounts simply and efficiently.
Multi-Book: Another benefit of choosing the QoinSuit platform is that it offers the multi-book feature. The tools currently available in the crypto market display only a single book or/and chart at a given point in time. But QoinIQ has created a distinct platform that puts cryptocurrency investors in control of everything. In other words, cryptocurrency investing enthusiasts are at liberty to choose what data they want to view and the vehicles that must be negotiated.
Also, since many crypto exchanges have launched crypto futures as well as options trading, QoinSuit users can expect to see many more financial instruments in the future. Thus, on the QoinSuit platform, users will get to view multiple data on one screen. What this also implies is that traders who indulge in arbitrage or using the above financial instruments for hedging a position can view several data/price charts on a single screen simultaneously.
Conditional Orders: Yet another benefit of the QoinSuit platform is available in the form of conditional orders. Markets that witness strong volatility and no regulation experience large price movements. In the absence of a rigid money management strategy, traders are bound to lose. However, on QoinSuit, traders can manage conditional orders, including taking profit, stop loss, or even trailing stop, with different parameters and directly via the book. For instance, with one click, traders can enter as many as three orders at once, thereby managing their positions under different market conditions. Apart from this, cryptocurrency investors can also manage conditional trade orders separately, which allows them to protect their positions and maximize profits, despite being away from their terminals.
QoinSuit supports multiple displays, which makes it ideal for experienced cryptocurrency investors or those who prefer to use two or more monitors for tracking additional data, without being interrupted. Additionally, the QoinSuit platform also helps traders to view multiple chart graphs simultaneously on just one display. It helps them to conduct technical analysis using an array of indicators.
High-frequency Trading: The books currently available in the market do not support high-frequency trading. However, QoinSuit aims to fill this gap, and will also launch the scalper book for meeting the requirements of customers with high operational capacities.
Market Scan: The market scan feature will provide users with real-time pricing comparison for their preferred cryptocurrencies and allow them to purchase where prices are attractive and perform arbitrage.
Connect and QoinX: QoinIQ is also raising funds through its TGE or token event to develop primarily QoinSuit, followed by Qoinnect and QoinSuit. In essence, QoinX is a platform that will be programmed and designed as a cryptocurrency derivative products trading platform and will offer support in modeling and customization of structured products. On the other hand, Qoinnect will serve as the spot for connectivity wherein users will get to exchange opinions, interact, and share knowledge with other users in the community.
THE FUTURE VISION OR FUTURE PATH OF QOINIQ
The QoinIQ utility tokens shall be made available to users for accessing the QoinSuit platform, as well as its services. Users can pre-purchase them via the TGE or the Token Generating Event. During the event, as many as 100 million tokens with a nominal value of CHF 0.25 shall be minted. After the event, the QoinIQ tokens will get listed at one or several exchanges. The max supply of the QoinIQ tokens sold at the event will correspond to a counter value of CHF 15 million. Based on how the QoinSuit platform develops, about 5percent of the freely floated tokens may be burned. However, QoinIQ will announce this well in advance.
The QoinIQ utility tokens shall be utilized for accessing and using the services available within QoinSuit. While 60 percent of the tokens shall be sold through the TGE, 40 percent shall remain with QoinIQ for the further development of the QoinSuit platform.
THE TOKENS THAT REMAIN WITH QOINIQ WILL BE UTILIZED FOR THE FOLLOWING SERVICES:
– For accessing different levels of the platform. Every level will provide guaranteed access to chosen exchanges that will vary by the membership that a user chooses.
– For accessing QoinSuit's training version and participating in personalized sessions. Different levels of subscription will be present to match the requirements of varied users, with layered periods and services. Every subscription level shall be selected, accessed, and acquired via the platform using QoinIQ tokens.
– Additionally, there shall be different packages available with different rebate levels for users (based on their chosen subscription periods and levels). The longer the subscription period, the higher will be the fee discount.
CONCLUSION – BENEFITS OF THE QOINSUIT PLATFORM
To sum up, there is no denying that the QoinSuit platform offers a host of benefits to cryptocurrency investing enthusiasts across the world. Although there are plenty of crypto trading platforms available in the market, the expertise and excellence that QoinSuit offers to its users are unequalled. QoinSuit overcomes several limitations to make it convenient for users to connect their accounts or account to the platform quickly and easily. The platform allows crypto traders to synchronize their balances, orders, and transactions automatically, and thus they can benefit from all the features offered. Features such as decentralized order management, multi-exchange, extended conditional orders, trading books, easy-to-view charts, and graphic layouts make QoinIQ one of the most user-friendly crypto platforms for traders from all walks of life.
To learn more about QoinIQ's QoinSuit platform, visit https://www.qoiniq.com/!Hopefully, you have enjoyed today's article. Thanks for reading! Have a fantastic day! Live from the Platinum Crypto Trading Floor. 
TOP 10 UK CRYPTOCURRENCY BLOGS, WEBSITES & INFLUENCERS IN 2021 
Earnings Disclaimer: The information you'll find in this article is for educational purpose only. We make no promise or guarantee of income or earnings. You have to do some work, use your best judgement and perform due diligence before using the information in this article. Your success is still up to you. Nothing in this article is intended to be professional, legal, financial and/or accounting advice. Always seek competent advice from professionals in these matters. If you break the city or other local laws, we will not be held liable for any damages you incur.