Quick Links
Crypto investment is becoming more relevant among new-age traders and investors. Aristo is great for anyone aiming to achieve a stable trading profile with higher returns. It is a new age crypto token named after Aristotle. It is an ERC20-based token inheriting security from Ethereum. the mother brand is planning to make crypto investment secure and hassle-free with the new Aristo token.
This unique token ensures investors go through a simple procedure. Hence, one does not need to buy a bunch of cryptocurrencies and go through different procedures. A single token will address all the exsiting problems.
This new-age token is a product of Solidity. Solidity offers advanced and object-oriented programming language for smart contracts. This way, traders get their contracts that are versatile, support inheritance and other legal formalities. Astro offers returns and better earnings around the clock. With modern technology and state of the art security, the token will offer a better allocation of assets and mature returns every time. Additionally, it will not go through multiple red tape complications.
What Is Crypto Centralised Finance?
The crypto tokens use blockchain technology to offer encryption and better security during mining and transaction. Centralised finance of CeFi is one of the standard trading methods for cryptocurrencies. Aristo also abides by this method. In centralised finance, crypto traders need to transact through a central exchange. They also need to manage their funds and digital assets through these changes.
Traders do not get a private key to their crypto wallets or assets wallets. But, they share their private keys with the exchange for the safety of their assets. In CeFi, the traders trust the central exchange for all the transactions and the network for transactions. But, on the other hand, the exchange offers the traders details about their potential partners. Besides that, the centralised exchange also offers better security. It keeps the wallet keys secured and maintains another wall of security. Hence, even if a trader loses or forgets the key, they won't lose their assets.
A trader needs to obey the rules of that particular exchange in return for these securities. Besides that, they also need to pay a small transaction fee to exchange for every transaction. Here, the exchange works as a middleman who manages all the crypto transactions for the trader and offers security against a certain charge.
The Problems With Centralised Financial Systems
The centralised exchanges are still popular among traders. Since the CeFi establishments are easier to use and are less complex, mostly new traders use them. But, the centralised financial systems are not fool-proof. They also have multiple problems and complexities. These are-
Higher Risks Of Hacking 
Hacking is a threat to any crypto-trader. They might end up losing all their crypto assets and tokens, and money through hacking. In a centralised financial system, the traders are more vulnerable to hacking. Because the exchange authorities maintain the assets of their traders. Since the keys are not exclusive, hackers may get details of the key.
The exchanges aggregate the funds in their exclusive wallets for a pool of liquidity. This makes the exchanges an easy target for hackers. The crypto assets are always available for investment and linked to the internet. Hence, there are a lot of security loopholes for cyber-attacks. Additionally, hackers also can access important data and cause more damage to the traders.
Higher Charges 
In centralised exchanges, traders have to spend more. The exchange collector charges for transactions and maintenance. Additionally, the charges vary depending on the currency or town a trader uses. In general, the charges range from 0.01% to 0.1% for a single transaction.
Additionally, the traders also need to pay more trading fees and other charges to maintain their wallets. That means that a trader needs to spend some additional money during investment. It causes them to shell out unnecessary money. The exchanges have different entities, including consultants, ICO firms and others, between each transaction. Hence, a trader needs to pay money to each of them. This often prevents investors from investing higher amounts.
The Clause Of Inheritance Is Not Transparent 
Another problem with the CeFi is their policy of inheritance. Often, the centralised exchanges do not have a clear inheritance policy. Hence, inheritance disputes arise often. In this case, the family members of the deceased may face a lot of legal hassles.
Less Investment Options 
Another problem with a centralised finance exchange is the lack of investment options. Most of these exchanges offer only buying and selling of tokens. Hence, investors only have a few options to invest in. As a result, traders who want to benefit from diverse options like crypto ETFs, ICOs and different investments through crypto cannot get many benefits.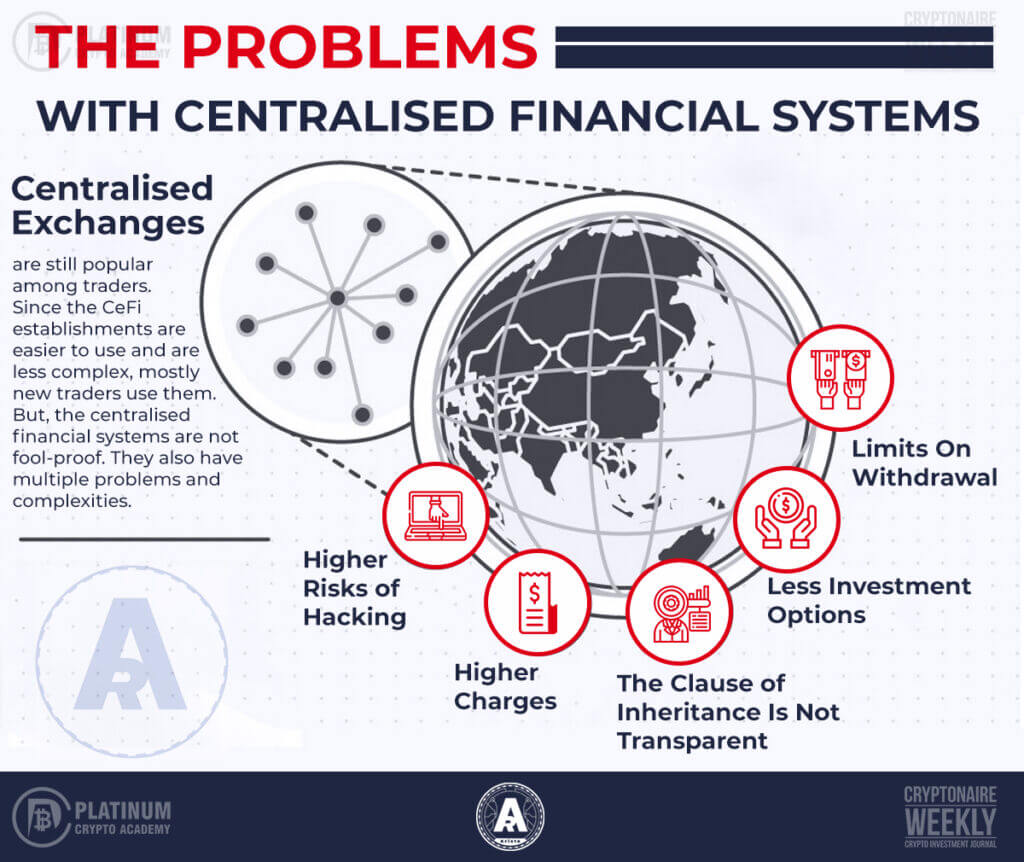 Limits On Withdrawal 
Another problem with a centralised exchange is its withdrawal limit. Most of the exchanges allow their users only to withdraw a certain amount of tokens. Hence, a trader is not able to withdraw all of their funds at once.
Additionally, the exchanges also lock the wallets temporarily to get more trading fees. Hence, they prevent the traders from getting more money at once. 
Therefore, despite being a popular choice, CeFi options are not great. New-age traders need to move from central financing exchanges for a better career in investment.
Aristo Solutions To The Centralised Financial System
Aristo understands the complications of a centralised financial exchange. Hence, it would counter the centralised finance problems by a different approach. Aristo uses a decentralised financial exchange of DeFi to circulate and regulate the transactions. under a decentralised system, everything can be done securely without any fear of being hacked.
Their new-age DeFi is great for young professionals who are new to crypto investment. It aims to guide the investors to invest with a minimum level of risk. In this case, the token authority plans to use Hybrid Intelligence or HI. Hybrid Intelligence will offer accurate forecasting to the traders. This way, traders will always get the best return. Additionally, it will also offer all the needed data to investors for their convenience. With their HI and DeFi system, no reader will lose money or have a frozen wallet.
Explaining Aristo Decentralised System
Aristo uses a decentralised system with modern technology. It is a hybrid system for token transactions and crypto investment. With Aristo's unique financial system, investors will get a lot of benefits. Here are the features of the decentralised system of Aristo:
For Aristo, there will be no exchange between the asset transactions. In Aristo, there are no idle men, middle exchange or experts. As a result, there will be no charges to pay and traders will not spend extra money during transactions or payments.
Aristo will use dedicated automated applications to complete each transaction and token allocation. The automated procedure will have trusted blockchain platforms for better security. Additionally, it has an effective and transparent system for a fair trading experience.
It uses Ethereum-based blockchains. Therefore, the transactions will be fast, encrypted and secure.
Due to the decentralised nature, everyone can now get their hands on Aristo tokens. The decentralised system offers a lot of benefits. For instance, traders can borrow money from other traders through the DeFi system.
The DeFi system of Aristo comes with an individual savings account. Users and traders can get returns as interest in their tokens and digital assets, which means they will able to get more returns and better investment profiles.
With Aristo, traders will be in charge of their digital asset wallets. They won't share their wallet key details with anyone. Hence, they will be secure from cyber-attacks.
The Aristo decentralised financial system is open to all and accessible throughout the world. Hence, anyone from any place can become a part of this vast network.
Aristo offers limitless transactions enabling traders to withdraw as much as they want from their wallet. Hence, they will always have tangible digital assets for further investment.
Usage Of Hybrid Intelligence – Aristo
The usage of Hybrid Intelligence has also made Aristo a dream of investors. They can buy an Aristo token and allow the AI to do all the work. The efficient AI will make decisions according to a trader's preference. It will offer intelligent recommendations about buying and relocating assets, transferring Aristo into money and so on. Hence, investors can now invest minus the extra burden.
Moreover, Aristo is quite stable and immune to volatile market nature. Investors who are seeking to buy a stable token need to go for Aristo. They can get better returns every time they plan to sell a token. This token is listed in all the ERC20 exchanges throughout the globe. Hence, traders and investors can buy and access their tokens from any part of the world. Additionally, Aristo is a useful tool for small-scale investors and beginners. The token practically does not have any limit and allows one to use their token in different ways.
The Company will circulate more than 4,200,000,000 tokens all over the world. Traders can review all the knowledge and recent updates at their fingertips through their basket. Aristo will take care of minute changes to ensure the best possible returns. Aristo is planning to re-release 10% of the token through pre-sale.
Hence, those who are interested can get their Aristo tokens through the pre-sale release. Buyers can also access the tokens through crowd and private sales. The brand aims to offer better investment possibilities to beginners. It will deploy its Hybrid Intelligence to ensure that everyone gets an equal chance. With Aristo, everyone can move forward with crypto trading for better returns. 
How Does Aristo Hybrid Intelligence Works?
Aristo uses Hybrid Intelligence for token allocation and transactions. The Hybrid Intelligence is the combination of artificial and human intelligence. Aristo intends s to supplement human intelligence with Artificial Intelligence for effective asset management. Furthermore, it will combine the talents of crypto experts and artificial intelligence collaborators. As such, Aristo aims to achieve new potential in the crypto sector.
The Aristo Hybrid Intelligence model is a superb tool for beginner investors who need experts' advice before investing. The model will provide accurate and intelligent predictions related to the investors tokens. Additionally, the HI will analyse the results and offer the best possible recommendations.
The HI will also analyse different factors including history, market data, and financial data to create a comprehensive report. Such reports will make investors aware of present market conditions, assisting traders to make prudent decisions and earn more returns. Additionally, Aristo Hybrid Intelligence will offer the latest news on the crypto investment sector, enabling investors to be aware of the recent news and reports associated with the market.
Buyers will need to purchase their tokens to start investing. At first, buyers' investment profiles will be examined by Aristo's hybrid technology. Subsequently, the hybrid technology will automatically invest the tokens according to the reports from the previous step. Such a process is carried out to ensure that investors earn the best possible return, irrespective of their level of investment. It is noted that since Hybrid Intelligence will harness both human and Artificial Intelligence, the investment will be more accurate and secure.
Another outstanding feature of this HI is that it comes free of cost for Aristo customers. They do not need to pay anything extra to receive services from the HI. The entire process is free, and there are no hidden charges.
Conclusion
Aristo is the brainchild of Arrinv.com. It is a new-age crypto token for new-age investors. The ERC20-based token has the security of the Ethereum blockchain. Additionally, it uses a decentralised finance exchange where the transactions happen without any middleman. The versatile cryptocurrency token allows intelligent investment strategies in different fields. The procedure is secure, encrypted and provides better returns. Besides that, there are no extra charges for using the Aristo exclusive Hybrid Intelligence recommendations. Buyers who have just started in this sector can use the recommendations from the HI to earn returns round the clock and get a better investment profile with proper profile analysis. It has a bright future ahead of its path.
Hopefully, you have enjoyed today's article. Thanks for reading! Have a fantastic day! Live from the Platinum Crypto Trading Floor.
TOP 10 UK CRYPTOCURRENCY BLOGS, WEBSITES & INFLUENCERS IN 2021
Earnings Disclaimer: The information you'll find in this article is for educational purpose only. We make no promise or guarantee of income or earnings. You have to do some work, use your best judgement and perform due diligence before using the information in this article. Your success is still up to you. Nothing in this article is intended to be professional, legal, financial and/or accounting advice. Always seek competent advice from professionals in these matters. If you break the city or other local laws, we will not be held liable for any damages you incur.