Quick Links
Introduction
Music soothes the soul and is loved by most, if not all, people but there are many unexplored musical talents worldwide who lack proper access and enabling resources. The dominance of few major label artists has drastically reduced the diversity in artists and sounds that appear and remain on the charts.
The whole power of the music industry is essentially concentrated within a few big and powerful companies, who refuse access to streaming rights of music produced by them and create their own medium to have unbridled control over all the music.
Their actions inflate the prices of music. They decide what the public can or cannot listen to and determine if an artist is worthy of promotion or not. According to some reports, the major label artists released more than 90% of all top 10 songs over the last decade.
Music streaming services account for more than 80% of all the industry income and are largely dominated by only a handful of known video, music and retail giants. They use algorithms to keep artists in or out of public visibility, usually based on the royalties demanded and the willingness to patronize the platform promotion service.
The system has been predominantly structured to make artists earn less while the big companies earn more and become even more powerful, wealthy and influential. The ideal solution to the distorted reality of the music industry lies in the decentralized nature of blockchain technology.
The uniqueness of a song's melody and rhythm makes for premium potential NFT material, as it aligns with the basic characteristics of NFT being unique and verifiable. Music NFT is gradually becoming a growth trend in the crypto world with its ability to give ownership rights to creators and a globally accessible platform to millions of fans.
Musicology
Musicology is a decentralized music streaming platform and NFT marketplace providing an all-round music experience. In fact, it claims to be the ultimate ecosystem for music on the blockchain for the people and by the people.
The decentralized approach to music creation and sharing is built on the foundation of the enormous potential of the music industry, which raked in US $23.1 billion worth of revenue in 2020. Nearly 56% of that revenue came from streaming alone. The development of new technology has seen consistent waning of non-streaming digital platforms, which have been losing revenue since 2012 and account for only 5.85% of the total market revenue.
The Musicology Ecosystem
The Musicology music platform provides a curated list for music lovers with an intuitive NFT marketplace to make an offer to buy their favourite music NFT and beats. Users can also mint their own music singles as NFT, create their own music NFT collection and sell on the Musicology NFT marketplace.
The platform will also provide creators and owners the autonomy to determine the price at which they want to sell their uploaded contents, as well as the freedom to set percentage returns or royalties on third-party sales. Users can also mint memorabilia of their favourite music artists, while accessing these functions and more – all safely on the blockchain.
Musicology's vision is to see that upcoming talents get worthy public exposure without being hindered or disqualified, as everyone has the right to be listened to. Musicology shall also empower rising stars, solo artists, music bands with funding programs that give them opportunity to begin their music careers.
Besides, Musicology aims to onboard millions of music-loving audiences to crypto through its music streaming platform and hopes to lower the entry bar in the NFT space with its advanced listen-to-earn mechanism.
Through its listen-to-earn mechanism, users can simply get on to Musicology, listen to a favourite music NFT of their choice from thousands of user-generated music NFT and vote for their preferred artist to get rewarded in $MUSIX tokens. They can also listen to new tunes of fresh and upcoming artists and earn $MUSIX tokens.
Musicology enables a completely decentralized algorithm system that ensures music listeners get access to newly released music NFT and give direct visibility to new artists. The artists are algorithmically ranked through its novel voting mechanism.
The benevolence of Musicology towards music does not end here and also has a charitable side to it. A dedicated percentage of all revenue generated by Musicology would be further utilized for charity purposes and providing music aids. Musicology will donate musical instruments to kids worldwide, provide free musical lessons and education to kids and adults and online musical lessons for everyone.
Live concerts, clubs & parties in the Metaverse and other unique features
Musicology will host monthly live concerts in the metaverse, featuring the most desired artists voted in by holders of $MUSIX tokens or MUSIX MasterKey holders. Immagine to be able to see your favorite artist on the live show from anywhere you are and be part of an unforgettable musical experience! Musicology ecosystem is also the biggest party and clubs platform on the Metaverse, various clubs (Reggae on da beach, Hip hop in da club, Drum'n'base clubs, House and Pop clubs with extraordinary decorations, just to name few)… when you think of party in Metaverse think MUSICOLOGY
Musicology is bringing many more innovations into the space: Artist in the room ® , where people can meet their favorite artist in the lounge on metaverse and ask directly any questions, Fundraiser for new bands, World music library including aboriginal, folk music as well as meditations, hypnosis and kids music just to name few. Blogs about music, chat rooms and ideas and suggestions are part of this ecosystem.
As mentioned the ecosystem is for PEOPLE and as such the decisions about the direction and parts of development, preference in clubs and concerts etc will be all decided by votes of the community, the transparency and fair opportunities are assured for everyone.
Tokenomics and $MUSIX
$MUSIX token is a multi-chain token that serves as the utility and governance token of the Musicology ecosystem. The total supply of Musicology tokens is 500,000,000. $MUSIX is currently available on the Binance Smart Chain and Ethereum blockchain. More support for other blockchains are in the works to increase accessibility to users of the platform.
The $MUSIX token is used by users and creators to mint their music as NFT and it is also used for voting of artists in the ecosystem. Voting increases users' level and raises them to the top 100 artists of the month.
The token can also be used to purchase tickets that grants access to all virtual events such as clubs, parties, shows on the metaverse, meeting with the artist and live shows. Besides, the holders of $MUSIX tokens also have the privilege to stake their tokens on Musicology for incentives and leverage on its farming system to gain substantial profits.
In terms of token allocation, around 15% of the total supply will be allocated for the team and another 16% will be allocated for private sale. The tokens held by the team are vested for a period of 12 months and shall be released in batches every quarter. There will be further token allocation for staking and rewards to the extent of 14% and another 12% each will be set aside for the liquidity and ecosystem each.
1st NFT Public MINT sale 28.6.2022
Musicology NFT MUSIX MasterKey is the pioneer and utility NFT of the Musicology ecosystem. 3D Utility NFT provides value to the investors in different ways by giving holders access and various privileges to the biggest music ecosystem yet on the blockchain and the biggest music space for live concerts, parties and shows in the metaverse. Accordingly, the MUSIX MasterKey grants holders the access to new music releases, voting, tickets to the clubs, live concerts in the metaverse and much more.
There is a total supply of 10,000 MUSIX Master Key NFT and the public MINT is on June 28, 2022, 7pm UTC on musicology.io/MINT .
The first public mint of the MUSIX MaterKey NFT will have a price of 0.0369 ETH and will increase by the same starting price of 0.0369 every 24 hours, until the price reaches 0.1537 ETH. Hence, the price will rise from 0.0369 ETH to up to 0.1537 ETH, so that the value of the NFT will increase 5x from the initial price, thereby giving a great return opportunity to the early buyers.
The MUSIX MasterKey NFT is categorized into five unique types, with the supply reducing as the function increases. The five categories are namely Blue, Green, Copper, Silver and Gold MasterKey.
As the MUSIX MasterKey is the crucial utility and genesis NFT of the Musicology ecosystem, its holders will be able to mint the second MUSIX Art Collection by award-winning pop artists, albeit there will be a limited collection of 1,000 NFT.
Also to increase investment opportunities for its holders Musicology decided that MUSIX Master Key holders will be offered ICO before the launchpads, an opportunity to purchase the $MUSIX token for the presale price without any need to be in a tier system of a launchpad. This by itself is very powerful utility for an NFT that is currently for about 50$ USD (as per low price of ethereum)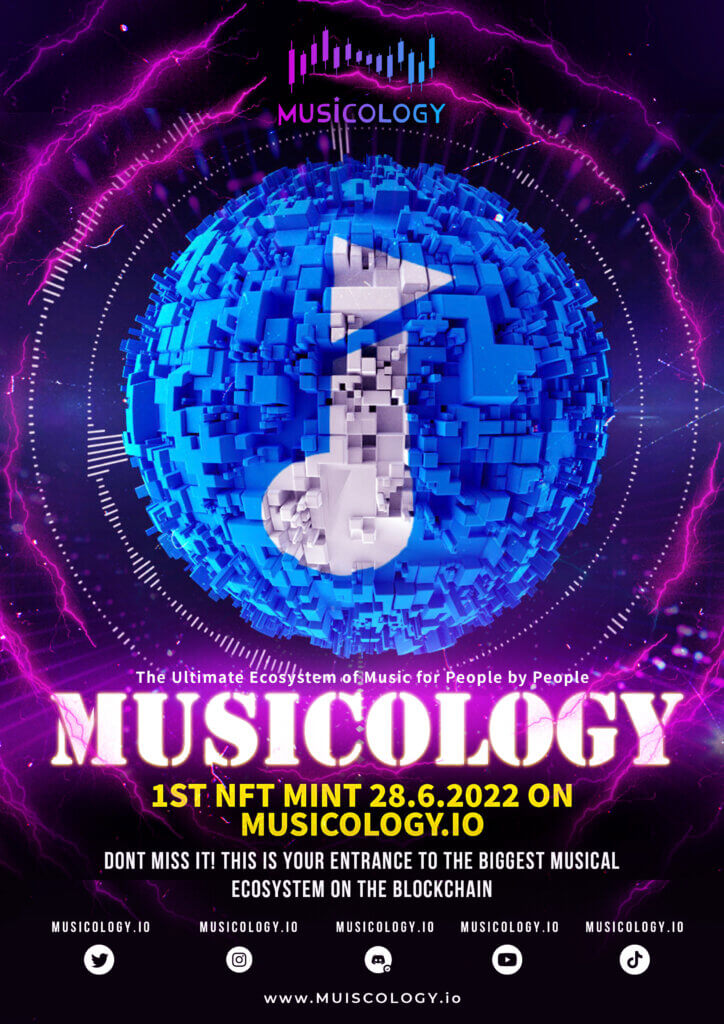 The Team
The team behind the Musicology project consists of professionals from the music industry as well as from the crypto industry. The CEO and one of the co-founders of Musicology is Ixchel who is a visionary entrepreneur, wellness guru, visual artist and author of two books. The other co-founder is Ras Zacharri, who is an international Reggae star, singer and producer with over 25 years of experience in the music industry. He is also a crypto investor and NFT collector.
The other members of the team include experienced software developers and specialists in blockchain and Decentralised Finance (DeFi) application developments with several years of professional experiences.
Conclusion
With the rise in blockchain and cryptocurrencies, Musicology is poised to be an early mover, providing music content creators the rights and privileges to their own contents and an additional access to govern their earnings. Musicology opens up the decentralized possibility of participation in music, where users can mint, buy, sell, swap, listen and rate creators' contents securely on the blockchain.
The platform boasts of a robust music streaming function, ranging from uploading of music projects and beats as NFT to users streaming of their favourite music and music album – all within the Musicology ecosystem.
The creation of the live concert and clubbing space in the metaverse is also very anticipated innovation and therefore should be set for success.
Music lovers around the world can login to the Musicology platform, enjoy quality content and earn some redeemable tokens to begin their journey in crypto, even if they do not have any initial capital to invest.To escalate easy onboarding, free $MUSIX tokens will be given to everyone opening an account.
This, essentially, makes music NFT and concerts and parties in the metaverse available and accessible to average people all over the world. Musicology is the music ecosystem that is poised to bring music lovers, creators and fans an all-round music experience on the blockchain.