Quick Links
The healthcare industry is working towards equal opportunity in service provision for individuals worldwide. Meeting this objective is not an easy task, but with the recent creation of R-DEE, an all-in-one ecosystem and network, it seems possible to meet global healthcare needs not just on patient-doctor requirements but also on distributors and professionals. These capabilities are available under one platform, making it possible to streamline, expand, and upgrade individual healthcare services all under one roof. 
Created by US-based Radiologex, the R-DEE network offers healthcare professionals the ability to connect and collaborate globally from any web-enabled device. A global network backed by real-time user identity proofing, the R-DEE network serves as a frictionless, efficient, and secure mobile healthcare platform. Not only is it the first medical interface network, but it is also an investment opportunity.
The R-DEE network is geographically unbound, and at the same time, it caters to the full healthcare industry, creating truly interdisciplinary and synergistic connections across departments and borders. The network is equipped with professional doctors, administrators, vendors, radiologists, clinicians, ER personnel, instructors, nurses, lawyers, service providers, office managers, researchers, technicians, academia as well as information officers to deliver all-rounded services. Karnav Shah, CEO Platinum Crypto Academy and Editor in Chief at Cryptonaire Weekly explained,
"Radiologex is unveiling a one-of-its-kind, state-of-the-art HealthIT and SaaS (Baas) solution for the $5 trillion Global Healthcare industry which continues to increase dramatically year over year. The Radiologex Digital Encryption Environment (R-DEE)® is currently one of the most talked-about medical blockchain networks in the crypto circles."
The statement from the press release is not just hype in the community. Backed by next-generation blockchain technology, information remains 100% private and confidential. With KYC user verification, you can login instantly, even on shared devices, thanks to simplified passwordless access. Listing the benefits of the platform to the healthcare industry is just a section of the benefits of Radiologex. The other half of Radiologex's benefits is its investor capabilities.
Addressing the investor benefits, investors and users alike can buy Radiologex security tokens. Not only do they serve as a security offering, but investors can also benefit from the quarterly dividends of revenue generated on the platform. Our Radiologex review highlights both healthcare and investment benefits users need to look out for, as well as provides an in-depth look into why you should join the Radiologex family.
What Is Radiologex STO? 
Users looking to identify an investment opportunity from Radiologex can purchase its security token offering. The Radiologex STO is a security token offering by Radiologex and is currently one of the top STOs in the market, checking from the popularity it is drawing and the ongoing Round 1 sales. Round 1 of the sales is still ongoing, with generous bonuses available.
Radiologex is seeking to sell this security token at a global reach, making it one of the top STOs for investors. This is because the face value of the token is not limited to a specific region or geographical section. As such, investors do not have to worry about economic instability in a specific geographical region, thus eliminating the fear of losing their investments. The list of secondary exchanges that can trade the token is increasing in number over time, allowing individuals in different parts of the world to gain access. Despite the limitation of some countries not being able to buy the STO currently, Radiologex users in countries such as Liberia, South Sudan, Congo, Iran, Iraq, and Myanmar can catch up as soon as a secondary exchange that allows these regions to participate are offered.
Round 1 of the STO is still live, with each security token face value standing at $1. Although the total security token value stands at 100 million, Round 1 will see the sale of 20 million tokens only. During this round, the platform is offering various bonus packages to ensure that investors receive their money's value. With bonuses going as high as 100%, investors are encouraged to grab this investment opportunity. The probability that the face value for the Radiologex STO will remain at $1 will probably not surface, is a good reason for investors to make their purchases during Round 1, prior to the token being listed publicly on exchanges.
The different bonuses are dependent on the amount of tokens the investor purchases. For example, Tier 1 offers a 100% RDG bonus with an investment of 50,000 or more (paid in USD, EUR, or crypto), whereas Tier 2 offers a 75% RDG bonus with an investment of between $25,000 and $49,999.99. This said, the more you invest in this top STO, the more benefits you receive. Another crucial benefit arises from referral bonuses that give the first 100 referrals up to a 100% matching bonus.
Why Is An STO More Secure?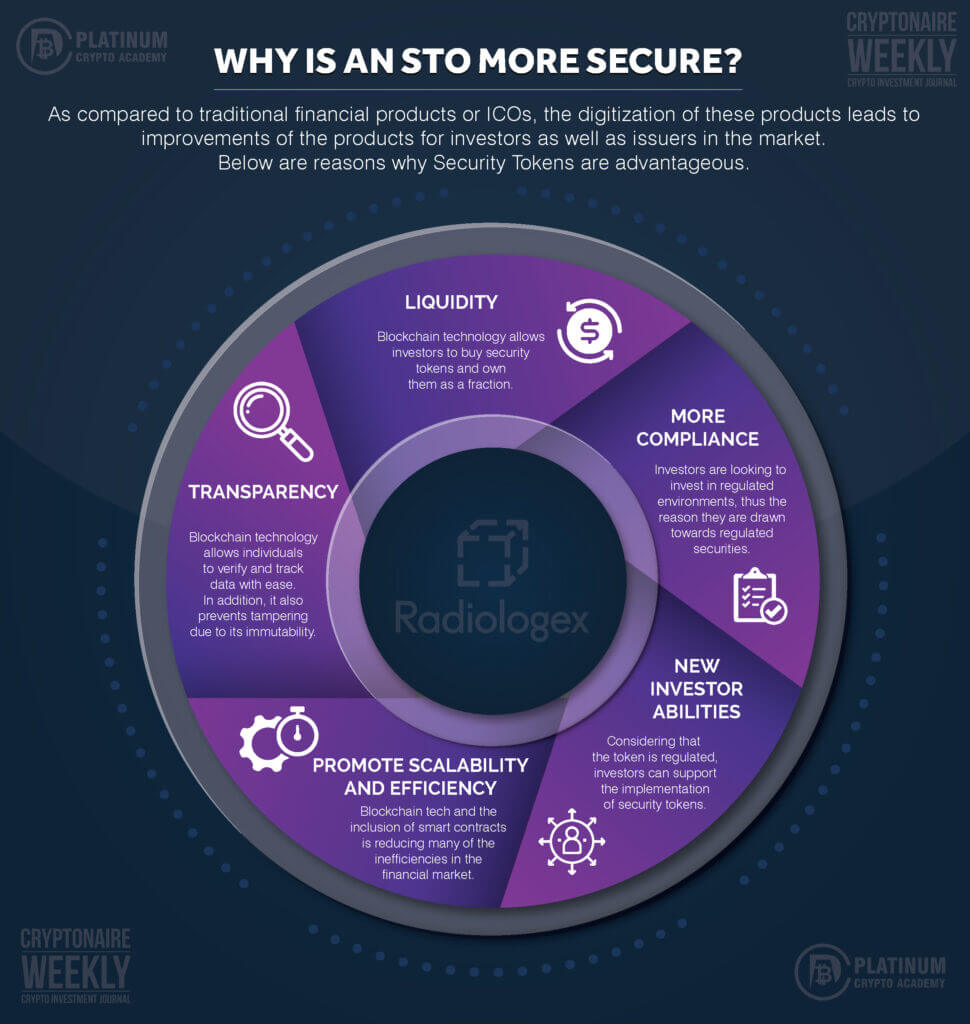 As compared to traditional financial products or ICOs, the digitization of these products leads to improvements of the products for investors as well as issuers in the market. Below are reasons why Security Tokens are advantageous.
– Liquidity
Blockchain technology allows investors to buy security tokens and own them as a fraction. Fractional ownership allows for lower minimum investments, thus promoting liquidity. This is the reason security tokens are being used easily to settle payments for other assets. Gone are the days when individuals had to sell off an asset or security just to settle a less amount of bill. For example, you can sell a portion of your token to pay for a real estate property.
– More compliance
Investors are looking to invest in regulated environments, thus the reason they are drawn towards regulated securities. STOs are currently more compliant and thus the reason that Radiologex STO is sold by a company that is SEC-compliant. With full regulatory compliance both the investor and the company are better protected. The supporting platform for the STO token issuance is Securitize, an SEC Registered Transfer Agent operating on the blockchain. Audit trail and security right from the creation of the security token is easy, making the process transparent and easy to audit thanks to blockchain technology.
– New investor abilities
Considering that the token is regulated, investors can support the implementation of security tokens. As more countries embrace the functionality of STOs, the more tradeable they will be across the globe. As such, Radiologex comes with a worldwide target market, and for the countries that are not yet compliant, users can be notified when their regions can access a secondary exchange that can allow them to buy the token. The regulatory framework governing security tokens gives reason to the crypto community to invest without the fear of scams, as it was noted with ICOs.
– Transparency
Blockchain technology allows individuals to verify and track data with ease. In addition, it also prevents tampering due to its immutability. Investors can document ownership of the token to uphold transparency, thus making transactions fast and reliable. As such, Radiologex has registered a maximum supply of 100 million RDG tokens. This infrastructure will ease auditing; thus, it will help to prevent and reduce cases of mispricing or manipulation by financial institutions.
– Promote scalability and efficiency
Blockchain tech and the inclusion of smart contracts is reducing many of the inefficiencies in the financial market. Automated KYC and AML process eliminates the need for a back office to vet each investor, which also means that costs are reduced.
The absence of paperwork and reduced complexity makes the processes fast without compromising security. Investors will also experience real-time settlements on secondary exchanges, which is a key feature that is allowing Radiologex to reach out to its global target market. 
What Are The Earning Opportunities With Radiologex STO?
The Radiologex STO has various earning opportunities for investors that make the investment ideal for the crypto community. Other than trading the token depending on the market price, investors can benefit from the other income streams offered by Radiologex. These include:
– Quarterly dividends payout
After investors have purchased their tokens, this investment remains constant as they monitor the price differences where necessary. However, Radiologex pays out dividends on a quarterly basis from revenues generated by the R-DEE platform to its investors. Even better, the payment is automated to deposit in the individual's wallet or dashboard. This automation makes it easy for you to monitor the company's progress because the dividends are not a constant figure.
– Bonus opportunities
As soon as you invest with RDG, you can obtain an earning opportunity from the available bonuses. The bonuses are different depending on the amount you invest. To encourage higher investment, the platform offers a higher percentage bonus. There are four tiers of bonuses, each with a different bonus percentage, with the first tier being higher than the subsequent tiers. For example, Tier 1 offers a 100% bonus, Tier 2 offers 75%, Tier 3 offers 50%, and Tier 4 offers 25% bonus. The more you invest, the higher your investor bonus.
– Availability of a revenue royalty stream
Radiologex STO is backed by a revenue royalty stream which means that each token represents a claim against a portion of Radiologex platform generated revenue and proceeds from potential monetization of the business (e.g. sale or IPO).
– Trading
As a security token, investors can trade their tokens at any time after issuance. For example, investors who bought the token during Round 1 bought each token at a face value of $1. During Round 2, it is expected that the face value will be higher than the initial $1. In this, investors can sell their tokens when the prices are suitable.
Why Radiologex Ticks All Boxes For Institutional Investments
Radiologex ticks all boxes for institutional investments making it ideal not just for individual investments but also for large institutions. George Tyler, the co-founder and blockchain architect of Radiologex, during a press release said,
"There is simply nothing like R-DEE that exists today. It is the industry's first and only Web 3.0 solution and dedicated healthcare network for managing all the time-consuming yet critical aspects of operating in this multi-faceted and task-heavy field, where speed and security are paramount."
Below are the reasons why the platform qualifies for institutional investments.
– Recognised legal entity
Radiologex is a US-based legal entity participating in trading the financial markets, and it has a significant influence, more so in the healthcare and financial fields.
– Lower cost of investment
Due to its size, its economies of scale lower the costs of investment due to the ease of sharing skills of professionals. Radiologex brings together experts from various fields to ensure efficient healthcare service delivery. In this, there is no need for intermediaries, thus further lowering the cost of services and products.
– Real-time access to information
The R-DEE network comes with better analyst forecasts due to its real-time access to information and collaboration with other personnel, all with complete healthcare regulatory compliance and certification. The platform offers a one-stop shop for healthcare needs, not just for professionals but also for suppliers and researchers.
– Global target market
The world is gradually becoming a replica of a small village. As a result, individuals are seeking an arena where they do not have to change service providers despite their geographical movements. Gone are the days when limitations arose from where an individual is located. Radiologex is making this objective possible by connecting individuals across the globe through the R-DEE network, which is accessible through any web-enabled device.
– Diversified services
Many other blockchain-backed platforms are specific to certain services, but Radiologex brought together all healthcare-related services under one platform.
How To Invest In Radiologex?
Investing in Radiologex is easy and fast for individuals both in the crypto community and for users who are not. While Radiologex started as a platform for connecting the healthcare industry globally, it went ahead to offer an investment opportunity through its security token offering.
The first step will be to create an account from which you will be able to buy RDG tokens. To create an account, you will need a username and an 8 character password. When buying tokens, individuals can make payments via USD, EUR, or cryptocurrency. The financial flexibility promotes diversity to encompass both the crypto community and other users alike. There is a minimum investment, although it varies for US ($5,000) and non-US ($2,500) residents.
In addition, already active investors can increase their investment through referral bonuses. Individuals can multiply their investment by earning up to a 100% referral bonus.
Conclusion
Securing global healthcare, the Radiologex STO is an opportunity to have your share of benefits not just from better healthcare services but also from outstanding investment opportunities. The above Radiologex review highlights why the platform is a game-changer in the market as well as all of the possible benefits both users and investors can obtain from the platform. A better understanding of why STO investments are gaining popularity will help users to understand why going for this top STO is an ideal move. Investors are called to embrace Radiologex and reap its benefits and advantages against other STO investments currently in the market.
Hopefully, you have enjoyed today's article. Thanks for reading! Have a fantastic day! Live from the Platinum Crypto Trading Floor.
TOP 10 UK CRYPTOCURRENCY BLOGS, WEBSITES & INFLUENCERS IN 2021
Earnings Disclaimer: The information you'll find in this article is for educational purpose only. We make no promise or guarantee of income or earnings. You have to do some work, use your best judgement and perform due diligence before using the information in this article. Your success is still up to you. Nothing in this article is intended to be professional, legal, financial and/or accounting advice. Always seek competent advice from professionals in these matters. If you break the city or other local laws, we will not be held liable for any damages you incur.