Investing in cryptocurrencies and decentralized fundraising on crypto launchpads is evolving at such a rapid pace that you'll want to read this article to get up to speed as well as learn how to get involved with the fastest growing launchpad-turning ecosystem, Starter.
Crypto launchpads are a way for new ventures, or projects, to collect funds while also giving investors early access to token sales. Typically, this results in lower prices for tokens before they reach the market. "Starter" (formerly known as a BSCstarter) is a community-run, decentralized platform for raising funds in a safe, secure and cost-effective manner.
Starter believes societies will have a crucial role to play in resolving many of the world's problems. They believe that if societies are given the right resources, they will band together and control their destiny. Crypto launchpads empower individuals to reach their full potential through finance. Starter focuses on making an impact on the most exciting and innovative sectors today, using the core values of People, Velocity, and Velour. Starter was built to be a crowdsourcing platform that raises capital for new projects without governmental restrictions and KYC requirements but has evolved to be so much more.
Starter offers a unique experience compared to other launchpads because it is the first community-centered network. The systems are 100% decentralized, with no forms to be submitted or approvals from a central party. Instead, it's the community who determines which IDOs advance to the funding stage through a seamless voting mechanism found on the Voting tab on their website.
WHY DID BSCSTARTER REBRAND TO STARTER AND WHAT IS STARTER'S FOUR-PART ECOSYSTEM?
BSCstarter has been rebranded as Starter, and it has launched a four-part ecosystem thanks to the platform's early success. Over 100 projects have chosen Starter as their platform of choice and that number continues to grow every day. Some of their unique features include private sales automation and token vesting. The launch onto the Polygon blockchain, officially taking Starter crosschain is the basis of the rebrand, and only the beginning. You can now use this incredible ecosystem,including the $START token, on the Polygon (formerly Matic) blockchain. So what is the 4 part ecosystem? Let's review.
StarterSwap.xyz: the DEX arm; their own exchange to list IDO projects directly with START token pairs
Starter.capital: the venture arm; where they incubate and invest in projects through the Certified START Program
Starter.xyz: the IDO arm; the decentralized fundraising launchpad
StartVesting.xyz: the token vesting arm; VEST is used to provide vesting and liquidity locking.
The new logo is clean and simple, which demonstrates how easy it is to use the Starter platform. Some BSCstarter projects have been extremely successful, even selling out within minutes.
HOW DOES STARTER RELATE TO DECENTRALIZED FUNDRAISING AND CROWDFUNDING?
Crowdfunding is a method of obtaining capital from small amounts by individuals. The goal of crowdfunding is to raise money from numerous people, so you can fund a project or venture. Starter is an effective means of fundraising or crowdfunding because funds are raised in a decentralized way through the community. It allows investors to check project details before making a contribution to determine whether or not they are interested in funding, or investing in, the project, just like crowdfunding.
WHAT ARE $START TOKENS AND HOW DO YOU PURCHASE THEM?
$START is the native token for Starter. On the Starter App, BNB is used to buy tokens in an IDO and START is used to stake and prove your eligibility to take part, for example by voting projects in or out of funding, as you can see in the first graphic below. START can also be staked to earn BNB rewards and as seen in the second graphic below, START are given as an Incubator Grant to projects with a successful raise.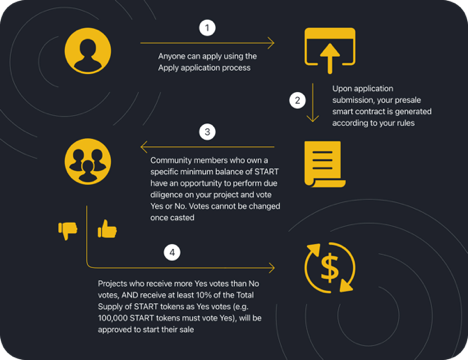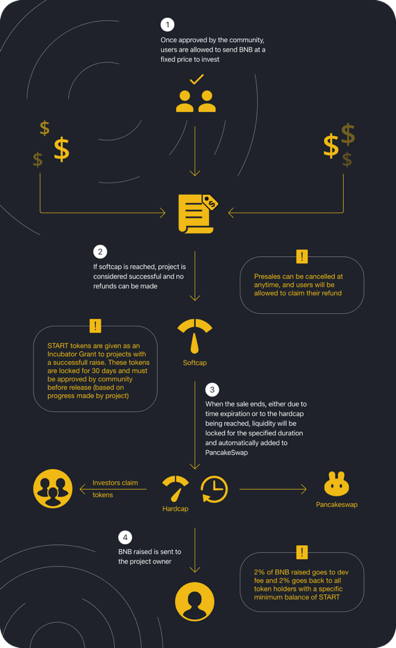 A GUIDE TO PURCHASING START TOKENS FROM STARTER
Several crypto exchanges have listed START, but it cannot be purchased directly with fiat money. You can buy it by first purchasing Bitcoin, Ethereum or USDT from one of the large exchanges and then transferring it to the exchange that trades this coin.
A guide to purchasing START on Binance is below however if you are a US citizen, you may find it easier to purchase START on a centralized exchange like Bidesk, instructions here.
In order to take part in an IDO, you need to hold and stake START, instructions here first and then here for part two.
GET MAJOR CRYPTOCURRENCY
The Starter token cannot be purchased directly from a cryptocurrency exchange. Therefore, you will need to purchase a major cryptocurrency before using it, typically Bitcoin (BTC), Ethereum (ETH) or Tether (USDT). To complete this step, you need to find a cryptocurrency exchange that accepts fiat deposits. This guide will use Binance Exchange, since it is the largest cryptocurrency exchange that accepts fiat deposits.
SIGN UP FOR BINANCE CRYPTO EXCHANGE
Binance is one of the most widely-used cryptocurrency exchanges in the world. Although the company was founded in China, its headquarters are now located in Malta, a cryptocurrency-friendly island. The Binance exchange platform is prominent for its crypto-to-crypto conversion services. You need to open an account with Binance to buy the Starter START token. Binance will verify your KYC after you have successfully created an account and you are ready to buy cryptocurrency with fiat money.
BUYING CRYPTO WITH FIAT MONEY
A payment form will appear once you complete the KYC process. Here, you have the option of using your credit/debit card or a bank transfer. The credit card fee is higher, but you can purchase instantly using a credit card. In contrast, bank transfers are less expensive, but they can also take longer. IDeal's instant deposits are available in some European countries, while they take longer in others.
Once you're ready, click the 'Trade' button on the top left, choose the coin you wish to purchase, and confirm the transaction. The first cryptocurrency transaction you made just went smoothly.
EXCHANGE ANOTHER CRYPTOCURRENCY FOR $START
As an altcoin, START can be traded at exchanges that support it. To exchange cryptocurrency for Binance token, we will use PancakeSwap, as recommended on the Starter website. You can use other big exchanges as well when START is listed there. If you want to trade on Pancake, you need to follow these steps.
– Visit the official website of Pancake.
– Enter the amount of BNB you wish to exchange in the field required.
– Enter the START token address in the "TO" field.
– Next, you just need to submit the transaction.
Above is a simple procedure involving Binance and Pancake to buy the START token. Thanks to the Starter community, if a new user faces difficulty, they should head to the Telegram chat for assistance. The community will work with you to attempt to resolve any issues so rest assured, they got your back!
STARTER'S ADVANTAGES FOR INVESTORS
Previously, there were many risks associated with decentralized offerings, as new currencies were popping up each day, confusing people about which were worthy and legitimate. To prevent fraud and scams, Starter has come out with a new approach in which the community can make decisions for the project's advancement. As a result of its decentralized fundraising approach, the group helped many developers. Starter offers a chance for people to invest in creativity and innovation.
Why should I become a START holder? Starter START holders enjoy the following benefits:
PARTICIPATION IN IDO OR POOL PRESALES
A minimum of 50 START tokens are required to access Starter in the standard tier, ensuring access to all IDOs that have been approved. If an investor buys 500 tokens, they will be promoted to the gold tier. The gold tier investor receives exclusive Guaranteed Allocation upon presale within two hours.
As long as the soft cap is not reached before the closing time of the event, investors will be able to claim their BNB back. It is as simple as clicking on the claim token button to get their BNB back.
INVESTORS HAVE VOTING RIGHTS
An investor in the Starter community has the right to vote if he or she owns at least 100 START tokens. They can vote yes or no, which means they have complete control over accepting or rejecting projects.
BNB EARNING OPPORTUNITIES AND SPECIAL DISCOUNTS IN IDO
Starter investors with at least 1,250 tokens can benefit from the fee redistribution under Starter where they are receiving 0.5% in redistribution fees. Additionally, these investors receive a 10% discount on all presales.
PARTNER OF THE VIP CLUB
The investor with at least 2,500 START tokens in their account for a continuous 21+ days can benefit from the Starter VIP CLUB. The VIP CLUB offers many benefits to its members, including access to special allocations. At the VIP CLUB, members have access to exclusive IDO token airdrops and private groups. Additionally, a member can maintain this membership by adding at least 1% START to their account in the last month.
FUTURE BENEFITS FOR INVESTORS
For START holders, the above features are just the beginning. The Starter team is working on long-term plans, some of which will be announced very soon. The long-term plans allow for increased benefits to communities and investors. (hint, get in now)
A thorough audit of all projects by the community is what leads to their approval. It is therefore unlikely that any information will be missed and investors can feel safer with their cyrpto investments on this platform. Additionally, all investors in the Starter community have equal opportunities to work on and refine the approach.
STARTER'S ADVANTAGES FOR DEVELOPERS – DECENTRALIZED FUNDRAISING
Traditionally, entrepreneurs receive small investments after completing an incubation program. In addition, lead investors and their networks will offer them further opportunities if they follow through. Over the last few decades, market manipulation and service fees have enriched many financial institutions. Consequently, the average investor feels excluded from their financial structure.
The Starter platform is the first and only decentralized fundraising platform that allows community members to vote for projects before they're approved to raise money through the platform. Interested parties need only submit a proposal so the community can consider it. On Starter, the amount of votes a project receives determines whether or not it passes on to an IDO. Each phase of the process, from voting to launching, is an automated function of the platform that relies on community involvement. Starter offers the following benefits to developers:
– To ensure the quality of the projects submitted to the platform, the Starter community conducts due diligence.
– Starter gives developers the chance to share their project ideas with the community through the platform.
– The Starter community automatically approves projects for an incubator grant of 100 START, assigned upon listing on PancakeSwap.
– Starter allows grantees to give more than 100 tokens to the project once a month to complete the promising progress.
– This is a decentralized fundraising strategy that enables developers to raise funds efficiently with the community's help. It's a place for serious developers to get serious results.
STARTERS DECENTRALIZED FUNDRAISING – CONCLUSION
In short, crypto launchpads allow startups to raise funds while giving investors early access to token sales and new, innovative projects. A lower price is usually offered on the tokens before they are offered on the market, which is an enticing entry point for the savvy investor who has done their own due diligence for a project that has already passed through a rock solidy community looking out for their own (and therefore your) best interest.
Cryptocurrency may very well be crucial for the future of finance. As a result of blockchain technology, traditional financial systems could be disrupted because they rely on trusted third parties to search, verify and approve transactions. The use of cryptocurrency as a viable financial system is beginning to gain recognition and acceptance as technology advances and barriers to entry get smaller. If the traditional financial system is replaced with cryptocurrency in the future, you'll want to be prepared. You can join the Starter community on telegram to stay in tune, get involved, ask questions, and more importantly, get answers. We'll see you over there!
Hopefully, you have enjoyed today's article. Thanks for reading! Have a fantastic day! Live from the Platinum Crypto Trading Floor.
TOP 10 UK CRYPTOCURRENCY BLOGS, WEBSITES & INFLUENCERS IN 2021
Earnings Disclaimer: The information you'll find in this article is for educational purpose only. We make no promise or guarantee of income or earnings. You have to do some work, use your best judgement and perform due diligence before using the information in this article. Your success is still up to you. Nothing in this article is intended to be professional, legal, financial and/or accounting advice. Always seek competent advice from professionals in these matters. If you break the city or other local laws, we will not be held liable for any damages you incur.