Quick Links
Introduction
Sports and music are two inseparable parts of human civilization. After our basic needs of food, water, and shelter, we constantly crave entertainment. Maybe this is the reason that these two industries are recession-proof. They are growing at a rapid pace at a time of economic slowdown in the entire globe. Sports alone have become a $650 Billion worth industry.
Players, teams, and clubs form the backbone of this sports industry. While advertisers, sponsors, scouts, and intermediates are secondary elements supporting the growth worldwide. Unfortunately, due to a lack of structure, systems, and transparency, everyone in the industry can't reap benefits from it.
There is no denying that huge money, opportunities, and fame are involved in the sports industry. However, all this cream is available to the top-notch players, clubs, scouts, and sponsors involved. Everyone else struggles hard to make the ends meet and get some kind of recognition in their respective sports.
Talent IDO is a digital decentralized crowd investing platform to make sports recruitment inclusive, democratic, and transparent. It has brought a revolution in the field of sports recruitment by creating a perfect blend of modern technology and human interaction.
Players can use the android app of Talent IDO available on Google play and create their NFTs (Signature trading Card) and make themselves visible by grabbing opportunities that they would have otherwise missed due to the opaque and unstructured conventional methods of sports recruitment.
Key Concept of Talent IDO
Some of the key concepts which Talent IDO has adopted for creating this digital platform of sports recruitment are:
Marketplace: Talent IDO aims to create a safe marketplace where all the stakeholders come together on a single platform. Here they can buy or offer their respective services, get deserving opportunities, and reap full benefits from the industry. It is a win-win opportunity for all the stakeholders involved in the process.
Sport Marketplaces Ecosystem: Talent IDO aims to venture into the top 10 popular sports in the world. Each team sport will be seen as an individual marketplace within the ecosystem of Talent IDO. Different stakeholders can use a unified technological solution for operating the system and get full benefits from it.
Transparency: One of the biggest problems with sports recruitment in present times is the lack of transparency. Talent IDO targets to counter this problem by use of blockchain technology which enables cashless transfers of players. At Talent IDO transparency drive will be visible in every aspect like purchasing price of the player, the actual price of individual players, acquiring fees, relocating fees, the commission charged by scouts and intermediates, and transactions between teams and/or players and sponsors.
Decentralization and Democratization: The use of TAL tokens has made each user a virtual stakeholder at Talent IDO. Now it is their responsibility to promote transparent and fair practices within the ecosystem so that all can grow and reap benefits from it. A decentralized platform helps in its organic growth and keeps unfair practices at bay.
Advertising aggregation: Advertising is one of the biggest revenue generators in the sports industry and nobody can afford to ignore it. At Talent IDO each marketplace of every sports team will have an advertising business model with cross-marketing promotion options. Talent IDO also plans to become a single seller in the advertising market to exploit big economies and avoid conflict that may rise due to the presence of multiple players.
Use of TAL tokens: Talent IDO has introduced tokens for transactions within the system. These tokens will act as de-facto currency and enable cashless transfers using blockchain technology. Each user possessing the tokens will become a stakeholder and can use them to buy or offer their services in the marketplace. It will further help in the verification of third parties and companies present on the platform.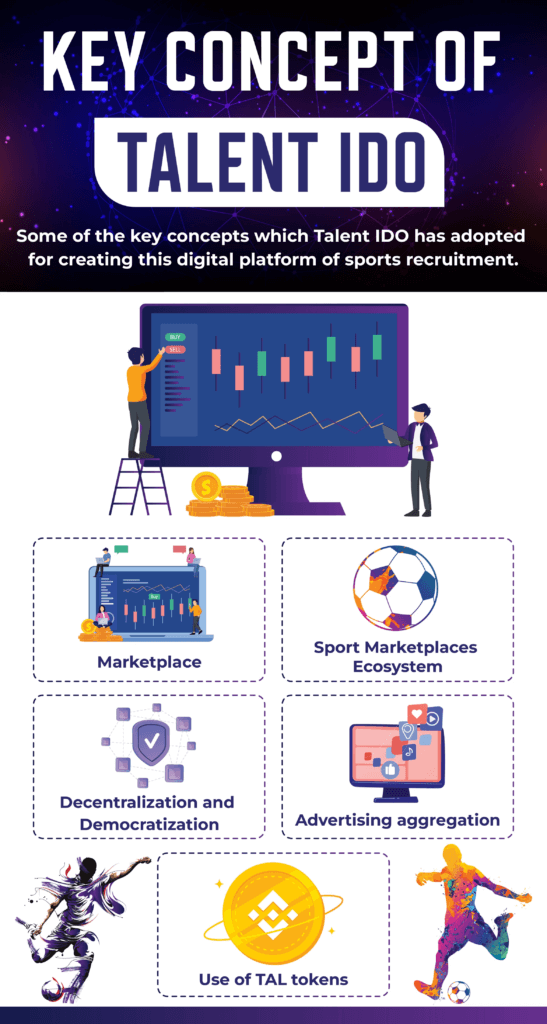 Talent IDO Solution in Practice
Talent IDO never fails to emphasize the fact that it is not an idea-based token launch project. The process of revolutionizing the sports industry recruitment has started much before and 3500,000 users at Fieldoo.com give testimony of it.
Fieldoo.com is a digital platform connecting players to teams, clubs, and merchandise sponsors and helps them in getting promising opportunities.
Fieldoo profile is the perfect way of making a career portfolio for the players. In this profile, they add their achievements, media clips, and snippets from their game for scouts, teams, or clubs to find them. Players build their brands by regularly updating their profiles. They promote themselves on social media using their Fieldoo profile for various brands to find them.
Intermediators and scouts also use the Fieldoo platform to interact with new promising players, market their existing players, connect with clubs, teams, and sponsors, and expand their business of sports recruitment.
Fieldoo profiles and portfolios help the clubs discover new talents quickly and cost-efficiently. Now they do not need to depend on scouts who skim only the top 2 to 3% of top players conventionally. Now they can directly interact with young and blooming talent, with representatives of other clubs, scouts, intermediates, and sponsors.
Talent IDO takes this entire setup one notch higher by offering blockchain solutions to the process of sports recruitment. When upgrading Fieldoo's profile to a Talent IDO sports passport, users can acquire new talents and opportunities quickly. It also helps in cutting the cost incurred due to online transactions. Since blockchain technology is irreversible, the chances of forging data are negligible and it makes the entire system transparent.
The icing on the cake is that you do not need any infrastructure or to be present in any specific location to use Talent IDO service. It is a worldwide service that you can access only by having an internet connection.
With such promising services, Talent IDO plans to increase its current user base of 350,000 and become a million-user platform in the next 18 to 24 months.
Business Model
Talent IDO is emerging as a one-stop technological solution for sports industry recruitment. It has upgraded the business models of its use case Fieldoo and offers both B2B and B2C business models to its users. It is creating an ecosystem where all big and small fishes in the industry can survive, thrive and flourish together.
Various streams for revenue generation on this platform are:
Players, scouts, intermediates, and clubs can subscribe to Talent IDO membership to promote their profiles, interact with top players in the market, acquire talent in real-time, get discounts on offline sports events, and prevent spamming through premium subscriptions.
Another stream of revenue is through advertisements from sports academies, clubs, schools, and vendors dealing in sports-related goods or services. Unlike Google or Facebook here they get the opportunity to advertise directly to the core audience.
Talent IDO also plans to generate revenue by charging flat fees for every transaction happening on the platform. They help in promoting a player and generate revenue from each stakeholder involved in the process.
Another promising stream of revenue is advertising. Both general and local advertisers are present on the platform to advertise their goods and services. Each sports marketplace can have its main sponsors and also have the option of avoiding general advertisers to prevent its users from spamming. The talent present on the platform can also create merchandise to sell on the merchandise store of the platform.
Operations and Financial Plan
Based on the performance of Fieldoo.com, Talent IDO is planning to achieve the desired number of 3,550,000 by 2025. They are all set to increase their revenue by releasing tokens of exchange, extensive advertisement support, organic growth of a decentralized platform, paid and free media campaigns, guerrilla marketing, offline events, trials, and camps.
The revenue jump is expected from $400,000 in 2022 to $1,100,000 in 2023 to $2,100,000 in 2024 to $3,500,000 in 2025. All the predictions are based on the current performance of the platform, the characteristics of the target market, and the bottoms-up budget method.
Self IDO Process and Market Rules
A major chunk of the revenue stream for Talent IDO depends on the funds raised by the athletes, singers, movie stars, entrepreneurs, and other creators using their brand, reputation, talent, and potential as collateral assets.
The creators can raise funds in two ways:
They can use their brand by creating a smart contract with Talent IDO. The process is also known as personal IDO which will be initiated by buying social tokens from the platform. These social tokens will be named after the name of the talent using them. Personal IDO will be a mandatory feature for all the creators on the platform. It can be a promising source of fundraising for new and upcoming talents to support themselves in the industry.
Creators can also buy NFT drops from talent IDO and raise funds by selling their artwork, goods, or rights. Unlike personal IDO, NFT drops are not mandatory for the creators and they can choose to buy or not buy it. It is usually used by popular and established talents to sell their merchandise on the virtual store at Talent IDO.
The more creators engage with these tools, more funds they will be able to raise and greater will be benefits for all the stakeholders. It is in favor of the Talent IDO platform to provide more such tools to its creators.
Talent IDO has simplified the entire fund-raising procedure. Both personal IDO and NFT drops can be bought by a similar process. This process is as simple as buying any merchandise from an e-shop. The only difference is here you will be paying with cryptocurrency rather than fiat currency.
Conclusion
Talent IDO is emerging as one of the most promising decentralized crowd investing platforms for sports industry recruitment. The key concept of the platform is to increase transparency in the otherwise opaque system of sports recruitment and promote organic growth of the platform through decentralization and democratization.
All the stakeholders present on the platform can create their own NFTs and get equal opportunities to showcase their talent, potential and grab opportunities that they would have otherwise missed through the conventional method of sports recruitment. Talent acquisition has become cost-efficient, quick, and impartial as players can now directly interact with teams and clubs and are not completely dependent on scouts.
Talent IDO has a promising business model offering earning and growth opportunities both in B2B and B2C segments. It offers various tools and revenue-generating options to its creators so that every stakeholder can grow and flourish together. It is a win-win concept for people who want to start their careers in the sports industry.
Hopefully, you have enjoyed today's article. Thanks for reading! Have a fantastic day! Live from the Platinum Crypto Trading Floor.
Earnings Disclaimer: The information you'll find in this article is for educational purpose only. We make no promise or guarantee of income or earnings. You have to do some work, use your best judgement and perform due diligence before using the information in this article. Your success is still up to you. Nothing in this article is intended to be professional, legal, financial and/or accounting advice. Always seek competent advice from professionals in these matters. If you break the city or other local laws, we will not be held liable for any damages you incur.