A Cryptocurrency exchange is an advanced platform that factilates cryptocurrency investing and the trading of them in exchange for other assets including, fiat and digital currencies. Thus, Cryptocurrency exchanges function as intermediaries between the buyers and sellers and earn money via transaction fees and commissions.
THE ADVANTAGES OF A CRYPTOCURRENCY EXCHANGE
THE EMERGENCE OF CRYPTOCURRENCY EXCHANGES
There has been a significant rise in the number of Cryptocurrency exchanges in the past couple of years. These exchanges facilitate the buying and selling of crypto assets. Using a cryptocurrency exchange, one can easily purchase a fraction of their preferred assets. Thus, if you wish to invest a sum of $500 in bitcoins, you can conveniently do that. You don't have to purchase an entire bitcoin and can instead buy a fraction of the same (for instance, 0.003 BTC). It provides investors with more flexibility, as well as makes it easy for them to set up balance portfolios using any amount.
Another benefit of the Cryptocurrency exchange is that it allows traders to purchase and sell cryptocurrencies on a 24×7 basis. This makes it highly attractive for retail traders who prefer to trade during their free hours. Also, cryptocurrency exchanges allow you to purchase as well as sell instantly. These exchanges settle instantly and based on the crypto assets that are in their custody.
In addition to this, when you use a Cryptocurrency exchange, you get to talk to the custodian, agent, as well as the marketplace. Today, almost all the crypto exchanges, including the young ones like Bityard, offer low transaction fees. They have a transparent fee model and thus do not charge any hidden fees from their users.
SPOT TRADING
Spot trading is one of the most popular ways in which investors can access the crypto market. It allows traders to trade fiat currencies with crypto-assets, as well as the crypto to cryptocurrency trading for instant settlement. It also entails buying cryptocurrency such as BTC and holding the same till its value goes up or using BTC to purchase other altcoins, which the investor believes may go up in terms of value.
When it comes to conducting spot trading, investors are required to go through a crypto exchange. With spot trading, investors can purchase and sell mainstream crypto assets, including Defi related currencies. However, to carry out spot trading, traders are required to follow numerous trading strategies. They can also make use of the tips provides by the spot crypto trading exchange.
CENTRALIZED AND DECENTRALIZED CRYPTOCURRENCY EXCHANGES
Cryptocurrency exchanges can be further divided into centralized and decentralized exchanges. The centralized exchange acts as the 3rd party between the buyer and the seller. They are controlled and operated by a firm and therefore offer increased reliability. Nearly, 99% of the cryptocurrency transactions are carried out through a centralized exchange. An example of a centralized exchange is Coinbase.
On the other hand, decentralized crypto exchanges allow traders to execute P2P transactions without involving any 3rd party or intermediary. But these exchanges do not offer fiat currency trading.
In essence, Defi (Decentralized Finance) is a shift from the traditional, centralized financial system to P2P finance, carried out using decentralized technologies, built atop Ethereum blockchain.
Right from borrowing and lending platforms to tokenized BTC and stable coins, the Decentralized Finance ecosystem has introduced a strong network of well-integrated protocols, as well as financial instruments. Today, the decentralized financial ecosystem has become one of the most active sectors within the blockchain segment and is used and accessed by individuals, institutions, and developers globally.
THE ADVANTAGES OF A CENTRALIZED CRYPTOCURRENCY EXCHANGE
User-friendly: Centralized Cryptocurrency exchange provides beginner investors with a user-friendly and simplified trading interface. While crypto wallets and P2P transactions can be highly complex, centralized exchanges allow users to log into their trading accounts, view the balance, and carry out transactions via websites and applications.
Reliable: Cryptocurrency exchange also provides additional security measures when it comes to trading and investing. It makes them highly reliable and convenient to use because they simplify the entire crypto trading process while ensuring the highest level of safety and security.
BENEFITS OF A DECENTRALIZED CRYPTOCURRENCY EXCHANGE
Mitigates Hacking Risk: Those who use a decentralized crypto exchange don't have to transfer any assets to the 3rd party. Hence, there isn't any risk of the organization or company getting hacked. This way, decentralized exchange users enjoy enhanced safety from theft and hacking.
Prevent Manipulation: Given that crypto exchanges permit P2P exchange of digital currencies, decentralized exchanges help to prevent all sorts of market manipulation, thereby safeguarding users from wash trading and fake trading.
Anonymity: Decentralized crypto exchanges don't require clients to fill the KYC forms, providing anonymity and privacy to users.
COPY TRADING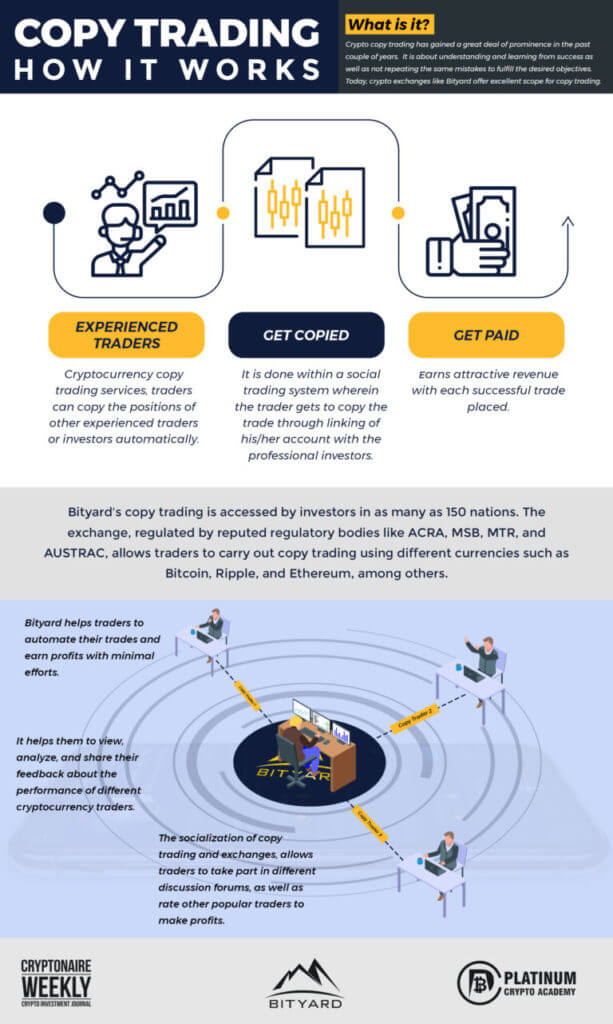 Crypto copy trading has gained a great deal of prominence in the past couple of years. It is about understanding and learning from success as well as not repeating the same mistakes to fulfill the desired objectives. Today, crypto exchanges like Bityard offer excellent scope for copy trading.
With cryptocurrency copy trading services, traders can copy the positions of other experienced traders or investors automatically. It is done within a social trading system wherein the trader gets to copy the trade through linking of his/her account with the professional investors. As a result, the trade position gets opened or closed automatically.
Many Cryptocurrency exchanges also allow traders to stop trades that they had copied and manage the order themselves. At the end of this process, the experienced investor whose trade position was copied earns his/her fee as part of the compensation. Several crypto copy trading exchanges allow traders to place stop-loss orders that enable them to control their risks. For instance, Bityard's copy trading is accessed by investors in as many as 150 nations. The exchange, regulated by reputed regulatory bodies like ACRA, MSB, MTR, and AUSTRAC, allows traders to carry out copy trading using different currencies such as Bitcoin, Ripple, and Ethereum, among others.
Bityard's copy trading functionality allows traders to trade complex contracts quickly and efficiently. Its advanced cryptocurrency copy trading platform is safe, simple, and transparent, as well as ideal for novice traders with little to no experience in trading. With Bityard's copy trading, traders can copy the trade positions of other highly experienced traders, and the professional trader, in turn, earns attractive revenue with each successful trade placed.
This makes Bityard's copy trading services highly interactive, innovative, and mutually beneficial for both original traders as well as the one who copies his/her trade. The exchange allows traders to search for experienced traders and copy their trades for earning profits. Traders who choose to copy the traders don't have to open or close their trade positions manually.
Also, Bityard's copy trading requires traders to submit all the information related to their trading history. This data/information is first seen by the Bityard portal before traders are listed and copied by several other traders. Hence, Bityard makes sure that all the crypto traders in their system are highly experienced and qualified so that other traders can also follow them, as well as their strategies.
THE SOCIALIZATION OF CRYPTOCURRENCY EXCHANGES
Another major advantage of A Cryptocurrency exchange can be seen in the form of its socialization. It allows Cryptocurrency exchanges to provide investors with a platform for effective communication. As a result, investors can reach out to other traders and information providers and hold discussions about the market, as well as the best investment strategy.
Cryptocurrency exchange traders always look forward to knowing and learn more about the crypto market trends, company details, and other developments. With the advent of different social media platforms, online networks, as well as communities, both newbie and experienced traders can easily acquire insights and ideas into the world of crypto trading. The socialization of copy trading has allowed traders to make money through either monitoring of their trading activities or simply copying of their transactions.
It has also ensured that crypto trading isn't restricted to the sharing of ideas and strategies between traders. The socialization of crypto exchanges like Bityard helps traders to automate their trades and earn profits with minimal efforts. It helps them to view, analyze, and share their feedback about the performance of different cryptocurrency traders. The socialization of copy trading and exchanges, allows traders to take part in different discussion forums, as well as rate other popular traders to make profits.
THE ADVANTAGES OF A CRYPTOCURRENCY EXCHANGE –
CONCLUSION
To sum up, cryptocurrency exchanges enable confidential transactions and convenient international trade. Investors who use a crypto exchange are not only able to access a platform for exchanging one crypto with another, based on existing market value, but also enjoy individual ownership. When it comes to choosing a crypto exchange, traders should look for one that is highly reputed and offers low fees. Apart from this, it is equally important to look for an exchange that offers multiple payment methods, best exchange rate while gathering requisite verification details.
For instance, crypto exchanges like Bityard make an excellent choice for traders searching for a simple, intuitive, and easy to use crypto exchange. With Bityard, crypto traders enjoy a host of benefits such as hassle-free trading, low transaction fee, and best customer service. Additionally, the exchange also offers copy trading functionality, which is excellent for traders who have limited or no experience in crypto trading. Furthermore, the socialization of the Bityard exchange also allows crypto investors to seek newer and better ideas as well as strategies for crypto investment. This helps them to make the most of their crypto trading opportunities.
Cryptocurrency Investing Top Tip
Understanding how you want to approach the cryptocurrency market from a timeframe perspective is key whether it's long-term positions (holding) or short-term trades. Cryptocurrency investing can be volatile, filled with major highs and low lows, understanding your strategy and approach is paramount to success. Long-term cryptocurrency holders WILL have to sit through corrections (likely seeing their balance go down 50% plus on paper as often as they see it go up). Short-term investors can avoid corrections if they are nimble, but they will have to dedicate a lot more time to the markets and keep a vigilant eye on the swings. The key tip here is to be clear on the approach and have a plan of action going into the markets. Hopefully, you have enjoyed today's article. Thanks for reading! Have a fantastic day! Live from the Platinum Crypto Trading Floor. 
Earnings Disclaimer: The information you'll find in this article is for educational purpose only. We make no promise or guarantee of income or earnings. You have to do some work, use your best judgement and perform due diligence before using the information in this article. Your success is still up to you. Nothing in this article is intended to be professional, legal, financial and/or accounting advice. Always seek competent advice from professionals in these matters. If you break the city or other local laws, we will not be held liable for any damages you incur.