Applied blockchain technology is only seen in a few well-established crypto companies recently utilising blockchain technology has gained prominence among businesses, consumers, and other investors since 2017.
Given the current pace at which the crypto exchanges, such as Bityard and others have been emerging, it wouldn't be surprising if the market witnesses the continued growth of these digital exchanges even in 2021 and beyond. Soon crypto traders will see major crypto exchanges announcing a host of fresh features and platforms that will help them in diversifying their service offerings and attract new customers.
DISCOVER THE FUTURE GROWTH TRENDS OF THE CRYPTO EXCHANGES IN 2021
From a slow beginning in October in 2008, the crypto exchange segment has grown and matured beyond expectation. Over the next few years, crypto traders may witness the leading exchanges like Bityard, functioning more like a fully evolved ecosystem, while consolidation in the crypto market will imply that only those exchanges, which are prominent and deliver best-in-class services shall remain.
EXCHANGES ADDING BOTH TRADITIONAL AND CRYPTO ASSETS
A look at the current situation reveals that many crypto exchanges have now begun to add investment services related to traditional assets i.e., forex, commodities, and indices. On the other hand, traditional exchanges have been including crypto trading services. For instance, crypto exchanges like FTX, eToro, and Bityard now offer multi-asset trading to facilitate traders across different markets, including stocks, cryptocurrencies, indices, forex, and other financial instruments. Given the scenario, many more exchanges will provide both traditional and crypto trading services in the days to come, and the aforementioned trading platforms have gotten a head start in the crypto market.
MORE INVESTORS WITH FINANCIAL OR CRYPTO BACKGROUND- CRYPTO EXCHANGES IN 2021
The story of cryptocurrencies started with Bitcoin emerging as the prominent crypto. Soon the price of Bitcoin witnessed a sharp rise, and investors began to leverage the market to earn massive profits. It led to the emergence of several other cryptos and altcoins that have since attracted traders from varied backgrounds and industries. Today, there are many investors with little to no financial or crypto background and knowledge that continue to enter the market daily. It implies that crypto exchanges will have to ensure that their user-interfaces and trading processes are simple and easy to use for investors from all walks of life. This trend will likely continue even in the future.
COPY TRADING WILL GAIN POPULARITY
Copy trading was developed in around 2005, and has become popular since then. It will gain even more popularity in 2021. One of the most typical and famous copy trading platforms is eToro, which has built a professional and comprehensive copy trading system for its users. eToro even added many social features to the system, allowing the users to copy other's trading, and to have strategy discussions with each other. Bityard, a relatively young exchange, on the other hand, have developed a well-simplified crypto copy trading system for its users. Its copy trading platform combines a complex contract with simple trading. As a result, users can access a safe, easy to use, and transparent trading platform that facilitates trading. Bityard's copy trading services are very useful for new crypto traders who have little to no knowledge & experience about crypto trading. Traders can easily copy the trade actions of other professional traders, whereas the professional traders acquire their share of additional revenue from every successful crypto trade that has been copied by the traders. This makes Bityard's copy trading platform interactive, innovative, and mutually beneficial for copiers, as well as professional crypto traders whose trade actions are copied.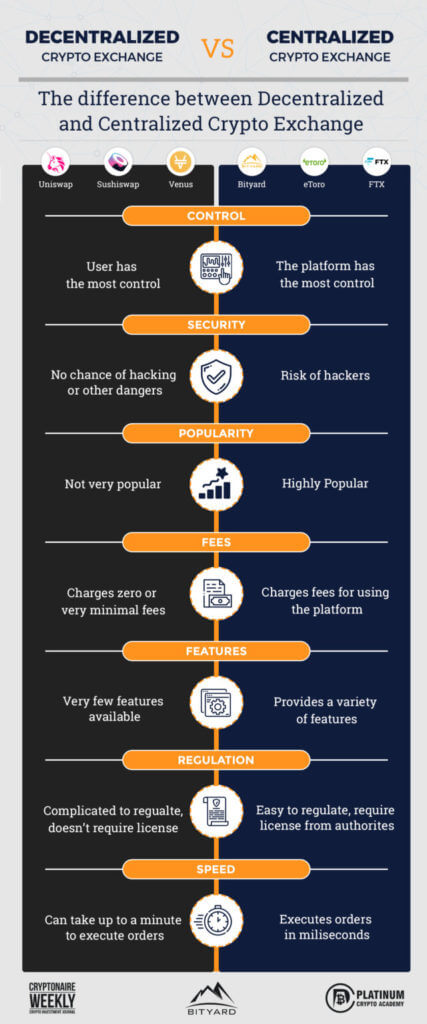 DEX CONTINUES TO REMAIN THE FUTURE – CRYPTO EXCHANGES IN 2021
Industry experts were right when they predicted exchange trends and the future. They predicted that DEXs would rise and grow in the years to come, and they were quite right in suggesting the same. Several decentralized exchanges were launched in 2019 simply because they led full control to their users. However, even though they have increased in number, DEXs still have a long way to go. They continue to remain minor as far as trading volume is concerned.
Today, almost all DEXs are exploring advanced technologies to ensure ease of use for crypto investors. In the next couple of years, traders will witness many exchanges diversifying and adding new functionalities and features. Many of them will look to embed tool that will facilitate fiat to cryptocurrency payment gateway into their platforms. This tool will also include margin trading services, a liquidity aggregator platform, an OTC corporate trading desk, and custody services.
Many also believe that crypto exchanges would diversify in the years to come. As a result, some exchanges will introduce prediction markets, security token exchanges, as well as options on cryptos. Others will launch an open blockchain platform and perpetual contracts (a kind of futures contract). In essence, this diversification will attempt to provide an assortment of trading services/options, which will help grab the attention of institutional investors, as well as corporate clients. However, retail investors won't be forgotten either.
SECURITY MEASURES
One common aspect of all the exchanges in 2021 and beyond will be the genuine efforts made towards the improvement of the security measures. Given that some crypto exchanges are being hacked, cybersecurity measures and enhancements will be needed to ensure safe trading. Thus, exchanges will look to come up with improved security measures, as well as policies, which will help to secure the entire ecosystem. The industry will witness greater emphasis on cryptocurrency custody services. It will be similar to traditional finance, wherein custodians and exchanges will be two different entities. The digital exchanges will work in the direction of standardization of security policies and practices that will be crucial for the growth and the adoption of cryptos as the asset class. One such popular crypto exchange is Bityard, which differentiates itself by offering fast, easy, and safe crypto-asset contract trading services. Established in 2019 (November), Singapore based Bityard offers diverse crypto trading services and also helps in avoiding slippages. In addition, Bityard is compliant with financial regulations and has obtained financial licenses issued by multiple national institutions.
TRANSFORMATION OF CRYPTO EXCHANGES
Industry experts believe that several leading exchanges will function similarly to large ecosystems instead of standalone trading portals in the next couple of years. They also feel that the next decade will witness increased integration between crypto exchanges and the traditional finance system, making crypto much closer to the mainstream. The market will most likely see the consolidation of different exchanges in the years to come.
Market analysts also believe that only a couple of top-tier crypto exchanges will remain by 2029. Furthermore, they will be fully regulated, as well as at par with the traditional exchanges. As a result, crypto exchanges will transform into hybrid platforms, capable of offering a range of products, such as equities and STOs. These platforms shall compete with big and popular exchanges like the Nasdaq.
Industry insiders also predict that retail investors will look to trade cryptos on P2P networks that use highly efficient Lightning Network technology. Many think that two different types of crypto exchanges in 2021 will emerge. While some would function as traditional financial organizations that offer a limited range of professional services and digital assets, others will serve more as internet giants that will provide a wide variety of services and have several operational campaigns for driving traffic. Also Defi or decentralized finance will become one of the key aspects in the next 5-10 years. As a result, several non-traditional banks will embrace the Defi platform to enter into the traditional world of banking.
TRANSFORMATION OF BITYARD AND OTHER EXCHANGES
Many crypto exchanges in 2021 will focus on newbies as they expect that in 2021 and beyond, many individuals will purchase cryptocurrency for the very first time. As a result, many platforms will look to offer a simple and easy-to-use trading portal in addition to other services, following which the entire crypto segment will move in a similar direction. One such popular crypto exchange that will transform itself for its users will be Bityard. The exchange, with its simple UI design, rich crypto trading services, and a wide range of crypto assets, will emerge as one of the prominent exchanges in the world. The crypto exchange is also planning to launch forex and stock trading services in the future.
BLOCKCHAIN
Blockchain is the key technology that can transform the operations of several industries in the future. The technology has already helped many organizations embrace many benefits via decentralized networks, top-level security, and immutable transactions. However, crypto exchanges in 2021 that function in today's financial market will make optimal utilization of blockchain technology.
Users today have come to realize that both decentralized and centralized exchanges are far from perfect and come with their limitations. Hence, organizations had no choice but to create 2nd gen decentralized crypto exchanges recently. These exchanges, built atop scalable blockchain systems, can be traded with several other blockchain systems seamlessly and with assistance from open-source UI. Thus, they enable the exchange of digital assets. This trend will likely continue in the future, as with the increase in the public interest, users will expect increased security and control when they engage with these exchanges.
PROFESSIONALIZATION IS THE WAY FORWARD
Crypto exchanges will have to work towards winning their customers via professionalization. The easiest way to ensure this is through the hiring of top professional managers and executives from giants such as Google, Barclays and Lyft, and other prominent companies. In addition to this, they will also need to focus on and accept regulations. Thus, regulations, as well as other attestations, such as SOC audits, will become a positive instead of a negative for the exchanges. Another crucial aspect of regulatory acceptance for the exchanges will be market surveillance, and it will further help minimize manipulation.
CONCLUSION
To sum up, cryptocurrency exchanges have come far from being not as important to a way more mature industry at a much faster pace. This process of maturing of the crypto exchanges have made them fit for entering the public financial markets. Also, factors like quicker, safer, and low-cost transactions that are being offered by Bityard and other exchanges, have influenced the growth and popularity of crypto exchanges and markets further. In the future, increased investment in blockchain technology, and high acceptance of cryptocurrencies, will accelerate the growth and spread of the crypto market and exchanges. The growing need for advancement in cryptos and safer transactions will also help the crypto market to emerge further.Hopefully, you have enjoyed today's article. Thanks for reading! Have a fantastic day! Live from the Platinum Crypto Trading Floor.
Earnings Disclaimer: The information you'll find in this article is for educational purpose only. We make no promise or guarantee of income or earnings. You have to do some work, use your best judgement and perform due diligence before using the information in this article. Your success is still up to you. Nothing in this article is intended to be professional, legal, financial and/or accounting advice. Always seek competent advice from professionals in these matters. If you break the city or other local laws, we will not be held liable for any damages you incur.