Quick Links
Crypto platforms have been gaining use cases in various industries and sectors. A few DeFi projects are changing the way banking, e-wallets, and trading works.
The need for cryptocurrencies today
A few years ago, if you had mentioned the term 'cryptocurrency', we would have thought of some kind of digital currency involving an underworld banking system, sitting behind shady computers, or something illegal.
But now this term 'cryptocurrency' is booming and not only in the business sections of daily websites or financial publications but on their cover page. Entire sections of news publications are becoming devoted to things like Bitcoin, Ethereum, and Blockchain.
Jurisdictions around the world are working for regulations to allow or make it easier for companies to carry out initial coin offerings (ICO's) or token issuances. Is 'cryptocurrency' even the right terminology? Or should it be 'digital currency'? 'virtual currency'? So, the question we ponder now is: what do we call it? Do cryptocurrencies really deserve this much attention? Should we care this much? What is the long-term impact of crypto?
What is it?
Cryptocurrency is a blockchain-based platform meant to be – completely decentralised. A decentralised blockchain platform means it is not governed by any central bank or regulatory body. It is a peer-to-peer community computer network made up of users' machines or 'nodes'.
Using blockchain is like effectively using a database – a 'distributed public ledger' – which runs via cryptography. Cryptocurrencies such as Bitcoin and Etherum are secure as it has been digitally confirmed by a process called 'mining'.
Mining is a process where all the inputs entering the Bitcoin blockchain have been mathematically checked using a highly complex digital code set up on the network infrastructure. That blockchain network will verify and confirm all the new entries into the ledger, as well as any changes to it.Although it is fundamentally anonymous, the mathematics behind it makes it a global public transaction ledger, so every transaction can ultimately be traced through cryptography.
Why is it so important?
There are various types of cryptocurrencies in the world. But the most mentioned and used are Bitcoin (BTC) and Ether (ETH).
Bitcoin was the very first blockchain – a financial one – which is speculated to be created by an individual (or group, who knows) called Satoshi Nakamoto in 2008. Its value has exponentially increased and shot up staggeringly: you may have seen on the Internet such claims as 'if I had brought $1of bitcoin back when it started, I'd have over US$1 million now' basically you would have become billionaires. An increasing number of retailers and internet sellers are accepting Bitcoin as a method of payment all around the globe.
Ethereum is very similar to Bitcoin and extends its uses beyond the mere financial side of things such as mining, into the provision of services on its particular blockchain. Ethereum provides built-in functions which can be used to write, for example, smart contracts that can be used for many purposes, including the transfer and mining of its tradeable digital token, Ether (which is even more complex than Bitcoin).
Regulators issue 'buyer beware' notices for protecting the investors to regulate the decentralised technology. Investing in initial coin offerings (ICO's) and cryptocurrencies is highly speculative, and basically, you can lose all your money, but it is gaining a lot of traction. Cryptocurrency exchanges are far more volatile than the stock markets.
But cryptocurrency is important, and is not going away anytime soon, or be limited to 100 years as others may speculate: transactions are fast, digital, secure, and worldwide, which in essence allow the maintenance of records with added security without risk of data being pirated. This minimises fraud and increases transparency.
Also, an added advantage, digital currency such as Bitcoin should not result in inflation. The total number of bitcoins ever to be mined is limited to approximately 21 million, so there is no way the total amount of cash in the system can be increased by any central bank. Bitcoin itself is, by its nature, limited, though one can certainly argue that cryptocurrencies themselves are infinite as they can be generated by anyone.
Should you care?
Many large banks and governments are now spending money collaborating with existing crypto clients or developing their cryptocurrency.
'So should you invest in any cryptocurrency such as Bitcoin or Ethereum?' Do you have any spare money? Do you like to speculate on a fairly volatile investment? If so, welcome to the Cryptocurrencies are your thing.
As mentioned, the cryptocurrency markets are currently all over the place. While that is the case, one should keep in mind: outside of Bitcoin and Ethereum, there are several high-quality digital token and coin issuers, with excellent investors and teams, with very good AML procedures in place, a great business model, etc. Yet indeed, there are also numerous completely awful ICO's which are taking place. Hence, the need for regulator 'buyer beware' notices. Do your research before investing.
In terms of importance, one other key item to note is that as cryptocurrencies become more widespread, it is the decentralised ledger technology, blockchain, upon which crypto is based, which stands apart.
Blockchain is just a platform, and its technology allows those cryptocurrencies and several digital and utility tokens to operate on it. Essentially, any transaction capable of being recorded can look to the use of blockchain, whether they be medical records, immigration information, birth certificates, insurance policies – all of that data can be stored and guaranteed over a blockchain, and hence it is finding applications across various sectors and industries.
The use of smart contracts based on the Ethereum blockchain – protocols allowing the self-execution of contracts once certain conditions are met – is also booming. One such platform is the Decentralised Thaler (DeGeThal) platform. DeGeThal – Missed Binance? Missed Revolut? This is your next stepping stone in the fast-growing crypto world, and this platform is taking over the markets worldwide; it is only wise to hop on and join the crypto bandwagon.
That being said, here's the brand new DeGeThal platform. The DeGeThal project is a decentralised thaler trading platform that provides investors with a platform to trade cryptocurrency assets in a secure, transparent, easy to use and profitable environment. DeGeThal aims to provide traders with an ecosystem where they can trade cryptocurrency assets in a secure and transparent environment easily and promote financial market stability.
DTM Token characteristics
DeGeThal is a cryptocurrency platform that has been built using the latest blockchain technology and is easy to use for every person to carry out their day-to-day transactions. The DTM token is meant to be used as a payment token on the DeGeThal platform. With its entry into the market, it seeks to fulfil its goal of ensuring that anyone in the world can use an affordable global currency and process transactions without any third parties and intermediaries. DTM tokens will act as the heart of the platform: all DTM holders will exchange crypto and fiat with reduced fees. In future stages of the project's development, the staking and rewards module will be unveiled. All DTM holders will be called to put forward the security of DeGeThal operations with their stakes.
The whole reason behind all this is, the team at DeGeThal believes that the crypto market growth has not yet reached its potential. Therefore, its development will be used as a viable and reliable alternative to the conventional financial system regardless of the economic, epidemiological, or political factors.
It is said that a journey of a thousand miles begins with a small step. DeGeThal's first such step was made in the last quarter of 2021 when the team started the development of the platform. In this period, the creators and team worked hard to build the network infrastructure of this new blockchain-based technology as well as to create solutions for their partners and clients. The platform's prototype is set to be released for use in 2022, after which it is anticipated entry into the markets.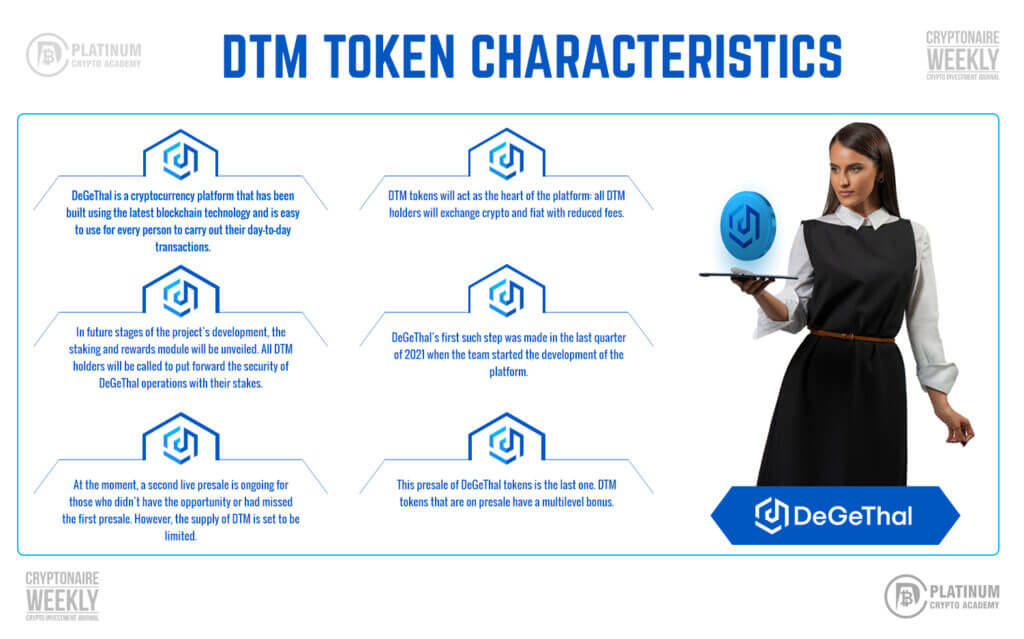 At the moment, a second live presale is ongoing for those who didn't have the opportunity or had missed the first presale. However, the supply of DTM is set to be limited. This presale of DeGeThal tokens is the last one. DTM tokens that are on presale have a multilevel bonus that comprises six stages of increasing bonuses relative to where the presale ends in the following order;
+5% bonus for presale of 0 – 2000 BNB (ICO learner)
+7.5% bonus for 2000 – 4000 BNB (FUD destroyer)
+10% bonus for 4000 – 6000 BNB (Bullish power)
12.5% bonus for 6000 – 8000 BNB (Hodl champion)
15% bonus for 8000 – 9999 BNB (Legendary whale)
+20% bonus for 10000 BNB (Divine mooning)
Using DTM Tokens
DTM was released to be a utility token of the DeGeThal platform. DTM is a type of token initialised with utility and governance types, and it can be used for payments, fees, tokens etc. It will be used for various purposes on the platform. Users with DTM tokens may have the option to stake their tokens to earn rewards or participate in the governance phase. Also, if users are interested in investing and buying the DTM tokens, they can purchase these tokens in an upcoming pre-sale program.
The tokens are used on the Binance smart chain network with a limited supply of 100 million DTM tokens. The ecosystem allows users to use tokens within the platform to pay for services on DeGeThal and trade DTMs on exchanges. DTM will also be used in the referral program to support active members.
Transaction fees:
3% -automatically distributed to holders
3% -automatically added to the liquidity pool
Why should you choose DeGethal over other crypto projects?
Being a currency customised to everyone's needs, the DeGethal platform is making financial services convenient and accessible for people around the globe. This is done by bringing together various financial products and offerings all under one roof.
It links fiat and crypto, and the banking license allows it to be deposited with fiat and crypto, which are seamless and quick, allows the exchange of assets and even withdrawal at ATMs, imparting a multi-currency feature.Security has been prioritised, and the assets are protected and securely stored to prevent theft of assets by checking procedures to the ones used by superior banks and other blockchain projects. This makes it easy and simple to use.
The whole ecosystem comprises of:
Multicurrency wallet and payment system linked with credit and debit cards
Trading platform
NFT marketplace
Payment Gateway
Exchange (CEX) with liquidity pool
Rewards using the staking program
Own blockchain that supports smart contracts
DTM Token
The multi-currency wallet provides secure storage cryptocurrencies and fiat and integrates the interaction of bank cards and accounts with cryptocurrencies and fiat.
DeGethal is an innovative, user-friendly project created by an experienced and highly qualified team to make the most of blockchain technology. This project supports DeFi & NFT with many passive income opportunities.
Fast speed with low fees, transparency, immutability, and avoidance of third-party involvement are the features of the platform that provides the best user experience while providing the best options for trading crypto assets while also generating interest income and rewards through staking and liquidity mining. Degethal is now also partners with Polygon who will be giving them a grant as well.
Conclusion
Without a doubt, DeGeThal This is a high-quality project that is visually appealing, and it has been one of the most awaited projects. All of the management and team's experience will help the development of the project move forward much faster. This project has the right ingredients to be a success, along with a great team that is more than qualified and focused on the success of this project.
This project will undoubtedly be a huge success. Everyone has a responsibility to participate in this project because missing out on such a high-quality project would be absurd.
Hopefully, you have enjoyed today's article. Thanks for reading! Have a fantastic day! Live from the Platinum Crypto Trading Floor.
Earnings Disclaimer: The information you'll find in this article is for educational purpose only. We make no promise or guarantee of income or earnings. You have to do some work, use your best judgement and perform due diligence before using the information in this article. Your success is still up to you. Nothing in this article is intended to be professional, legal, financial and/or accounting advice. Always seek competent advice from professionals in these matters. If you break the city or other local laws, we will not be held liable for any damages you incur.