With the emergence of cryptocurrencies and a host of other crypto-assets crypto exchanges have also grown in number and size. Today anyone can easily open their accounts to trade different cryptocurrencies, both against the fiat currencies, as well as each other, through a digital exchange. In this article, learn more about the rise and popularity of the digital exchange and how Bityard has emerged as one of the popular digital exchanges in the world.
THE RISE OF DIGITAL EXCHANGES
After the invention of Bitcoin, its price rose sharply in 2017, and it further attracted hundreds and thousands of investors across the globe. Thus, the fast-growing crypto market resulted in the emergence of numerous digital currencies that have become significant to every other individual.
Recently, after Bitcoin surpassed $20,000 to reach all-time high pricing and with PayPal agreeing to provide crypto trading services to its users, crypto assets are gaining way more prominence than before. It was one of the major reasons behind the growth of digital or crypto exchanges.
Digital exchanges can conduct business in the same manner as the forex trading companies. It implies that one digital currency can be exchanged with another digital currency. For instance, how people exchange one USD for INR, similarly Bitcoin can be easily exchanged for Ethereum, Ripple, and other cryptos, as well as vice-versa. These platforms can sustain themselves through the levying of a small amount of fee for every single transaction.
Almost every digital exchange (crypto exchange) offers both crypto pricing and trading related information today. The emergence and popularity of these digital exchanges, including the likes of Bityard, has led to the formation of an ecosystem of participants and services that further offer liquidity. These exchanges also exploit any discrepancies in price for profits and accept investments by professional and retail investors.
THE EMERGENCE OF CENTRALIZED AND DECENTRALIZED EXCHANGES
More than 7000 cryptos are being circulated today, and when compared to other financial trading instruments, crypto regulations and the digital exchanges used for trading them have just started to emerge. These exchanges vary according to the country they have been established in, and at present, there are over four hundred digital exchanges.
However, after the development of crypto exchanges, they were further divided based on their underlying architecture. Thus, they were put into two groups known as CEX (Centralized Exchanges), as well as DEX, or (Decentralized Exchange). The CEX is run by 3rd party operators who ensure coordination of exchanges between the sellers and buyers. On the other hand, DEX follows the principles listed by Bitcoin's founder Satoshi Nakamoto and thus does not feature 3rd party operators.
There are some popular centralized exchanges such as Bitfinex, GDAX, Gemini, Kraken, and Coinbase, and some decentralized exchanges like Bityard, Altcoin, AirSwap, Bancor Protocol, and Barterdex in the global market. In fact, Bityard is one of the most popular and fast-grwoing trading platforms among many crypto exchanges, while offering its users with safe, simple, and fast crypto derivative trading services.
Also, while centralized exchange platforms enable fast exchange and high liquidity, the DEX platforms preserve anonymity and are also hack-proof. But there are a few decentralized exchanges that don't require any intermediary to function as the wallet provider, like dYdX.13. However, they haven't yet managed to acquire the same amount of liquidity as those of the prominent centralized exchanges. Despite these advantages, DEXs are right now in their early stages, and a whole lot of development is still needed. Some of the cons include poor user experiences, little customer support, crypto to cryptocurrency trading, and scalability.
What needs to be understood here is that Defi (Decentralized Finance) is a shift from the traditional, centralized financial system to P2P finance, carried out using decentralized technologies, built atop Ethereum blockchain. Right from borrowing and lending platforms to tokenized BTC and stablecoins, the Decentralized Finance ecosystem has introduced a strong network of well-integrated protocols, as well as financial instruments. Today, the decentralized financial ecosystem has become one of the most active sectors within the blockchain segment and is used and accessed by individuals, institutions, and developers globally.
However, both these exchanges have struggled as a result of their own set of issues. While the CEX not only levied high transaction fees, it also exercised full control over the customers' funds. Also, the centralized exchanges store their user's assets on hot digital wallets, which can be easily hacked. Similarly, DEX has the reputation of processing all transactions at a slow pace. It proves unfavorable for individuals looking to leverage on crypto's price volatility. Also, decentralized exchanges don't adhere to regulations like that of KYC and AML.
But, the limitations of these two exchanges gave rise to another improved and advanced platform called the Hybrid crypto exchange. The hybrid exchange offers the best of both DEX and CEX exchanges as it focuses on the main aspects like user anonymity and fund liquidation.
OTHER ADVANTAGES OF HYBRID EXCHANGES INCLUDE:
– Despite being managed by a 3rd party operator, users enjoy increased control over the funds when they conduct transactions through hybrid exchanges.
– The hybrid digital exchanges safeguard the anonymity of the users and also comply with multiple crypto regulations.
– Funds never get stored on the hot digital wallets, and thus launching hack attacks is difficult on the hybrid exchanges.
– The speed of transactions is quick, while transparency is fully maintained. It makes the hybrid exchanges an exciting option for carrying out trading.
– The hybrid exchange's architecture is scalable that makes them an ideal crypto trading platform for the future.
With the applications and awareness of cryptos increasing with every passing day, many view them as the best investment option. As a result, the global crypto trading volume now stands in billions. Hence, with the launch of hybrid digital exchanges, traders are shifting to a much more formalized and responsible platform for carrying out transactions.
Currently, several leading crypto and blockchain development firms are excelling at building hybrid exchanges that are both feature-rich and user-friendly. These exchanges offer different payment gateway options for hassle-free liquidation of crypto funds. They offer customized and white label solutions, thus providing traders with full control over their platform.
REASONS BEHIND THE EMERGENCE OF THE DIGITAL EXCHANGES
Before the emergence of crypto exchanges, people could get Bitcoin only via mining or through arranging transactions in online forums. Earlier traders used to transfer fiat currencies for exchanging Bitcoin, either through PayPal or bank transfer. Bitcoin was later deposited within their private cryptocurrency wallets.
Following the growth of digital exchanges, acquiring Bitcoin as well as other cryptos has become both simple and easy. These exchanges are offering a wide range of services in the financial markets. To begin with, they make trading, i.e. buying and selling of cryptocurrencies highly convenient. Apart from this, crypto exchanges also provide information about the pricing and market value of different cryptos. Additionally, they also offer asset storage facility to crypto traders.
At present, exchanges like Bityard and Binance have gained a great deal of popularity. Other popular digital exchanges include Coinbase Prop, Kraken as well as Huobi Global. Apart from the volume of trading, the total number of crypto coins, as well as the coin pairs being offered, vary for different exchanges. Less than 20 digital exchanges are currently offering over 200 coins. Also, as many as 15 exchanges provide over 400 coin pairs. Most of the crypto exchanges are too small and offer fewer coins, as well as coin pairs.
HOW DOES AN EXCHANGE BECOME A KEY PROVIDER?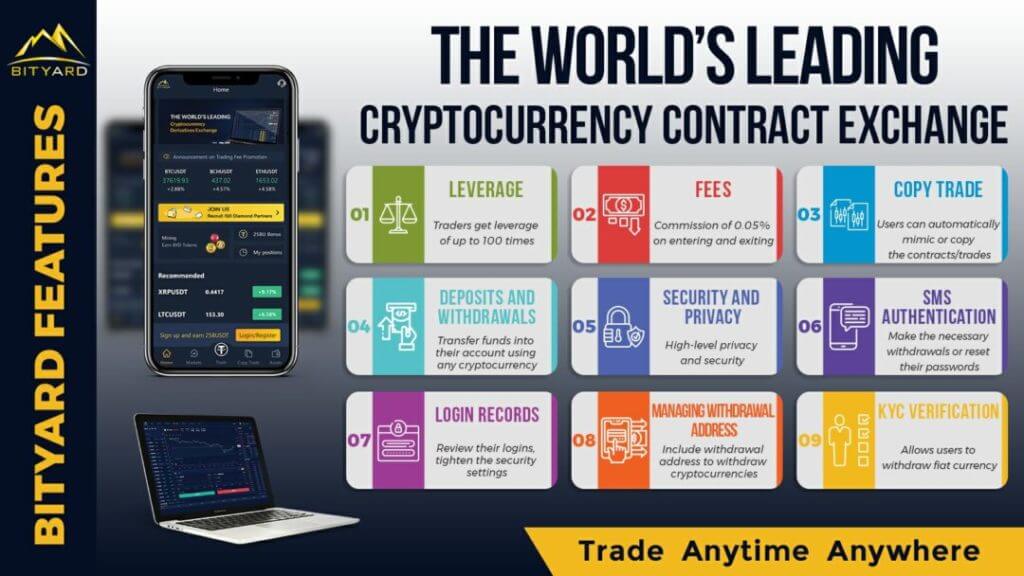 A NUMBER OF FACTORS DETERMINE HOW DIGITAL EXCHANGES BECOME KEY PROVIDERS.
Liquidity: This implies being liquid in the number of coins as well as coin pairs. A liquid crypto market enables traders to buy as well as sell cryptos in reasonable volume at the same price instead of impacting the prevailing market price. Thus, as the total number of individuals trading an asset on a crypto exchange increase, the opportunities for others to trade cryptos also increases. As a result, digital exchange gains huge popularity. Apart from this, liquidity in a specific crypto asset also has a positive impact on the liquidity in the other cryptocurrencies. Most mainstream and popular crypto assets including Bitcoin, Ethereum, Bitcoin Cash, Ethereum Classic, Cardano, Cosmos are available on Bityard.
Trust and Security: Security is extremely important for crypto exchanges as it allows traders to safeguard the crypto coins held within the digital exchange's wallets. Currently, there is limited protection being offered by regulation, but a few big exchanges like Bityard, have successfully introduced measures for securing traders' coins. It is actions like these that create a level of trust and confidence among traders. Bityard is compliant with financial regulations and have received multiple licenses issued by MSB, ACRA, AUSTRAC, and MTR, which makes it one of the safest crypto exchanges in the world.
THE RISE OF DIGITAL EXCHANGES – CONCLUSION
To sum up, globally crypto exchanges have witnessed impressive momentum, especially in the last few years. Many of these exchanges have been evolving, thereby adding fresh services, as well as building a new base of users that can support the future of cryptocurrency mass adoption. Digital exchanges have flourished despite COVID-19. Also, with more than 90 percent of the blockchain activities happening on digital exchanges, they have become a massive part of the cryptocurrency market.
Remember, digital exchanges have become central to the growth and success of the cryptocurrency market. They witness growth, market trends, user behavior, trading volumes, etc. directly, and on the micro as well as macro level. Thus, it won't be incorrect to say that digital crypto exchanges will continue to rise in the years to come.
Given such a scenario, big exchanges such as Coinbase need to adapt to the fast-emerging market, aside from adjusting to their development strategy to remain the mainstream crypto exchange. On the other hand, upcoming digital exchanges, such as Bityard, need to quickly develop their unique competitiveness and innovativeness to survive in the market. Bityard has already managed to grab the attention of traders by providing them with a smooth, fast, and efficient crypto trading platform, as well as a host of features.
The platform also offers low or minimal entry levels, innovative complex contract offerings, and a simple user interface that make it an ideal platform for new entrants in the market. Hopefully, you have enjoyed today's article. Thanks for reading! Have a fantastic day! Live from the Platinum Crypto Trading Floor. 
Earnings Disclaimer: The information you'll find in this article is for educational purpose only. We make no promise or guarantee of income or earnings. You have to do some work, use your best judgement and perform due diligence before using the information in this article. Your success is still up to you. Nothing in this article is intended to be professional, legal, financial and/or accounting advice. Always seek competent advice from professionals in these matters. If you break the city or other local laws, we will not be held liable for any damages you incur.