There are around 2.7 billion gamers on the planet. However, it is still unclear if the gaming industry has its own social media platform based on cryptocurrency. So, how many feeds would you have to go through to find the information you need? Wasder ecosystem aims to target this area by offering a gamified, token based ecosystem. It is a platform where you can play individually or as a group and have a chatroom where you can make friends. If this makes you curious enough to want to know more about Wasder, you're in for a treat.
What Is The Wasder Ecosystem, And How Does It Work?
Wasder is a social gaming platform that combines cryptocurrency with social gaming to enable gamers to embrace their passions. Wasder is a gaming ecosystem powered by Defi that partners with GALA GAMES, RAZER, Ethereum, Polkadot, and Binance smart chains.
It also increases the number of ways gamers can connect, discover, earn and express themselves. With Wasder, gamers can instantly find other players to play online games using the Wasder matchmaking feature. The matchmaking feature enables users to find other users to play online with. Additionally, Wasder also has a discover feature that lets users discover exclusive content, including clips of your awesome gaming exploits.
Wasder Ecosystem: How Does It Work?
Wasder is quite different from traditional gaming platforms. The platform combines both traditional gaming and digital gaming, along with decentralised cryptocurrencies. There are also some interesting additional features. The following features describe what makes the Wasder ecosystem unique.
The Profile
The focus of everyone's attention is on your profile. You can make it unique by including your favourite games. You can share about yourself, customise your profile, and showcase your favourite games and achievements so you can be known. The Party Play feature makes it easy for you to find others interested in your games once you upload them to the platform. They have also announced "The Game of Wasder", which features fully interactive profiles where you can showcase your cool NFTs.
With Party Play, You Can Play Together
You can get to know new people and have fun playing your favourite games with them. The purpose of Party Play is to simplify matchmaking. The best matches will be found using parameters for games, platforms, and regions, which will allow you to discover new pals within a nontoxic and safe environment. You can view a complete list of available players and see your best matches. In addition, you can pair up your colleagues with the same rank if you're playing competitively.
The Feed
Wasder will allow users to share and discover interesting videos of gamers, gifs, images, links, and more with thousands of other users. The app also offers users the opportunity to go live on social media networks like Twitch to broadcast their gameplay.
Take Part In The Discussion
Using your feed, you can share your interests and learn about people who care about them. If you want your content to reach the right audience, you can tag it. You can upload your favourite meme and share your day. In addition, you can personalise your feed according to the games you like.
Assemble Your Team
There will be a Friends Hub in Wasder, so you and your friends will be able to explore. It's easy to keep up with what your friends are doing and join in on the fun. As you'll be able to see what they're doing through their activities, you'll be able to share your gaming enthusiasm with them.
Community Events
The gaming community plays a major role in the success of any gaming platform. The goal of gaming is to beat your opponents. That way, gaming keeps its community connected by allowing them to play together whenever they want. All users welcome, regardless of their role or game preference, whether they are Twitch streamers or in the rocket league bracket.
Wasder Tokens: What Are They, And How Can You Get Them?
The native token of the Wasder platform is $WAS and will serve as fuel on the platform. The Wasder gaming crypto token ecosystem was designed to encourage its users to keep using and testing its existing features. This is a circular economy that offers a variety of engaging methods to earn and spend best gaming coins.
Their team is actively searching for ways for content creators to get compensated by fans. But, of course, as something circular, this implies that Wasder will come up with ways to give back to fans and the community.
WAS tokens are currently available in two locations. Therefore, they need to have a cryptocurrency wallet. Uniswap and Zero are good cryptocurrencyexchanges where users can buy Wasder tokens. Furthermore, it will be easy to obtain WAS crypto gaming tokens if users have experience investing in cryptocurrency like Ethereum. Around 69 million tokens are distributed every month from a supply of one billion.
The Wasder ecosystem, in general, is striving to offer customers better spend and ways to earn Wasder's best gaming coins.
Ways To Spend
-Users can use $WAS gaming crypto tokens to participate in VIP events (i.e. influencers, e-sport teams, streamers and NFT tickets).
-The user can also spend $WAS on the platform to purchase avatars, frames and badges, NFTs, and customised looks for their profile.
-Users of the platform can also tip or pay their favourite content creators with $WAS tokens. This encourages creators to create content on the platform.
-Players can spend $WAS tokens to challenge other players to a game battle.
Ways To Earn
-It's possible to organise tournaments and events and invite all your friends (and enemies).
-The Wasder Gaming Platform also lets users earn rewards and money on community leaderboards.
-Battles and tournaments provide rewards in $WAS for people who defeat other community guilds.
-The newly announced Game of Wasder will allow users to earn tokens based on participation and usage, f.ex. daily and weekly quests, certain actions etc.
How To Buy Wasder Token $Was
Wasder tokens $WAS are currently only available on the Ethereum blockchain network. $WAS is a multi-chain project, which will be accessible on all decentralised chains such as Binance Smart Chain and Polkadot shortly. At the moment, you can buy $WAS on two exchanges and directly from your private wallet. If you're new to crypto and want to buy a $WAS gaming crypto token, we suggest using Metamask or Ledger wallet if you're going to use the desktop version. If you have a smartphone including iOS and Android, we recommend you use Trust Wallet or Safe Pal Wallet to store and/or buy $WAS tokens.
Currently, $WAS can be bought or sold on two platforms: "ZERO" Z, powered by Defi and Uniswap. Now let's look at where you can buy them:
-You will need the Smart Contact address to purchase $WAS Token
-You need to visit this link: https://wasder.gg/token-info/
-There are links to Smart Contracts here and on the next page
-The Smart Contract address should be copied and pasted on to Uniswap token pair, select ETH, and click on Swap
-After the transaction confirmation, your tokens balance will reflect in your wallet.
Staking Tiers In Wasder – Detailed Overview
In total, there are five pools where tokens can be deposited, each with a different set of awards and prizes. However, the ERC20 tokens are the only ones eligible at this time. The first phase of the pools have been locked, and a second phase has been announced. The tiers below are for the first phase.
Bronze Tier
Bronze tier lock-up is 30 days, which means there is a 1-month lock-up. Stakeholders in the Bronze tier of the lock-up program will get up to 10% APY. There is a limit of 7.5 million WAS tokens per pool.
Silver Tier
Users can earn 25% APY if they lock their tokens for more than 60 days. The maximum number of WAS tokens in a pool is 7.5 million. The first 1,000 users who are the first to lock 5,000 tokens in this pool will receive a Limited-Edition Screensaver from Wasder.
Gold Tier
The company is offering 50% APY for tokens locked for 90 days. WAS tokens may be pooled up to 15 million at a time. If you lock 150,000 or more tokens, you will receive fast verification and a verified badge on the platform.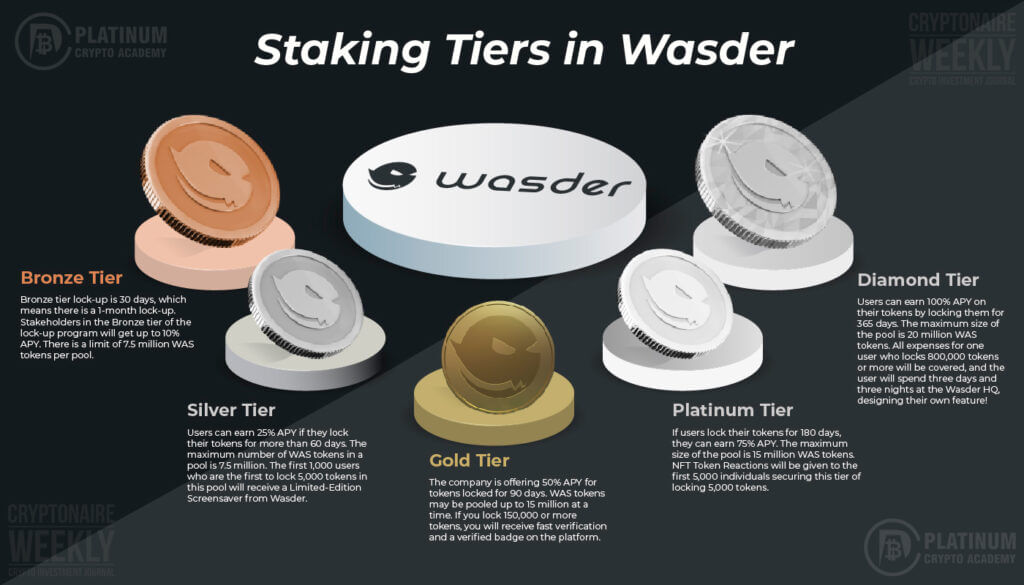 Platinum Tier
If users lock their tokens for 180 days, they can earn 75% APY. The maximum size of the pool is 15 million WAS tokens. NFT Token Reactions will be given to the first 5,000 individuals securing this tier of locking 5,000 tokens.
Diamond Tier
Users can earn 100% APY on their tokens by locking them for 365 days. The maximum size of the pool is 20 million WAS tokens. All expenses for one user who locks 800,000 tokens or more will be covered, and the user will spend three days and three nights at the Wasder HQ, designing their own feature!
Benefits Of Token Wasder Staking
The result of staking their tokens is pretty straightforward. As rewards, you can expect to receive prize tokens from staking. A distinctive feature of Wasder staking is that it is both simple and secure. After users stake, they receive their rewards. Staking your Wasder gaming crypto token will give you the following benefits:
Liquidity Staking
Despite being a gaming platform, Wasder still allows users to provide liquidity and earn rewards. The liquidity stake ensures a pair of tokens is liquid, such as $WAS-ETH, and in the case of Uniswap, there is a reward for depositing and holding tokens. The staking time is taken into account when calculating rewards. In addition to the staking fees/liquidity charges on Uniswap, Wasder Liquidity will also use its staking program with o.exchange. The Wasder tokens will be distributed monthly for the first two months based on all the pool members' percentage stakes in the staking pools.
Epic Rewards For Lock-Up Staking
The length of time that a staker locks tokens will determine how much reward they receive. There are different levels of lock-up offered by Wasder, with different annual percentage yields. In general, the more long-term a stakeholder invests, the more money he/she will earn.
Providing Rewards For Their Participants
They do not need to be big-league players; Wasder will reward them simply for belonging to the Wasder ecosystem. The reward will be given to everyone who locks their tokens for a specific period. Their serviceability will be enforced after the rewards are granted.
Rewards For Wasder Token Staking
Staking Wasder tokens and accumulating them certainly has its benefits. Here are the bonuses that users will earn if they meet the requirements.
The Wasder Nft Screensaver Limited Edition
Within two months, it will be available to the first 1,000 holders of 5,000 tokens. The winner will then receive a legendary Wasder NFT Screensaver Limited Edition 1/1000. The delivery is scheduled to begin around the middle of July, according to Wasder.
The Wasder Team E-Sports Jersey
You can buy the jersey once you lock 50,000 tokens in 2 months for 50 locks. The company will also provide stakeholders with their own brand E-sports jerseys.
Verification Cutoff
You can receive this reward if you lock 150,000 tokens in 3 months and are among the first 100 people. Then they will be instantaneously verified since the line will be cut. A maximum of 100 people can be verified per verification requirement.
Vip Governance Slack Channel
This offer is for the five first to lock 4 million tokens in 3 months. They can access all Wasder managers directly as their reward.
NFT Token Reaction
This offer is available to the first 1,000 customers who lock in 5,000 tokens for six months. After that, their reaction bar will be upgraded with the limited edition $WAS coin reaction NFT. The delivery date of the end of August has been established.
NFT Custom Reaction
The reward is available to the first five people who lock 150,000 tokens within six months. Afterwards, they will be allowed to make their own customised reaction.
Become Myspace Tom
It will be available to the first person who locks 10 million tokens in a year, and their reward is the first friend suggestion for everyone.
Summer Updates From Wasder
Wasder's summer update accelerated the development of several features and the growth of the community. The Wasder community gained over 200,000 new members in the past couple of weeks. They gamified their platform in a brand-new way that no one had ever done before.
Part I Of Wasder Summer Updates
The primary goal of Wasder is to bring gaming closer to individuals. With the latest update, users will be able to play, chase and win competitions while meeting new friends. Furthermore, they organize big prizes for content creators.
Their ecosystem includes all the features that you would use in an online game, such as daily challenges, monthly competitions, handmade quests, in addition to guild against guild championships. Gamers who achieve perfect scores will be able to earn WAS tokens as rewards.
Part Two Of Wasder's Summer Updates
Wasder provides gamers with the ability to create collectibles and treasures. On Wasder, users can use WAS coins to make their identity on the platform. Furthermore, users can build up their own personal castle to store all of their trophies and gear using the WAS coins they gain from quests and achievements.
The platform's community shop sells cool collectibles and creator pieces. In the early bird program, Wasder launched "The Founder's Run Period" which offers an exclusive opportunity to earn WAS coins before anyone else.
Conclusion
Overall, the Wasder ecosystem is a soon-to-be giant platform for gamers. There are a lot of adventures in it, and it definitely deserves a look. It seems well thought out what rewards and prizes there will be and the stakes and tokens. Their close relationship with cryptocurrency investment makes them a gaming platform of the future. Within a short period of time, we may see a Wasder ecosystem interacting with Discord and Twitch. Additionally, Wasder will gain popularity and become the largest gaming ecosystem soon with the ability to purchase gaming characters using $WAS tokens and the earning feature with influencers and content creators. Don't miss out on this opportunity, or you'll regret it forever!
Hopefully, you have enjoyed today's article. Thanks for reading! Have a fantastic day! Live from the Platinum Crypto Trading Floor.
TOP 10 UK CRYPTOCURRENCY BLOGS, WEBSITES & INFLUENCERS IN 2021
Earnings Disclaimer: The information you'll find in this article is for educational purpose only. We make no promise or guarantee of income or earnings. You have to do some work, use your best judgement and perform due diligence before using the information in this article. Your success is still up to you. Nothing in this article is intended to be professional, legal, financial and/or accounting advice. Always seek competent advice from professionals in these matters. If you break the city or other local laws, we will not be held liable for any damages you incur.