Quick Links
How to buy HAVE NFT?
The HAVE NFT collections and the HAVE membership are sold exclusively on the HAVE NFT marketplace. Here you can ready the benefits of HAVE NFT. Any HAVE NFT offered on another marketplace is not an official HAVE NFT and are not granted any utility.
Each HAVE NFT holder is automatically granted a unique HAVE membership, providing access to unique experiences, events and other membership benefits or advantages.
Overall, there are three ways or methods to buy HAVE NFT and this applies to every uniquely designed digital art called Marine Dog, Navy Goat, Army Mule, or Air Force Falcon NFT as well as other special editions and limited drop HAVE NFT in future.
The three methods are:
HAVE NFT will hold a pre-sale before each NFT launch, in specific time frames to appointed partners.
HAVE NFT will hold a whitelist application within specific timeframes.
HAVE NFT are sold and traded on the HAVE NFT marketplace.
Depending on the time of purchase, each HAVE NFT or digital art is sold for a listing price of US $400 to US $500 or the equivalent in the daily value of your preferred cryptocurrency. The value of your digital art or HAVE NFT is expected to increase due to its limited supply and growing demand.
The funds raised from the sale of the HAVE NFT will be used to further develop the HAVE ecosystem that includes multiple initiatives. For instance, it will help the veteran entrepreneur community, run exclusively by HAVE, to connect veteran-led small and big business owners to funding, resources, as well as connect them with other veteran who wish to learn how to become entrepreneurs themselves.
They will coach veteran entrepreneurs with knowledge and training on marketing, finances, how to build a business plan, etc so that they can find funding, develop their businesses and make connections to channels and other resources.
They will also work with their extensive network of professionals in the mergers and acquisitions (M&A) space to assist veteran business owners in business acquisitions and exits. It is worthwhile to mention here that HAVE private equity (PE) fund is launching soon which will focus on scaling and growing veteran-owned businesses through an invest-incubate-invest process, hedging real estate against the businesses to ensure a healthy return for HAVE investors.
Apart from the above initiatives, there will also be HAVE events that will connect veterans through online and offline events, that will revive their camaraderie and purpose that they had while in service.
Why invest in HAVE NFT?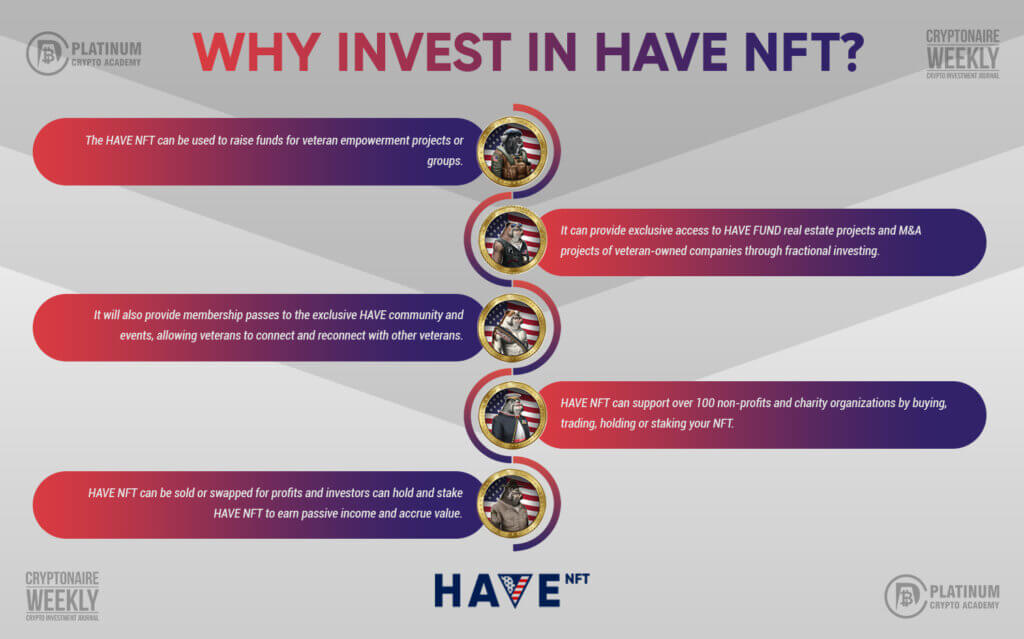 Investors in HAVE NFT can enjoy physical as well as digital utilities. In the physical world, HAVE NFT holders can get exclusive access to HAVE NFT veteran social events, support and military meetings, veteran helping mission in your area and community assistance. The HAVE NFT can be used to raise funds for veteran empowerment projects or groups.
It can provide exclusive access to HAVE FUND real estate projects and M&A projects of veteran-owned companies through fractional investing. It will also provide membership passes to the exclusive HAVE community and events, allowing veterans to connect and reconnect with other veterans.
Besides, HAVE NFT can support over 100 non-profits and charity organizations by buying, trading, holding or staking your NFT.
in the digital world, HAVE NFT can be sold or swapped for profits and investors can hold and stake HAVE NFT to earn passive income and accrue value. It grants users access to investment pools and partner products along with services.
Interestingly, it also allows the user to own a unique digital identity online to demonstrate their support for the veterans and can be personalised to reflect a user's core values and individuality. Finally, it gives the users access to download the HAVE app on iOS and Android.
The HAVE NFT Founding Team
The HAVE NFT leadership team is a collaboration of veterans, industry-leading technology experts, successful entrepreneurs and blockchain enthusiasts. The team has identified five pillars to achieve its goals – design unique NFT art, introduce game-changing utility, leverage enterprise security-grade technology, a niche, directly accessible community and proper support from industry experts, advisors and supporters.
The HAVE NFT team has partnered with the best in the industry to ensure outcomes that will leave a legacy for decades. The founding team consists of three partners – Steven Eugene Kuhn, Lane Belone and Sarah Singh.
Steven is the chief executive officer of HAVE NFT. He is a US-Army combat veteran, entrepreneur, author, speaker and multi-country business turnaround leader. During his career, he has been hand-picked to consult with some of the most influential people in the world including actors, business leaders and politicians. Steven has completed his MBA from the Bradford University School of Business Management in Leeds, UK. He currently lives in Hungary with his wife and two children.
Lane is the director of non-profit and veteran healing at HAVE NFT. He is a Special Forces (Green Beret) veteran, author, entrepreneur and is the co-founder of the HAVE Fund. Lane spent 12 years in the US Army with two combat tours to Iraq, a special mission to Libya and many training missions all over Europe. He is an expert and authority in high performance and force multiplication based on US Army Special Forces methodologies.
During his career, Lane advised and trained thousands of teams across the globe in various world-class skill sets and is also an expert in mediation and conflict resolution. He currently resides in Colorado Springs, Colorado with his wife.
The other co-founder, Sarah Singh is also the chief financial officer of HAVE NFT. She is an Indian-born Australian with an entrepreneurial spirit. Her innate ability to analyse issues and develop creative solutions, allows her to effectively manage teams, set goals and succeed in surpassing them. At the age of 24 years, Sarah started her first business and has since entered and made exits on five different businesses in the hospitality and fitness industries.
Alongside these businesses, real estate has been a prominent part of her journey. A passionate investor, Sarah purchased her first property at the age of 21 years and has since grown her property portfolio, both locally and in the US. In order to expand her skills and expertise, Sarah studied property syndication, gained her realtor licence, and is now combining her knowledge, experience and network in the multifamily property space.
Industry Experts and Advisors
Apart from the three co-founders, the HAVE NFT team also comprises of several industry experts and advisors. They include Sven Milder, Ron Lynch, Berwin Tanco, Daniel Sloan, Matteo Stroul and Jason Zheng.
Sven is a serial start-up entrepreneur, investor, venture builder and real estate developer. Currently, as founder of Pitch House, he and his team has guided dozens of businesses to raise over US $65 million. As a partnership value specialist, he will drive collaborations with real estate, start-ups, NFT and gaming to HAVE NFT. Ron is the marketing advisor and founder of Big Baby Agency and Intellihelp Global.
Berwin specialises in developing companies and ventures to unlock their true value and potential. After a successful career in the US and China, Berwin started Equilibria Capital, a property development company in Indonesia.
Daniel is the technology advisor, who has built multiple businesses, along with co-founding Future Tech, over his 26-year old career in the Information Technology industry. A recognized leader in blockchain and cryptocurrency, and with his passion for early-stage tech start-ups, Daniel has worked with over 100 start-ups as either investor, advisor or software developer.
The 36-year old career of Matteo has been focussed on helping people solve business and technical problems. His approach blends business analysis, project management and technical service delivery facilitated through organizational change and IT service delivery management. In recent years, he has been involved with blockchain and cryptocurrency projects.
Jason is the public relation advisor. With his rich experience in entrepreneurship, marketing and PR, he brings in-depth industry knowledge to the HAVE team, helping to provide entrepreneurs with better access to the four Cs, namely coaching, connections, capital and channels.
The Future and Benefits of HAVE NFT
Each transaction on the HAVE platform gets through the power of blockchain registered and monetized to support investors and the community. In the case of public buying and selling of HAVE NFT, the buyer and seller are charged 2.5% to facilitate healthy economics. Besides, there is a charge of 2.5% each as platform fee for facilitating transactions and for HAVE to support the growth of the platform.
As for HAVE CONNECT, there will be meetups and online as well as offline events. There is also a charge of 5% for charities and donations.
Conclusion
With so much benefits, both in terms if financial as well as from the humanitarian aspect, HAVE NFT is one of the rare projects that is sure to attract young people as well as old people, especially the veterans.
We hope this initiative will spur more innovative ways to help people in distress and reward investors who pledge their money into such new projects.
Hopefully, you have enjoyed today's article. Thanks for reading! Have a fantastic day! Live from the Platinum Crypto Trading Floor.
Earnings Disclaimer: The information you'll find in this article is for educational purpose only. We make no promise or guarantee of income or earnings. You have to do some work, use your best judgement and perform due diligence before using the information in this article. Your success is still up to you. Nothing in this article is intended to be professional, legal, financial and/or accounting advice. Always seek competent advice from professionals in these matters. If you break the city or other local laws, we will not be held liable for any damages you incur.