In this world of modern connectivity, World Mobile Token is going further than ever before. WMT is developing a technology mesh network using a hybrid spectrum, renewable energy, and blockchain. All transactions on the blockchain occur on the Earth Nodes, which are the heart of Word Mobile Network. Furthermore, the network is secure and sustainable for the next generation as well.
WMT makes peer-to-peer payments and peer-to-peer transfers easy for users. As part of the WMT blockchain, WMT holders can stake tokens and become Earth Node operators. The node will receive rewards for each transaction processed.
A cryptocurrency investor can invest in this utility token to own part of the network. By sharing the network with its users, World Mobile reduces operational costs and allocates resources more efficiently. WMT, Cardano-native token, can only be received through a Cardano wallet.
How Do You Own Part Of The World Mobile Network? 
As part of the sharing economy model, World Mobile seeks to reduce the high operational costs that current operators deal with daily. The WMT network operates and maintains the network with community partners, thereby reducing operating costs. For a centralised network operator, analysing the demand and capacity requirements has never been an easy task. World Mobile allows stakers and local business owners to earn revenue for securing and operating the network.
Word Mobile Token makes use of Blockchain technology to ensure transparency, privacy, immutability, faster settlement, and security. Furthermore, it allows for scalable, continuous fundraising due to the distributed ownership of the network. As a result of token economics, stakers are rewarded automatically.
How Does World Mobile Reward Node Operators? 
World Mobile rewards node operators for securing and operating the network. As the network grows, node operators will earn rewards. Earth Node operators are rewarded in WMT for the following:
Transaction Fees
Token owners will receive rewards if they stake their WMT and run an Earth Node or join a stake pool. World Mobile Chain will have aggregate revenues equal to the aggregate fees from node operators. Because WMT node operators are independent, all token holders may stake their tokens and join their pool. With each transaction, they will receive WMT.
Furthermore, token holders can compete with one another by staking their tokens through nodes. To compete for token holders, node operators must disclose how much they plan to charge per transaction. Additionally, it would benefit the node operator if token holders invested a more significant percentage in the node. As a result, the higher a node operator's stake is, the more likely he will be chosen by the system to process transactions and thus earn a higher reward.
The Inflation Reward 
WMT allocates 29% of its aggregate supply to inflation rewards. Operators and stakeholders will each have access to it. Additionally, the system will reach no inflation in year 20 as inflation reduces over time, meaning higher rewards at the early stage of the network. In this way, risk and reward are balanced between node operators as the network matures.
Incentives For Operating Earth Nodes
Earth Node Operators must stake 100,000 WMT in order to participate in the network. Earth Node operators manage stakes for token holders who lack the technical expertise or tokens to operate a node. After deducting their operating costs, the Earth Node operator will share any rewards allocated to them. Moreover, users get rewarded for services offered by network operators, such as voice and text.
Incentives For Operating Air Nodes
Air Node operators are incentivised to provide Internet service in areas that do not have it currently. There are incentives based on how much time is spent on the network. Regulations in the country where the node is located stipulate that rewards should be paid in a stable local currency. Air Nodes are classified according to the percentage of the service provided by each node.
Incentives For Operating Aether Nodes
Aether Node operators earn rewards based on the amount of data they process. Aether nodes are required to have a minimum number of 1,000,000 tokens. The rewards are distributed using the local, national currency as per the local regulations.
How Does The World Mobile Ecosystem Work? 
World Mobile is a demand-driven ecosystem built on the sharing economy.The goal of World Mobile is to build the largest mobile network in the world, offering universal, affordable, high-quality connectivity at the lowest price and fastest speed. Currently, they aim to connect the unconnected in Africa and beyond. For World Mobile to accomplish these goals, blockchain is implemented in the telecommunications industry. It reduces Capital Expenditure and lowers prices relative to traditional telecom companies. The reduction of CapEx will facilitate reaching the 4 billion unconnected users. Previously, these users could not be served by the telecom industry. Additionally, WMT enables billions of people to access financial services, education, and commerce worldwide.
The World Mobile Solar-Powered Mesh Network 
The World Mobile solar-powered mesh network can support both cellular and broadband connectivity. WMT is built on Cardano, which is the most cost-effective and environmentally friendly blockchain option. The Cardano blockchain also offers these benefits:
Providing Transparency 
Using blockchain technology, World Mobile creates a transparent and easy-to-access database of key information. Blockchain technology makes network management easier.
Protecting Your Privacy
WMT leverages blockchain technology to make privacy a key feature of its platform. Data about users is secured with public/private key infrastructure, with their metadata stored in distributed vaults across the network.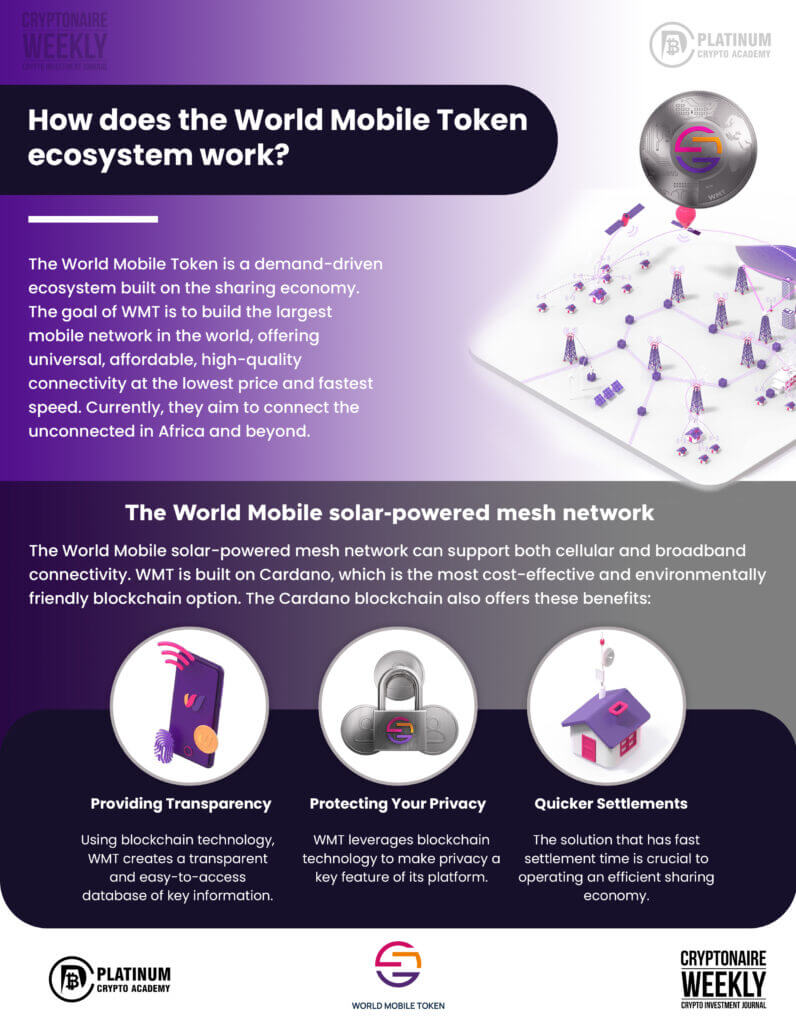 Quicker Settlements 
The solution that has fast settlement time is crucial to operating an efficient sharing economy. It will build user trust rapidly since they will no longer be reliant on bureaucratic processes.
The introduction of blockchain technology to the World Mobile network ensures the security of all users' funds and the ability to withdraw them at any moment. The use of smart contracts increases the efficiency of World Mobile's communication network. By using blockchain and the sharing economy, World Mobile intends to disrupt and reboot the telecom industry.
How Does The WMT Node Quality Grading System Work?
Grades are assigned to nodes based on their quality. The quality and incentive management system is used throughout the solution for managing operators' performance. The quality and health check parameters are calculated using historical data, including local latency between nodes, jitter checks, packet loss, upload, download speed tests, etc.
All node operators can see the quality grade for each of the nodes that details these parameters openly. All grades previously scored for each node are stored in the WMT node grading system. There is a hardware fingerprint that identifies these grades.
Why Should You Become A Node Operator On The World Mobile Network?
You'll help revolutionalise telecoms and connect the unconnected! Node operators validate, secure, and authenticate the network. Operators are in charge of processing transactions made by users. The World Mobile network model consists of three nodes: Aether Node, Earth Node, and Air Node.
Earth Nodes
Earth Node operates the core logic for all the others. Modules of the Earth Node are connected to the Internode API, which provides communication between subsystems and nodes throughout the network. API functions as a link between the DID, telecom, and blockchain modules. The Earth Node provides communication between the Air Node, Aether Node, and Third-Party Applications as well.
Earth Nodes serve as validation and security points for the network. An Earth Node can consist of just a computer and the internet. Users can earn World Mobile Token as rewards for taking part in the sharing economy.
Aether Nodes
Considering Aether Nodes are connected to legacy telecommunications networks, every country needs one of these nodes. The operators of Aether Nodes must possess licensing and meet local regulations to operate.
Operators of Aether Nodes earn rewards for completing traffic, and these rewards are given in the local currency under local regulations. Nevertheless, WMT can be converted to cryptocurrency in countries where it is legal.
Air Nodes 
As the signal is received from the previous nodes, the Air Nodes provide wireless Internet to the local users. To access the network, the user must first connect to an Air Node. After sending the authentication credentials to the Air Node, the Earth Node then sends them to the Internode API, which handles all communication between the nodes.
The Air Node collects the user's service usage, and the request is sent to the Earth Node, where it is validated and processed. Once the transaction has been validated, it is sent to the Cloud Node. Upon connecting with the Air Node, a user is provided with the ability to browse available services, see account balances, and monitor bandwidth usage. The local currency is used to allocate Air Node rewards. Air Node rewards can also be converted to World Mobile Tokens if it is legal in your country to do so.
WMT is primarily used to reward token holders that want to support the World Mobile Network. There are rewards for every node operator based on their performance. Users can stake their WMT to earn rewards. Users of World Mobile Token enjoy fast transaction speeds (TPS) and low transaction fees.
World Mobile Token Sale
World Mobile Token Ltd, which is enabling a new global mobile network built on the sharing economy, announces the launch of its utility-based World Mobile Token (WMT) on the Cardano blockchain. The company aims to raise 40 million USD within the first five weeks of the public sale on top of the 5 million USD it has raised privately.
The sale started on July 5 and will close on August 16 at 11 a.m. UTC. Tokens can be purchased with ADA, BNB (BEP2), BTC, DAI (ERC20), or ETH.
Conclusion
World Mobile aims to connect the unconnected through blockchain and the sharing economy. By owning and earning WMT, you help bring the Internet to areas where there has previously been no connectivity. Local network operators in Africa will earn stable coin for bringing the Internet to their community. World Mobile understands the traditional telecom model is limited and needs rebooting in order to connect nearly four billion people left offline.
There are only two weeks left of the WMT sale. Join now to own a part of the network.
Buy Tokens: https://worldmobiletoken.com/
Hopefully, you have enjoyed today's article. Thanks for reading! Have a fantastic day! Live from the Platinum Crypto Trading Floor.
TOP 10 UK CRYPTOCURRENCY BLOGS, WEBSITES & INFLUENCERS IN 2021
Earnings Disclaimer: The information you'll find in this article is for educational purpose only. We make no promise or guarantee of income or earnings. You have to do some work, use your best judgement and perform due diligence before using the information in this article. Your success is still up to you. Nothing in this article is intended to be professional, legal, financial and/or accounting advice. Always seek competent advice from professionals in these matters. If you break the city or other local laws, we will not be held liable for any damages you incur.