The crypto market is in the middle of a 4th "price innovation" cycle and Web3 platforms offer much fairer economic terms as compared to the extortionate take-rates of the Web2 giants. These are some of the findings of the '2022 State of Crypto Report' prepared by VC firm Andreessen Horowitz, also known as a16z.
The firm invest in seed to late-stage technology companies across bio + healthcare, consumer, crypto, enterprise, fintech, games, among others and manages US $28.2 billion in assets under management across multiple funds.
It said the 2022 crypto report is set to be the first of what will be an annual overview of trends in the crypto industry, shared through firm's vantage point of both tracking data and meeting several entrepreneurs and builders.
Fourth "price-innovation" cycle
According to the VC firm, people who have been in crypto for a long time view the space as evolving in cycles, alternating between periods of high activity and "crypto winters". Based on the former conviction, there have been three cycles so far. The first peaked in 2011, the second in 2013 and the third in 2017, the firm said.
These cycles appear chaotic but have an underlying order, that is roughly characterized by rising price of Bitcoin and other crypto assets, new interest and social media activity, more people getting involved, contributing ideas and code, new projects and start-ups getting created, and finally leading to product launches that inspire more people, eventually culminating in the next cycle.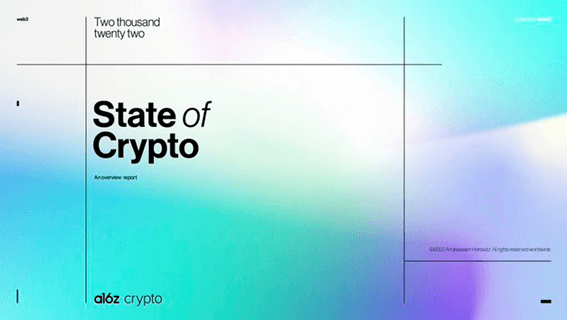 The report said prices are a leading indicator of performance in crypto, unlike in other industries where prices are often a lagging indicator of performance. In crypto, prices are a hook and numbers drive interests. The latter drives ideas and activities which, in turn, drives innovation.
Advances made by tech builders during dark days eventually re-triggers optimism when the dust settles. This "price-innovation" cycle has been the engine that has propelled the industry through multiple distinct waves since the inception of Bitcoin in 2009.
Founders who swore off tech and the internet in the aftermath of the dotcom crash, missed the best opportunities of the decade – cloud computing, social media networks, online video streaming, smartphones, etc., the report observed.
Web3 is much better for creators than Web2
Web3 platforms offer much fairer economic terms to creators than the extortionate take rates of Web2 firms. They compared Meta's nearly 100% take-rates across Facebook and Instagram to NFT marketplace OpenSea's 2.5%.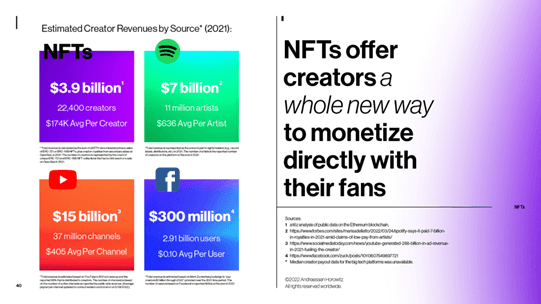 The team at a16z conducted data analysis to estimate how much Web3 firms are paying out to creators, as compared to Web2. In 2021, primary sales of Ethereum-based NFT plus the royalties paid to creators from secondary sales on OpenSea yielded a total of US $3.9 billion. That's quadruple the US $1 billion that Meta has earmarked for creators through 2022.
It counted 22,400 Web3 creators based on the number of NFT collections, compared to the nearly 3 billion users posting content on Meta's platforms. Although Spotify and YouTube paid out more to creators, the per capital disparity is still striking when compared to Web3.
According to the report, Web3 paid out US $174,000 per creator while Meta paid out US $0.10 per user, Spotify paid out US $636 per artist and YouTube paid out US $2.47 per channel. "Web3 in tiny but mighty", the report said.
Real-world impact
With the World Bank estimating over 1.7 billion people without bank accounts, demand for decentralized finance (DeFi) and digital dollars have increased dramatically in the past few years. Crypto offers a shot in financial inclusion for the 1 billion population who are underserved and unbanked but have mobile phones.
Crypto is addressing other broken marketplaces too such as making carbon credits more transparent and traceable on blockchains, NFT granting virtual property rights across digital assets, decentralized autonomous organizations (DAO), etc.
Ethereum leads
Ethereum dominates the Web3 conversation but it is facing stiff competition from many other blockchains too. Developers of blockchains such as Solana, Polygon, BNB Chain, Avalanche and Fantom are angling for similar success, the report said.
In terms of developer interests, Ethereum has nearly 4,000 monthly active users, followed by Solana with nearly 1,000 users. Ethereum's overwhelming mindshare helps explain why users are willing to pay over US $15 million in fees per day on an average just to use the blockchain.
However, while Ethereum has historically prized decentralization over scaling, other blockchains are attracting users with promises of better performance and lower fees. Besides, there is incredible progress with interoperability, which allows users to 'bridge' assets from one blockchain to another, it said.
Early days of Web3
The a16z 2022 State of Crypto Report estimated there are somewhere between seven million and 50 million active Ethereum users, based on various on-chain metrics. If the trendlines of the growth of early internet is depicted on Web3, then the latter could reach 1 billion users by 2031, the report forecast.
Conclusion
The report concluded that crypto is far more than just a financial innovation – it is social, cultural and technological. "There's a lot of room for innovation, and we believe there will be multiple winners", it observed.