Popular social media platform Instagram is testing ways for creators and collectors to share non-fungible tokens (NFT) that they have created or own on Instagram, the company said in an announcement.
It also plans to explore additional NFT-related features, including rolling out similar features to its sister platform, Facebook over the coming months to provide further benefits to creators and collectors.
Instagram will initially test the feature with a handful of US-based creators and collectors, who will be able to share the NFT on Instagram that they have created or bought. Thereafter, it plans to make this feature accessible to its wider community of Instagram users spread across the world.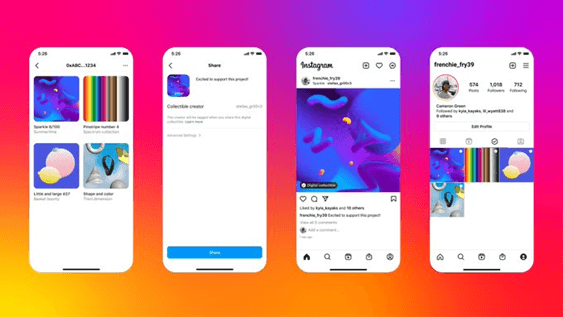 This NFT-sharing feature of Instagram would enable users to connect their digital wallet and choose which NFT to share. Instagram has also updated its security features to protect user accounts and digital wallets when they connect the same to their respective Instagram accounts, the company said.
The compatible third-party digital wallets to be initially supported include MetaMask, Rainbow and Trust wallets, with Coinbase Wallet, Dapper and Phantom set to be integrated in the near future. There will be no fees associated with posting or sharing an NFT on Instagram, the statement said.
Once connected, creators and collectors will be able to choose which NFT from their wallet they would like to share on Instagram. The NFT posted on Instagram will have a shimmer effect and can display public information such as a description of the NFT.
The NFT-related posts will also be visible on the creator or collector's profile, Instagram said. The creator or collector can be automatically attributed in the digital collectible post, subject to their respective privacy settings.
Instagram will collect and organize public data from open blockchains, such as Ethereum, to provide this feature. From the public blockchain data, it can only identify which NFT belongs to creators and collectors when they connect their third-party wallets to Instagram. Initially, the blockchain networks which are supported are Ethereum and Polygon, with Flow and Solana coming soon, it said.
According to the Instagram statement, building support for NFT will improve accessibility, lower barriers to entry and help make the NFT space more inclusive to all communities. "It is critical that our early efforts in this space empower diverse voices and that under-represented groups have access to emerging digital assets like NFT", the Instagram statement said.
It also acknowledged the importance of the Instagram platform being a safe and enjoyable place for everyone. To that effect, it will enable users to use the tools within Instagram to keep their accounts secure and report NFT that go against Instagram's community guidelines.
Additionally, since blockchain technology and NFT raise important questions about sustainability, Meta, parent of Instagram, will help reduce the emissions impact that might be associated with the display of NFT on Instagram by purchasing renewable energy.
Finally, the statement also said that, as Meta is embarking on this new area of investment, it plans to roll out digital collectible or NFT features on Facebook and allow people to display and share their digital collectibles as AR stickers in Instagram Stories.