In a move that is seen as philanthropic by some and exploitation of a self-branding opportunity by others, NFT marketplace Mintable has purchased three NFTs of popular collection Azuki and plans to return them to their original owners. Mintable purchased it on rapidly emerging competitor platform LooksRare for 0.2 Ethereum, much below the floor price of Azuki at 11.79 Ethereum or around US $32,155.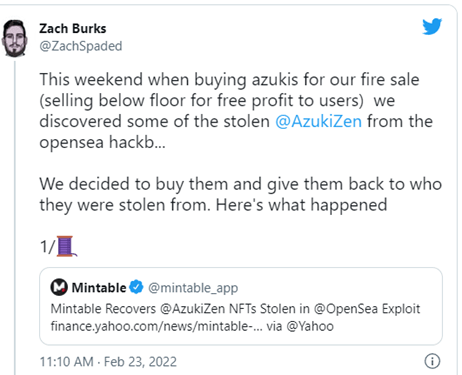 The three were part of the NFTs equivalent to US $1.7 million worth of Ethereum that were stolen in a targeted email phishing attack last weekend. The Azuki project has 10,000 avatars and is centered around cultivating an inclusive Metaverse community.
The Context
Last weekend, popular NFT marketplace OpenSea rolled out an upgrade to its smart contract, as a proactive measure to weed out inactive listings from its platform. As per the planned upgrade, users were asked to migrate their NFT listings – hosted on the Ethereum blockchain network – to the new smart contract.
OpenSea said in an announcement that, with this step, NFT listings created before February 18, 2022 would have automatically expired within the subsequent week. Users, however, would be able to relist the delisted NFTs over to the new smart contract. Upon successful listings using the new smart contract, the NFTs will show the original date of posting.
However, in the hours that followed, 32 users of the platform became victims of targeted email phishing attack that resulted in an anonymous entity stealing US $1.7 million worth of Ethereum.
OpenSea clarified in subsequent tweets that the breach was orchestrated via fake email scams and none of the malicious orders were executed against the new smart contract, indicating that it would unlikely affect the migration flow to OpenSea's new smart contract.
Meanwhile, Mintable founder and CEO Zach Burks criticized OpenSea's lack of proper response to the exploit and lamented that OpenSea could not spend some money to help its users despite making over a billion dollars in the past year.
He also said Mintable was working with the Azuki team and the project manager Demna to find a proper solution for the holders, with the NFTs expected to be returned to their rightful owners within the next few days.
Mintable has already identified at least one of the suspected victims of the email phishing scam and the concerned person was verifying their wallet with Mintable to enable the latter to send back the NFT to them.
Incidentally, Burks also highlighted the importance of NFT marketplaces such as OpenSea, Mintable, Rarible, LooksRare, among others, to uphold a level of self-accountability, especially for security related activities on the platforms.
The latter assumes even more significance because it is still an industry that lacks any kind of proper regulatory framework at the moment. In such circumstances, gestures like Mintable returning the NFT to their rightful owners may go a long way in promoting fairness and honesty in the Web3 world.
He also warned that if any NFT marketplace platform was making money from its users but is unable to protect its users, they would simply have no users eventually.