Introduction
Notwithstanding the recent turbulence in the cryptocurrency and NFT space, there has not been a significant drop in announcements of NFT projects. Although this bodes well for the sector, its long-term sustainability will ultimately depend on the extent of real-world use cases of NFT.
In that context, this particular edition of NFT Market Summary is different and unique from the past editions. Each and every news items included in this edition has direct links with the real world or have made some real impact in the real world. One can call it the much-needed fusion of the real and virtual worlds.
Be it the funds raised through NFT to rebuild war-torn Ukraine or a penguin-themed NFT project that is launching toys in real life, all have some connections with the real world. Besides, owners of one of the most popular NFT projects, CryptoPunks, have commissionedluxury jewelry house Tiffany's to create new intellectual property (IP) out of their CryptoPunk. The IP, in this case, is a special pendant.
The latter project represents the increasing fusion between luxury brands, cryptocurrency and NFT. It may be early days, as only few auction houses have made their foray so far,but the entry of luxury brands bodes well for the future of NFT and the metaverse. It also highlights the potential utility of NFT much beyond JPEG images and the variety of IP that can be built around the NFT. Read on to find out more.
Tiffany sold out its 250 NFT in 20 minutes
Luxury jewelry house Tiffany & Co has sold out a limited collection of 250 NFT, priced at 30 ETH each, within 20 minutes of its release, thereby making it one of the most successful NFT drops in the luxury goods industry so far.
The brand is also one of the newest entrants in the metaverse through the launch of its first NFT collection, NFTiffs and reportedly made nearly US 12.5 million from the sale. The limited collection of just 250 NFTiffs was sold exclusively to holders of popular NFT collection CryptoPunk.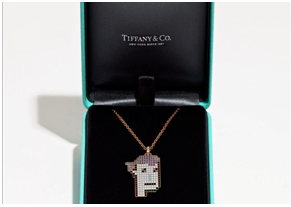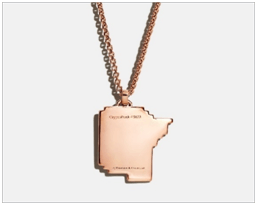 The 250 NFTiffs are digital passes, which can be minted and redeemed for custom-designed CryptoPunks pendant and a matching NFT art piece. Upon buying NFTiffs, designers from Tiffany will create a custom pendant based on the buyer's CryptoPunk.
Each NFTiffs pendant sold will be handcrafted by artisans using 30 or more gemstones or diamonds, with a 18-carat physical gold base. Users can also obtain a digital version of the pendant upon purchase.
In March, Yuga Labs, the parent company of Bored Ape Yacht Club (BAYC) acquired all the IP for CryptoPunks and announced plans to grant commercial rights to all CryptoPunks holders, which opened the door for projects like Tiffany's pendants.
It emphasized the utility of NFT beyond JPEG images and illustrated certain rights with regards to what users can do with their CryptoPunk and what kind of IP they could build around it. The success of NFTiffs may lead to more unique community-driven projects, as the NFT holders use their IP as the basis for their own ventures.
Ukraine gets help from Meta History Museum's US 1.5 million NFT sales
Meta History: Museum of War, an initiative by Ukraine's Ministry of Digital Transformation and the Ministry of Culture, has raised US $1,523,969 through sale of NFT, auctions and events in the metaverse and plans to use the funds towards rebuilding Ukraine.
The MetaHistory NFT Museum has been created to commemorate the history of the current events in Ukraine, preserve the truth and collect donations for humanitarian aid. It picks news pieces of important events of the war in Ukraine, get artworks created by top-notch artists based on their interpretations of the events, make the smart contracts to place these artworks as NFT on the Ethereum blockchain and release them in parts called drops. The first such drop started in March.
The entire proceeds from the Warline NFT minting are transferred to the Ministry of Digital Transformation of Ukraine and there have been four official drops on the Warline NFT so far.Around 1,965 NFT are currently in circulation and there have been 91 auctions and three events in the metaverse so far.
Axis Tech partners with Save Planet Earth for NFT project
Axis Technologies Group, a digital asset holding group, has announced a five-year partnership with Save Planet Earth (SPE) to launch a new NFT collection. SPE plans to leverage the NFT project to accelerate its multi-year carbon offset transformation strategy. The joint team plans to digitize its environmental conservation program and plant more than 100 million trees.
Axis Tech is known for establishing CARBONIS, a blockchain solutions platform that provides a digitized carbon offset and carbon credit marketplace. The solution makes it easier to track, verify and manage business and investment data.
Under the partnership, Axis Tech will leverage CARBONIS capabilities to create new digitized trees and provide climate change sustainable tools and help eliminate poverty. It intends to plant more then 100 million trees over the next three years and generate 100 million tons of carbon credits at a minimum of US $10 a ton of carbon credit.
NFT Tech announces multi-year deal with World Table Tennis
NFT Technologies has announced an exclusive multi-year deal with Singapore-headquartered World Table Tennis to develop and execute a Web 3.0 strategy that will engage the global fan base and reach the frontier of emerging technology.The partnership will span end-to-end Web 3.0 strategy encompassing fan engagement to digital collectibles, metaverse experiences, play-to-earn and move-to-earn gaming.
The World Table Tennis is the commercial and events arm of the International Table Tennis Foundation, the world's governing body for table tennis. The former has reported a global fan base of 519 million and runs more than 50 global events annually that attracts hundreds of millions of unique viewers.
Their mission is to expand the global table tennis economy, to ensure the sport is financially vibrant from the top down to elevate table tennis to the upper echelon of world sport, which will encourage more people to play and consume table tennis.
Pudgy Penguins NFT prices soar after creator launches real-life toys
Sales of Pudgy Penguins NFT surged after the project announced it would be licensing select NFT to be made into physical toy collectibles. The NFT collection has seen 263 ETH or around US $496,492 at current prices, according to data published on popular NFT marketplace OpenSea. It also featured among the Top 10 NFT collections on OpenSea.
In April, the Pudgy Penguins collection of 8,888 digital penguins has been sold to Los Angeles-based entrepreneur Luca Netz in a 750 ETH deal, which, at that time, was equivalent to US $2.5 million. Launched in July last year, the Pudgy Penguins has become one of the most popular NFT collections, with over 57,000 ETH in trading volumes or around US $179 million at current prices.
Happy Dad Hard Seltzer releases new limited edition with NFT twist
Happy Dad Hard Seltzer will be the first Hard Seltzer brand to release an NFT-based product to alcohol retail stores. The packaging includes the most popular NFT to date, a Bored Ape, from the BAYC collection. The limited-edition Banana flavor will be available in a 12-can pack with only 10,000 cases in the market. The number coincides with the NFT community, as majority of the NFT collections sell only 10,000 NFT.
This is a limited release from the California-based Hard Seltzer brand and will never be produced again. According to the company, it wanted to create something unique for everyone to enjoy while involving the NFT community.
Deutsche Telekom campaign uses NFT to supercharge youth volunteering
A new campaign for Deutsche Telekom by Saatchi & Saatchi has used NFT to create real-world value and positively impact the volunteering causes that the young generation care about. At the heart of the #WhatWeValue platform is a digital community powered by Value, a money-can't-buy NFT.
Owning a Value NFT grants young volunteers to an exclusive access to valuable resources including the opportunity to unlock customized support from Deutsche Telekom
The platform already plays host to nearly 100 diverse projects from over 10 different countries. The first projects to receive support from Deutsche Telekom range from the first Polish foundation fighting period poverty and menstrual exclusion, to a team using AI technology to support children with speech and hearing impairments in the Czech Republic.
The platform is now launching to a wider audience with a film directed by the award-winning Oliva Kastebring. It features real young volunteers and riffs on the NFT acronym to emotionally connect with the true potential of Web 3.0 technologies.
Conclusion
As we have seen in all the stories above, there are direct impacts or connections between the real world and NFT. As the cryptocurrency and NFT space go through the current turbulent phase, often referred to as the crypto winter, such real-world use cases of NFT should pave the way and a strong foundation for a convincing growth of the industry in the future. Hope you enjoyed reading it. Thank you.