Introduction
As the crypto and NFT market evolves and become more popular, it is also becoming an attractive place for scamsters. Phishing attacks and account breaches have become more frequent in recent times. 
While some of the breaches can be blamed on negligence or naivety of the users, some breaches are so sophisticated that even big names fall victims to those the breaches and phishing attacks. No wonder, issuing warnings of not clicking on random links are regularly being issued by industry experts. Keeping the space safe and secure for everyone is key for its future growth and prosperity. 
The breaches also include those of the social media accounts of company officials because many official links are shared through those accounts, which builds a trust factor in the minds of their followers. Scamsters are now targeting such accounts to send phishing links and swindle users' money.  
Discord breaches have become frequent in recent times and are unlikely to go anywhere soon. So, users are urged to take proper security measures and stay vigilant. In May alone, around 70 Discord accounts got exploited including some of the big projects. Even the official Discord account of NFT marketplace, OpenSea was breached. 
Out of the 70, at least 26 Discord accounts were compromised through the MEE6 bot. MEE6 has yet to release a detailed report in response to the 26 breached servers. On May 25, a Proof Collective member lost 29 high-valued Ethereum-based Moonbirds NFT amid an ongoing scam. Recently, the Discord account of a Yuga Labs official also got breached. Read on to find out weekly summary for NFT Market.
How To Buy And Sell NFTs? – An Easy Guide
Yuga Labs BAYC, OtherSide Discord groups breached
Yuga Labs, the creator of two of the most popular ape-themed NFT – Bored Ape Yacht Club (BAYC) and OtherSide – fell victim to yet another orchestrated phishing attack, in which investors lost more than 145 ETH. 
OKHotshot, a blockchain detective and a member of the Crypto Twitter community, alerted crypto investors about the compromise of the two official Discord groups. it said that it could have been because the account of Yuga Labs' community and social media manager, Boris Vagner was breached, which let the scammers execute their phishing attack. 
After gaining unrestricted access to the employee's Discord account, the scammers shared various phishing links from Vagner's Discord account into the official BAYC Mutant Ape Yacht Club (MAYC) and OtherSide groups. According to OKHotshot, proper permission could have prevented this.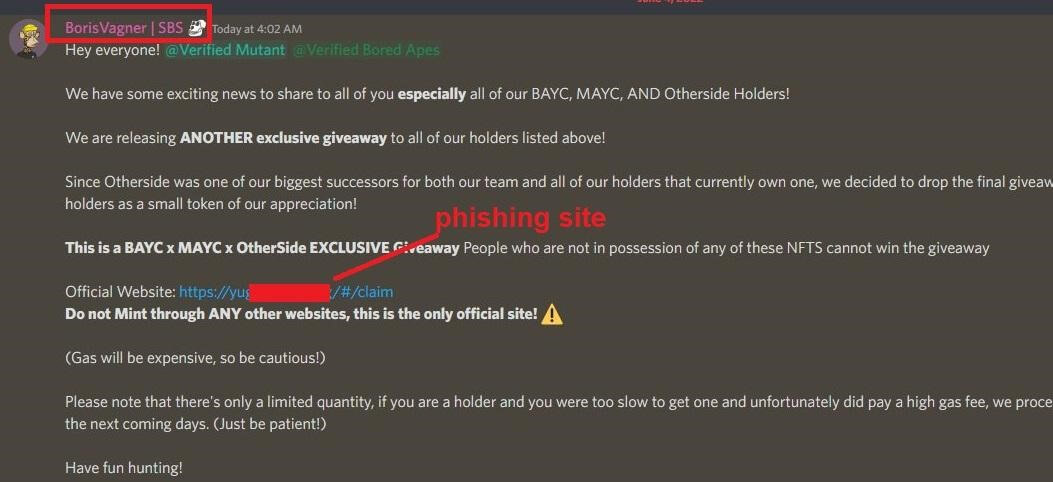 Many users in the group, unwary of the scam, fell for the phishing messages that promised limited-quantity giveaways made available for existing NFT holders. While the total damage due to this hack remains unclear, the recent crypto scams are a harsh wake-up call for NFT owners to exercise caution when dealing with third-party platforms, and to double-check anything shared by others, even if they appear trustworthy.
Crypto Toys Club
Crypto Art Toys Story Club (CATS) is a series of 10,000 Crypto Art Toys Story NFT living on the Ethereum blockchain and the Binance smart chain. It is positioned as a trendy NFT project with epoch-making innovation and is targeting newcomers to the blockchain.
The vision of the project founders is to ensure its NFT are not just mere NFT but will also visualize creations and relate them to the real world. To this effect, it plans to create a system of independently designed trendy dolls. It will be network-based, decentralized, visual and economic thought experiment.
CATS NFT aims to be a powerful IP-based NFT project that combines online and offline. Users can even hire designers to do complete DIY for their NFT to create their own NFT.
The team of Crypto Toys Club (CTC) claimed that the CTC DAO will be the first project in history that will combine DAO and NFT. It will withdraw 2.5% fund from every transaction tax. Around half of the fund will be used for DAO treasury management, which will be administered by the top 50 highest-priced NFT holders of the DAO, who will make proposals to decide how to use the funds.
The balance will be used by professional teams for marketing, technology development and recruitment. It can be used to make films, animations and offline party events. According to the project's brief, the aim is to build a bridge between creators and Web 3.0, empowering the community by incubating the NFT and rights of many stars, cartoonists and musicians. 
MyWorld NFT postpones pre-sale at the last minute
MyWorld, a collection of 10,000 unique NFT living on the Polygon network, has postponed its pre-sale by one week citing some technical problems with its service provider for the smart contract. The project's team informed through its social media accounts that it would change its service provider to ensure that everything goes smoothly by next week.  
The pre-sale is for 2,000 NFT, costing 75 Matic and would give a chance to be part of an airdrop of 10 limited edition randomly chosen planets, the company said. The public sale thereafter will be of 4,000 NFT at 99 Matic, which everyone can own, earn and sell. Following this, there will be continuous development of the project and the community including launch of new collections.  
Play-2-Earn Hybrid Expo Asia
Play-2-Earn Hybrid Expo Asia, the world's first event focused exclusively on the play-to-earn industry for businesses, is going to be held in Bangkok, Thailand and in the metaverse during the month of August. 
With more than 250 in-person and up to 2,000 virtual attendees from all over the world, the Expo is expected to bring together the entire ecosystem of the P2E industry – from guilds, venture capitalists, game developers, exchanges, launchpads and key opinion leaders.
The three-day program will have more than 50 speakers participating in panel discussions to share their insights and experiences. A business-matching portal will be provided for all attendees a month ahead of the event, enabling them to request meetings with other attendees for nurturing connections and synergies for partnerships.
Gate.io announces launch of Mirror World
Gate.io, one of the world's leading cryptocurrency exchanges with more than 10 million users worldwide, has announced the upcoming listing of Mirror World NFT on its NFT marketplace. Mirror World is a game matrix with AI-powered virtual beings – known as the Mirrors – fighting alongside players in the game universe. It is a blend of a virtual playground, a fun game experience and real-world rewards.  
Mirrors are fully interoperable, with access to every play-to-earn game in the matrix for pass-holding users. The Mirror NFT is the world's first intelligent NFT, where each Mirror is designed with unique characteristics, exclusive attributes and ranks. With the AI-powered Soul, Mirror NFT are dynamic and interactive, allowing holders to connect to the entire ecosystem. Currently, all 11,000 Mirrors for Generation Assets have been sold out and activated for trading. 
Starly launches first-ever NFT staking on Flow
Starly, one of the leading NFT marketplaces on Flow, has rolled out the first-ever NFT staking on the Flow blockchain. The recent NFT market downtrend has highlighted the need for tangible utility for non-gaming NFT and adding utility to the NFT seems like a natural evolution of NFT, with attractive benefits for the NFT holders.
Conclusion
The frequent breaches and phishing attacks are enough wake-up calls for crypto and NFT owners to stay more vigilant and not click on any random links without verifying their authenticity. Each such incident should be a reminder to never click on random links and bookmark the marketplaces or trading sites that you normally use. That is the minimum one can do to prevent such scams, which are set to only increase as the crypto and NFT space attracts a wider community of users. 
Talking about wider community, Play-2-Earn Hybrid Expo Asia, the world's first event focused exclusively on the play-to-earn industry for businesses is a testimony that relentless efforts are being by the industry made to attract a wider audience. Hope you enjoyed reading it.