The Treesome NFT project is a collection of 10,000 tree-inspired NFTs living on the Ethereum blockchain network. The NFT collection will not only bring benefits to its holders but the developers also intend to plant half a million trees and further donate funds to relevant charities. In other words, a project that is dedicated to fight deforestation and out to make a difference.
One of the biggest objections to the crypto and the NFT spaces are the high amount of energy required to mint as well as run them. The team behind Treesome, Sapling Daddy and ultimateSEED, have been studying the NFT space and agree that there should be more focus on sustainability and the environmental aspects of NFTs.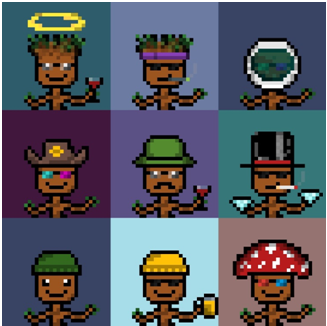 Although the minting date is yet to be announced, the developers have also confirmed that upon selling out, each holder of a Treesome NFT will have funded the planting of 50 trees, which means 500,000 trees will be planted in all. The tentative date is reported to be sometime in mid to late February and each NFT will cost 0.08 Ethereum.
The project developers have already started their presale promotions and have collaborated with other NFT projects for giveaways. For instance, in late January, it has partnered with Angry Boars project to give away two free Angry Boars NFTs and 10 Whitelist spots for Treesome NFT through promotions on their social media channels.
Thereafter in February, it gave away 5 whitelist roles to anyone with a wallet address but without whitelist roles, as a mini-giveaway.
Meanwhile, although the developers of the project acknowledge the importance of their community, they also want everyone to feel safe and welcome. Their main goal is to help the environment and lead a good example for future NFT projects, as well as give back to the community.
The people behind the Treesome project is a group of friends who are passionate about crypto and NFTs. The project's name – Treesome – was derived from wholesome and tree.
Hopefully, you have enjoyed today's article for further coverage please check out our crypto Blog Page Thanks for reading! Have a fantastic day! Live from the Platinum Crypto Trading Floor.
Earnings Disclaimer: The information you'll find in this article is for educational purpose only. We make no promise or guarantee of income or earnings. You have to do some work, use your best judgement and perform due diligence before using the information in this article. Your success is still up to you. Nothing in this article is intended to be professional, legal, financial and/or accounting advice. Always seek competent advice from professionals in these matters. If you break the city or other local laws, we will not be held liable for any damages you incur.