Tican is one of the world's most comprehensive decentralized blockchain platform for instant crypto payment. Tican is a multi-gateway payment system that will accept Bitcoin, Ethereum, Litecoin and USDT. TICAN is created to become the best payment gateway for cryptocurrency, fiat cross boarder financial transfer and resolve any issues that might limit transactions on other crypto platforms. For safe transactions, Tican has created a decentralized blockchain with a web wallet and extra APIs.
The Founder and CEO, Gabriel O.Edigheji said"
"Some cryptocurrency payment platforms often cause delays during the blockchain settlement process, which might cause a low availability of tokens for users to use for transactions. This may render the cryptocurrency world useless with a slow payment method. This is why TICAN has researched and done analysis to see that this flaws of what users could face during token transactions, can be handled. Hence we created a blockchain to power the fastest payment method and gateway ever."
Sending and receiving token with the Tican platform does not come with any stress but ease. TICAN blockchain's block size and block time are influenced by Ripple and Stellar blockchains. Using similar principles, Tican blockchain has the fastest transaction settlement speed ever.
Using our tailored blockchain, we can greatly reduce the cost of transactions, making them almost free. Users and merchants need not worry about transaction fees.
Tican coin(TIA) is a currency option for blockchain-backed products & services geared towards mainstream consumers. The project wants to elevate everyday experiences in making payments online for websites, ecommerce, merchants, API and more as a major payment gateway system.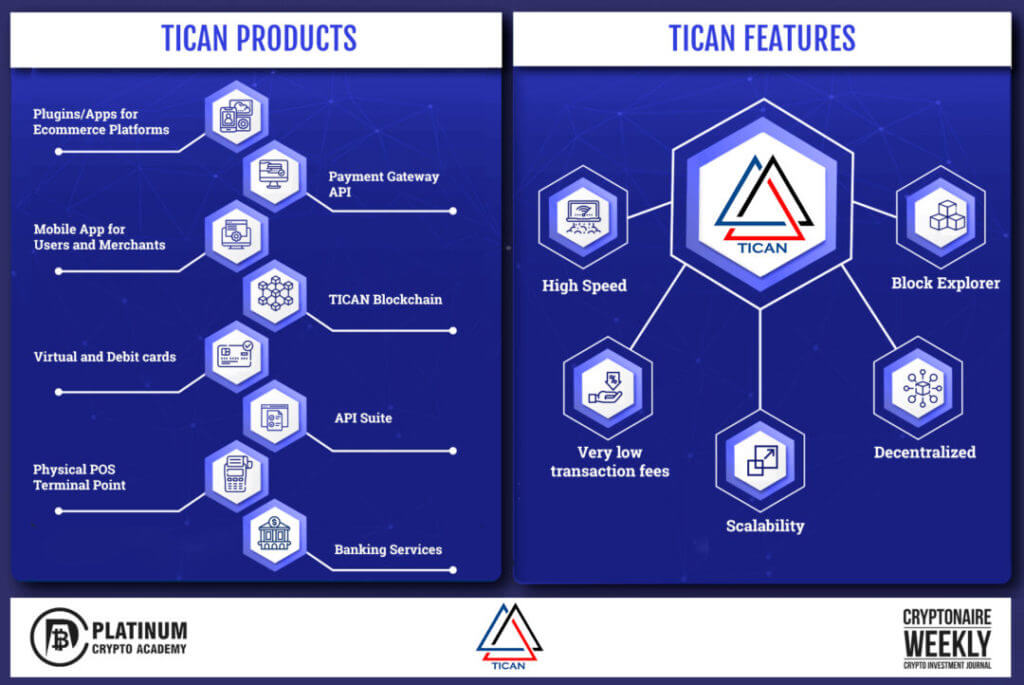 TICAN blockchain has a detailed block explorer, which is currently used to track all transactions within the iFiat ecosystem and is publicly available at https://ticanscan.com
Platinum Crypto Academy and Cryptonaire Weekly CEO and Chief Editor Karnav Shah expressed, "It's extremely exciting to partner with a company like Tican which is one of the Most Comprehensive Decentralized Blockchain Platform For Instant Crypto Payment. By implementing Blockchain technology and Smart Contracts, TICAN Ecosystem will create a new decentralized blockchain and comprehensive crypto infrastructure for everyday banking and merchant transactions. The Platinum Crypto Academy looks forward to working with Tican on more exposure to the crypto community as the company continues to boast the highest transaction speed on the market (instantaneous) with substantially low-cost transaction fees."
Hopefully, you have enjoyed today's article for further coverage please check out our Crypto Blog Page
Thanks for reading! Have a fantastic day!
Live from the Platinum Crypto Trading Floor.
Earnings Disclaimer: The information you'll find in this article is for educational purpose only. We make no promise or guarantee of income or earnings. You have to do some work, use your best judgement and perform due diligence before using the information in this article. Your success is still up to you. Nothing in this article is intended to be professional, legal, financial and/or accounting advice. Always seek competent advice from professionals in these matters. If you break the city or other local laws, we will not be held liable for any damages you incur.