May 13, 2021, Edinburgh – Zumo is delighted to introduce its non-custodial cryptocurrency wallet and payment platform to users of the Platinum Crypto Academy.
Zumo is on a mission to introduce new people to blockchain and help people get comfortable with crypto. It offers a crypto wallet that's the safest and easiest to use in the UK, as well as a B2B offering called Zumokit, which allows businesses to launch their own compliant crypto propositions.
It will work with the Platinum Crypto Academy to educate the crypto-curious and share advice on how to join the emerging global economy powered by smart money.
As well as its user-friendly wallet, Zumo also offers a Virtual Debit Card, which lets users spend British pounds at any online retailer that accepts Visa.
The wallet currently works with Bitcoin and Ether. A physical Visa card is also in the pipeline, which will make Zumo the first non-custodial wallet in the UK to offer users the ability to spend GBP online and in person.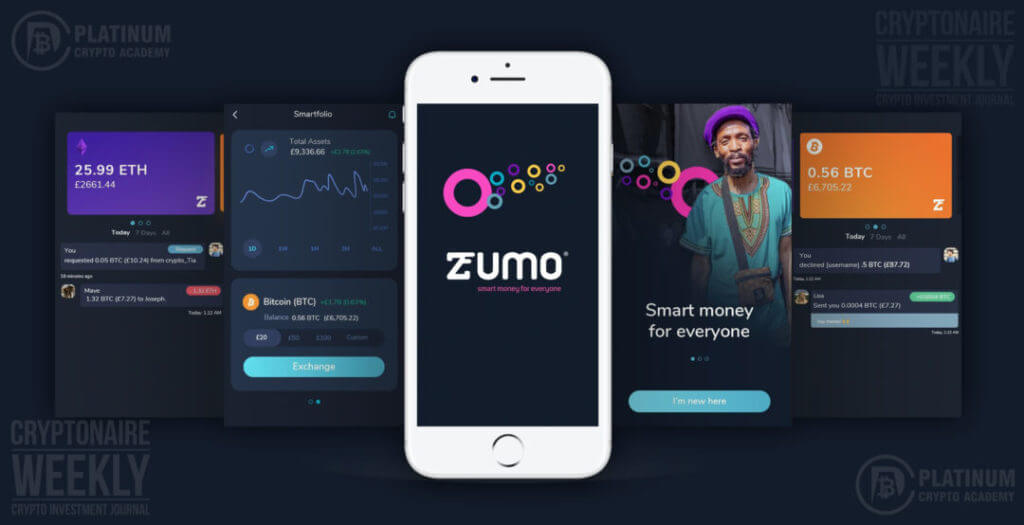 Nick Jones, CEO and co-founder of Zumo, said: "We're very pleased to be partnering with Platinum Crypto Academy.
"We are passionate believers in the emerging inclusive global economy that's powered by crypto. By working with Platinum Crypto Academy, we aim to help people get comfortable with crypto and break down barriers which may have stopped them from getting involved in this fascinating, fast-moving space.
"Crypto is for everyone and we're dedicated to making investing in crypto as easy as starting a traditional bank account. Working with Platinum, we hope to introduce large numbers of new people to the global crypto economy."
The Platinum Crypto Training Academy aims to "to make cryptocurrencies accessible and profitable for everyone". Zumo has a similar goal and aims to radically simplify the process of trading and investing in crypto.
Nick Jones added: "It's a great time to get involved with crypto and joining the new economy is becoming easier every day. We hope the partnership between Zumo and Platinum Crypto Academy will help to demystify blockchain and show how easy it is to get involved in the smart money revolution."
Platinum Crypto Academy and Cryptonaire Weekly CEO and Chief Editor Karnav Shah said, "It's extremely exciting to partner with a company like Zumo. Zumo is a secure cryptocurrency wallet and payment platform, based in the UK, that makes it easy to buy, sell, and store cryptocurrency like Bitcoin and Ether. The Platinum Crypto Academy looks forward to working with Zumo on more exposure to the crypto community."
ABOUT ZUMO:
Available for download on both iOS and Android app stores, Zumo is a super-secure and easy-to-use cryptocurrency wallet that allows anyone to buy, sell, store, send and spend both cryptocurrencies and traditional money.
Founded in Edinburgh in 2018 by entrepreneurs Nick Jones and Paul Roach, Zumo is a purpose-driven Fintech business with transparency, accessibility, and financial inclusion at its core.
With 1.7 billion adults around the world unbanked and without access to modern financial services, Zumo brings the benefits of cryptocurrencies and blockchain to people everywhere.
Zumo supports WasteAid, is a member of CryptoUK, and is a signatory of the UN Global Compact.
Hopefully, you have enjoyed today's article for further coverage please check out our Crypto Blog Page
Thanks for reading! Have a fantastic day!
Live from the Platinum Crypto Trading Floor.
Earnings Disclaimer: The information you'll find in this article is for educational purpose only. We make no promise or guarantee of income or earnings. You have to do some work, use your best judgement and perform due diligence before using the information in this article. Your success is still up to you. Nothing in this article is intended to be professional, legal, financial and/or accounting advice. Always seek competent advice from professionals in these matters. If you break the city or other local laws, we will not be held liable for any damages you incur.