Funganomics, a community-based Non-Fungible Token (NFT) project, is serving as a game-changer in the gaming industry. Funganomics plays a key role in bringing together PTE gamers and NFT digital collectors from across the globe through FGS Games. 
This platform seeks to join the likes of Axie Infinity and Bored Ape after launching its project. The concept of receiving an income in the gaming industry not as a developer or one of the top positions in the industry but as a player. This is where entertainment meets investment proving that the adoption of NFTs in the gaming world comes with benefits. The potential for profit in the gaming industry is likely to encourage more non-blockchain focused brands to venture into NFTs. 
To meet this objective, these brands can investigate forming partnerships with blockchain projects which have the technical expertise required to bring company objectives to life. It is highly recommended that investors get into such projects in the early stages at the Private Sale, Presale, or ICO stage. Presale investors can make both short-term and long-term profits.  
Funganomics CEO, Jeremy Roberts, says "At Funganomics, we've turned that model on its head electing not to conform; designing, building and completing technologies and securing BEFORE we commence our presales activities. In this way, we offer a totally new strategic approach demonstrating not only our commitment to this project but also validating our offerings in an established market with true credible and EXISTING tech to fully support our pre sale's offering."
Investing at the early stages of launching an NFT promises a higher and better ROI. The concept of NFTs is relatively new in the market, thus the reason few investors initially adopted the concept. However, NFTs have proven to sow financial benefits, and brands that initially took a back seat with NFTs are now currently adopting the concept. In addition, the overall success of gaming dApps is likely to play an important role in catalysing NFT infrastructure as well as drive the development of innovative solutions seeking to unlock mainstream adoption. Funganomics has stepped up to take advantage of such projects and venture into NFTs. 
Funganomics offers both open and closed NFT drops to help promote diversity. Obtaining both categories of NFT drops allows for the freedom to choose which platform an investor can trade. NFTs can be traded within the Funganomics ecosystem, whereas others can be traded externally on alternative marketplaces. This flexibility attracts a wider target market, thus boosting the objective of enhancing company growth. Investors invest in smaller amounts to create a solid foundation that plays a key role in growing the company. 
Funganomics Ultimate Showdown (FUS) 
FUS, Funganomics' debut game offering, comes with a great opportunity for in-game engagement in addition to providing a system of scalability.
According to a statement on the Funganomics official site, "We have far more utility associated with our NFTs than some of the most popular and expensive NFT collections that are in the marketplace today."
"Funganomics® presents the next generation platform. An Ecosystem where NFTs, P2E games and a Marketplace are fully integrated with each other's technologies and fortified with integration into our back-end gaming engine and Augmented Reality platform."
Gamers have much more to look out for as Funganomics is incorporating developments of future game releases. The idea is to present gamers with a variety of genres, be it in Arcade, VR, or AR experiences, with the help of FGS Games.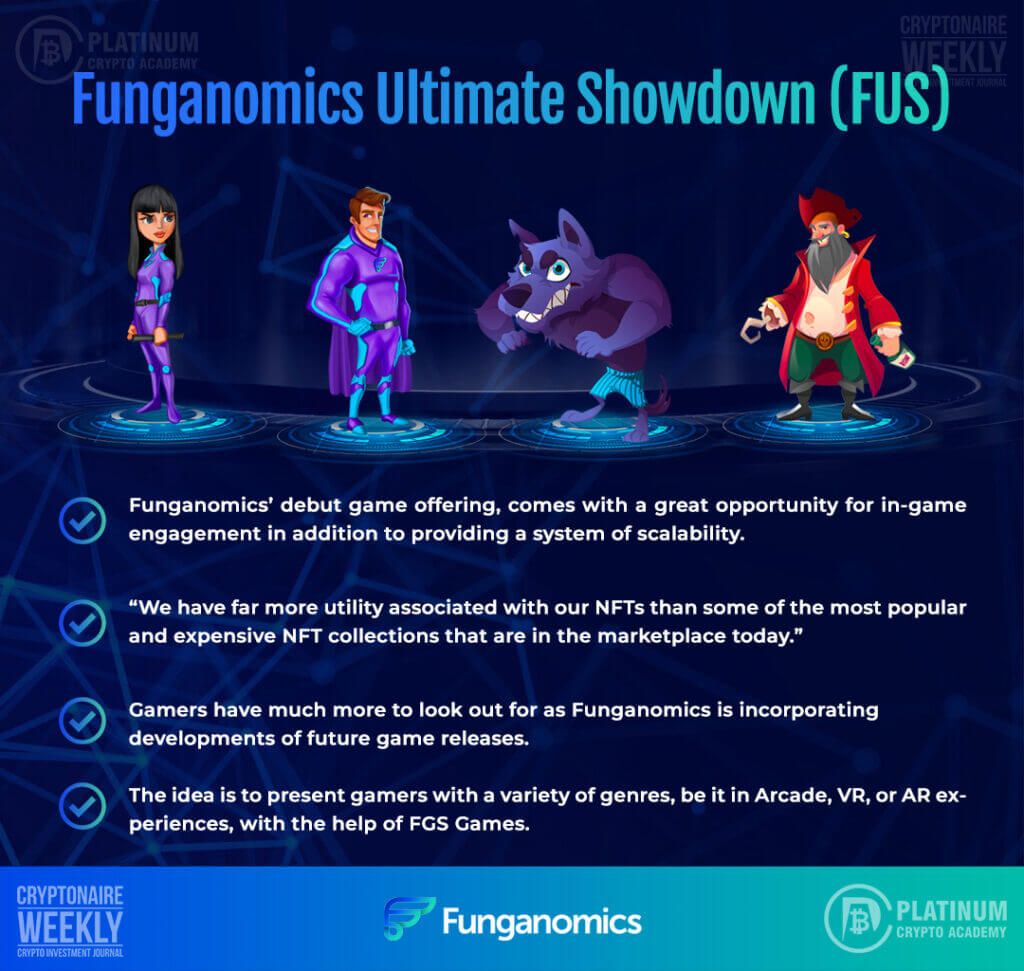 Fungatopia 
Fungatopia, the next generation NFT Funganomics marketplace platform, integrates technologies both in the present and future. From a visual perspective, Fungatopia features crisp aesthetics with a user-friendly interface allowing for easy marketplace navigability. Its features come together to fully support the future of NFTs as well as NFT gaming. This platform acts as an integral component in the ecosystem that serves to reward investors, collaborators, and partners while at the same time helping artists and brands to scale quickly thanks to blockchain technology.  
Editor in Chief at Cryptonaire Weekly, Karnav Shah, speaks highly of the Funganomics project saying, 
"A project like Funganomics, which is designed to reward founding community members, investors, partners & collaborators' is really exciting. We will make sure to help them to reach the larger crypto community by sharing more about these shapeshifting solutions with our readers and across the community channels." 
CONCLUSION 
Funganomics comes with the potential to surpass past and present projects. This is because the token presale is backed by existing state-of-the-art technologies. The key objective is to build an ecosystem for the future of NFTs and NFT gaming. Keep in mind that using NFTs in a gaming environment grants gamers ownership of their in-game assets rather than granting it to game developers. Decentralized gameplay benefits include ownership, provable scarcity, immutability, as well as interoperability. The global gaming industry continues to grow, and the advantages portray the potential to drive mainstream adoption of the concept just as Funganomics is undertaking. 
Hopefully, you have enjoyed today's article. Thanks for reading! Have a fantastic day! Live from the Platinum Crypto Trading Floor.
Earnings Disclaimer: The information you'll find in this article is for educational purpose only. We make no promise or guarantee of income or earnings. You have to do some work, use your best judgement and perform due diligence before using the information in this article. Your success is still up to you. Nothing in this article is intended to be professional, legal, financial and/or accounting advice. Always seek competent advice from professionals in these matters. If you break the city or other local laws, we will not be held liable for any damages you incur.