Since its inception in 2009, the cryptocurrency market has experienced exponential growth. In retrospect, there has been an influx of digital exchanges competing for a piece of this highly profitable virtual business. However, dominance has often been reserved for DEXs until the inception of the Maxxer the new standard of the best crypto exchange.
Unlike most best crypto exchanges, Maxxer is a completely regulated (centralised) social platform. In fact, it's the first crypto trading and investing CEX . The community-based platform also has unique social trading functionalities to enable newbies as well as expert traders to find value.
While beginning traders will benefit from copy trading, experts can depend on Maxxer's well-thought-out reward system to earn a living. Content creators haven't been left out, too—the roadmap includes plans to allow live-streaming. Currently, users can share valuable content across the exchange.
The platform features an easy-to-use interface that further lowers the crypto trading and investing threshold. Moreover, funds received into Maxxer's donation pool will be channeled to various charity activities. Put differently, the Maxxer ecosystem is all about making money together while empowering the community.
How Maxxer Innovates a New Standard of Crypto Exchanges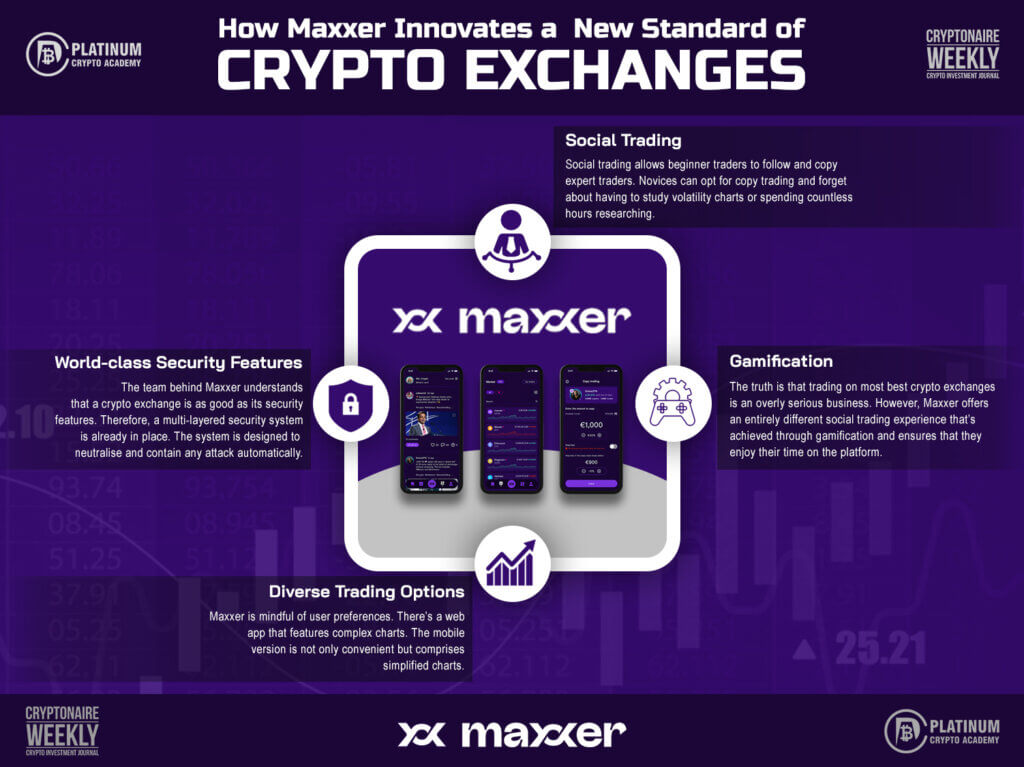 Maxxer isn't your ordinary crypto exchange. It features unique functionalities that set it apart from the competition. Here's what makes Maxxer the best cryptocurrency exchange:
Social Trading
Social trading allows beginner traders to follow and copy expert traders. Novices can opt for copy trading and forget about having to study volatility charts or spending countless hours researching. Background knowledge of financial markets isn't necessary either. On top of that, the process can be automated to save time and allow investors to focus on other responsibilities.
Gamification
The truth is that trading on most best crypto exchanges is an overly serious business. However, Maxxer offers an entirely different social trading experience that's achieved through gamification and ensures that they enjoy their time on the platform.
With gamification, newbie traders can quickly identify the best trader and follow and copy their portfolios. To achieve that, the platform features five social trading leagues (STL). The Maxxer leagues are an automated and highly effective ranking system that places the best traders at the top of the tier. On the other hand, social traders can enjoy seeing themselves move up the leagues and receive massive rewards.
Apart from financial incentives, the platform features social rewards, including badges for top performers. The badges are also an easy way to identify the best social traders and follow them. Lastly, gamification encourages engagement––there's never a dull day within the Maxxer ecosystem.
Diverse Trading Options
Maxxer is mindful of user preferences. There's a web app that features complex charts. The mobile version is not only convenient but comprises simplified charts. The stop loss function enables users to control their portfolios fully. At the same time, users are free to utilise Maxxer's crypto token ($MXXR) or enjoy the freedom of swapping the already available pairs.
World-class Security Features
The team behind Maxxer understands that a crypto exchange is as good as its security features. Therefore, a multi-layered security system is already in place. The system is designed to neutralise and contain any attack automatically. So, your money is safe whether the Maxxer team members are physically available or not. Furthermore, the CTO of this exchange , Leandro Trindade, is a security specialist who has worked on Brazil's leading exchanges and also has his own security programming company.
In case of a successful attempt, additional state-of-the-art security solutions will block entry into the platform. These strategies will also provide adequate time for the responsible personnel to respond to the break-in attempt. The features responsible are multi-signature plus redundancy in every step involving the transfer of cryptocurrencies (including hot wallets) across the platform.
Lastly, Maxxer will use audited and certified security tools besides keeping an eye on the most current security trends. That way, it'll effectively manage any loopholes and keep potential threats away.
What is the $MXXR Token?
Just like other crypto exchanges, Maxxer already has its token ($MXXR), and it's loaded with benefits. First, users will pay half the transaction fee whenever they make payments using $MXXR. The rationale is that transactions made using $MXXR are cheaper and easy to process.
So, Maxxer decided to share the savings with its community. The 50% discount is expected to encourage token uptake and help maintain just the right volume besides growing maxxer exchange . In addition, the Maxxer exchange is keen on charity.
The community will have an opportunity to donate to Maxxer's charity pool which will also receive 2% of every $MXXR transaction made on the platform. Besides, donors will receive donation receipts and have a say on where the money goes.
The Maxxer lottery fund will receive 1% of all transaction income made using Maxxer the token. 1 $MXXR equals one raffle ticket. The purpose of the strategy is to encourage investors to hold their tokens.
Check out Maxxer's IEO, Public Sale and Beta Launch!
In the crypto space, timing is everything. Seasoned investors are often looking for new projects to amass profits after some time. Since Maxxer is relatively new, checking out the road map and leveraging the available opportunities makes sense.
The Maxxer IEO went live on March 14th, 2022, and is still active .The current price of the token is 0.09 Euro per token.There is a dsicountof 10% offered to early birds who invest .The token supply for the IEO is 420 million tokens while the total token supply is 900 million.All an investor needs to do is to verify their email and phone number and then they cn by the tokens directly with crypto.
The pre-sale event went live on February 1st, 2022 and will end on March 15th, 2022. During this period, investors will enjoy a discount on the launch price $MXXR.
Also, the Maxxer Beta launch took off in April 2022. The project had been in development for two years and so launching the Beta is a big milestone for the community.Main reason the developers launched the beta is so as to test it with real users and fix any bugs that may arise .For the entirety of the beta, there will be no trading fees for traders who use the Maxxr exchange.This is a great chance for traders to engage in social trading with zero fees!There will be three rounds of Beta before the final launch.
In the first round, only a handful of people were invited for that round.Invited traders will be randomly selected from token holders.There are over 30 pairs available for trading.
The second round will be open to all token holders and will allow for free trading.Advanced trading features will also be included to cater for expert traders.
The third round will be the final round before the platform is open to the general public.
Maxxer Crypto Token Allocation
Total token supply – 900m $MRRX token
46,67% – public IEO sale
4,89 – promotion
30% – founders and investors
1% – initial set up team
5% – employees
4% – advisors
2.22% – private IEO sale
6.22% – pre-IEO sale
Intended Use of Funds
25% – Branding and marketing
25% – Platform development
35% – Liquidity for market
15% – Emergency pool
An Overview of Gamification's Exclusive Features!
A quick analysis of best crypto exchanges reveals that they aren't community-driven. They also lack gamified trading and investment experience. However, the Maxxer exchange explores the depth of gamification, which gives it an edge in the crypto space.
Attractive gamification features include a five-tier STL (social trading league), badges, and a fair reward system. The exchange will be a battlefield where social traders will be striving to move to the next level. Also, top-tier traders will make sure to remain relevant in order to gain a massive following. On Maxxer, the bigger the crowd, the more the monetary and social incentives.
In addition, the best traders will receive a badge to indicate so. Collectively, gamification will increase engagement on the platform and help beginner traders to identify the best trader to follow. Consequently, Maxxer will be a hub of income-generating activities, triggering the growth of Maxxer the exchange and Maxxer the token too.
What Plans Does Maxxer Have for the Future?
The development of the Maxxer exchange concept began in Q3 2020. Some milestones like raising the seed capital, developing the Maxxer crypto token, and launching the IEO have been achieved. According to the road map, some activities will spill into 2023. The below breakdown reveals Maxxer's plans for the near future:
Quarter two of 2022
MVP launch
MVP beta-launch
Extended gamification features
Quarter three of 2022
Maxxer academy
Leverage trading
Charity voting system
Token listing and voting
Forum for exchange features
Quarter four of 2022
NFT marketplace
Online marketing store
Quarter one 2023
Maxxer debit cards launch
FIX protocol API
2023
Integrate with software
Tokenised stocks licence
OTC desk
Conclusion
While there are many crypto exchanges, most of them are decentralised. Notably, the compliance battle is gaining ground, with pretty significant amendments taking place across the globe. As a result, there has been a crackdown and prosecution of several best crypto exchanges.
Also, market volatility has hindered the uptake of old and new crypto tokens. Furthermore, there's an oversupply of content online, and identifying the best sources of information is becoming increasingly difficult. Those are the main reasons that prompted the development of the Maxxer crypto tokens exchange.
The digital exchange is the first CEX (centralised) and fully regulated social trading platform. The platform provides an ideal ecosystem for novices and experts to thrive. While beginner traders can earn through copy-trading, social traders can trust Maxxer's solid reward system.
The digital exchange features a friendly user interface. Overall, the doorstep is low, which simplifies crypto trading and investment. The Maxxer ecosystem provides the best environment for everyone (content creators, novice and seasoned traders) to make money.
Hopefully, you have enjoyed today's article. Thanks for reading! Have a fantastic day! Live from the Platinum Crypto Trading Floor.
Earnings Disclaimer: The information you'll find in this article is for educational purpose only. We make no promise or guarantee of income or earnings. You have to do some work, use your best judgement and perform due diligence before using the information in this article. Your success is still up to you. Nothing in this article is intended to be professional, legal, financial and/or accounting advice. Always seek competent advice from professionals in these matters. If you break the city or other local laws, we will not be held liable for any damages you incur.