Quick Links
Introduction to PlutusFi
Social networking has now become one of the most ubiquitous elements of modern internet that connects people from all over the world. As the incumbent social media giants pushed internet socialization to new heights, the social crypto user scale is also growing over 200% per year. Web 3.0 is bringing new opportunities for social trading networks in the financial area. SocialFi platforms is set to become the most important social tools in the near future.
PlutusFi is a SocialFi project where influencers are rewarded for sharing their expertise and where people can learn and invest using tools to automate and facilitate trading. It provides social liquidity, encouraging trading through a profitable SocialFi network, fostering cryptocurrency adoption through companies, financial influencers and professional traders. 
PlutusFi offers relevant tools to aid financial influencers, project listings on new markets and profitable solutions for both beginners and professional traders via automated trading strategies, blockchain solutions and key partnerships. It is a liquidity provider, empowering influencers, projects and enthusiasts through a profitable SocialFi network through a SaaS solution.
How is it different from other cryptocurrency trading platforms?
Cryptocurrency is a new universe for wealth creation and blockchain is the latest platform for people's co-operation. Millions of people around the world are buying, selling and generating income through trading of cryptocurrencies.
Going by its current scale of adoption and its future potential, one can easily say that the revolution has just begun. PlutusFi plans to join the pioneers of this revolution and wants to be the base for crypto market operations seeking wealth prospects. Its main goal is to perpetuate the emergent social cycle of community-driven discoveries and engagements, where Financial Influencers or Finfluencers can build their own future.
Influence is the core element to excel in the social field and SocialFi enables users to obtain more benefits by monetizing and tokenizing their influence. The PlutusFi team believes this thriving social economic model is the future for Finfluencers, resulting in a self-consistent economic system. This is also expected to help more people with different levels of social impact to obtain benefits according to their social influence.
SocialFi, which in essence, finances the influence of individuals, allowing for shared profits between users and social platform developers through an influence-based ecosystem. The PlutusFi team believes partnerships are the most important elements to stand out in the ever-growing cryptocurrency space.
With the aim to facilitate trading of cryptocurrency, PlutusFi offer second layer services to empower cryptocurrency companies, community leaders, traders and holders by connecting first layer providers, such as exchanges and social platforms, thereby creating a safe social trading network for blockchain fans.
More than traditional bots and market making providers, PlutusFi grants social liquidity, encourage trading, establishes a profitable network of shared knowledge and resources, while fostering cryptocurrency adoption through professional traders and Finfluencers.
Such an ecosystem allows leaders to share profitable steps, provide bot links designed to perform specific strategies according to market trends or news, via Copy Trading features, thereby generating personal revenue based on their followers' trades. This Copy Trading feature enables cryptocurrency holders and less experienced traders to profit from market flows, seamlessly activating automated strategies built by professionals.
The SocialFi network is composed of layers of data security, social privacy, public contents and social trackers. Every bot has a unique identity code leading to a trader's wallet, which helps to properly recognize and reward members based on their engagement efforts and performance levels.
Along with bot ID tracking, PlutusFi offers additional social marker mechanisms through NFT, which are essentially unique units of tokens. They store specific data and are able to represent a wide variety of assets like art, digital content or media that are logged and authenticated on cryptocurrency blockchains.
PlutusFi services that Finfluencers can enjoy
PlutusFi was built to facilitate the flow of information by promoting traditional influencers into Finfluencers, through SocialFi practices. In this new form of relationship between experts and their public, those who have the knowledge are rewarded for helping their communities generate income, while others can learn and collaborate with the community in other ways.
In addition, by joining PlutusFi, users gain access to exclusive tools, allowing for intelligent and automated investments in cryptocurrencies, thereby increasing the chances of obtaining good financial returns. PlutusFi claims this to be just the beginning and it will bring even more bots and other features.
Although the PlutusFi team claims it has a lot to build but, currently, anyone can use its trade automation application, and enjoy simple bots. Advanced users can earn tokens providing strategies. In addition to the tools for everyone, influencers will have a "help centre" where they will have access to high quality information with minimal effort.
Communities can count on assistance in managing their influencers with specific bots to stimulate traders. Projects can connect with communities and have access to low-cost market makers.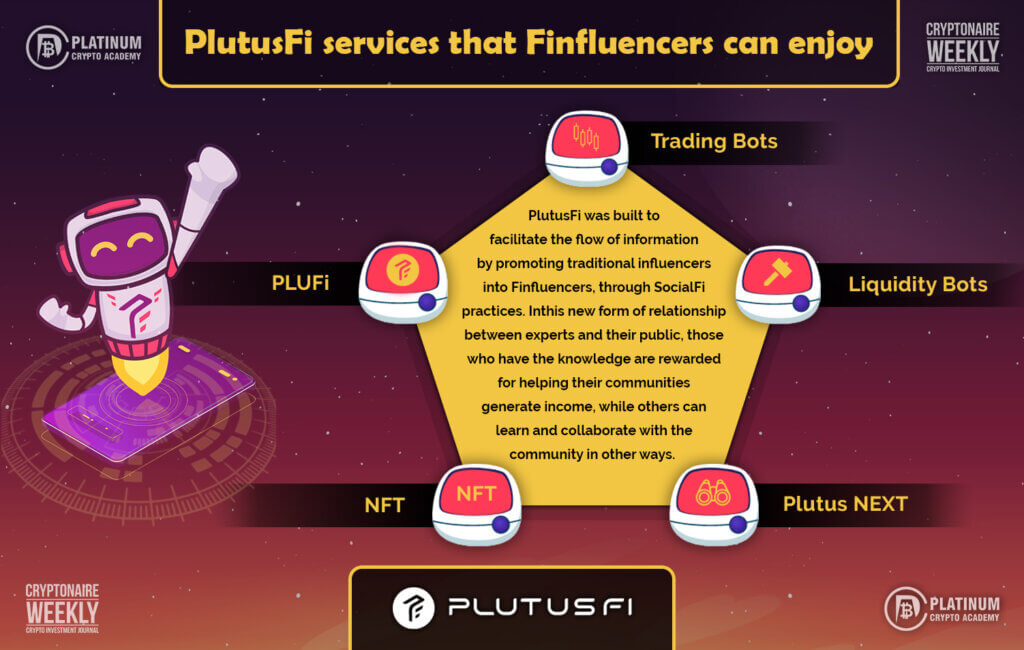 Trading Bots
The Trading Bot of PlutusFi makes trading simple and easy for everyone, thereby encouraging investments. It provides complex solutions through simple interfaces, focusing on ease of usage and softening the learning curve. Its simplicity translates into efficiency.
PlutusFi offers an intuitive tool for traders and community leaders to set up profitable trading bot profiles for their audience. The Trading Bot will mirror the same strategies that specialists are using for their personal investments, so that PlutusFi users can match their gains.
High Frequency Trading (HFT) is not a trend but an essential tool to outperform other traders. Users can intuitively trade assets, safely manage investment portfolios across multiple platforms, track asset prices live and trading performances with specific trading pairs in different markets.
One can automate orders and activate preset trading robots or easily customize strategies, thereby saving time with this simple yet efficient tool. Since markets never sleep, users can leverage profits by taking full advantage of automated trades without missing any opportunities.
Liquidity Bots
Liquidity bots, also known as Market Maker Bots, is a complete solution for cryptocurrency projects to kickstart their market activities. The Liquidity Bots assist newly-listed cryptocurrencies by actively quoting two-sided markets, providing Bids and Offers along their market size. Through this technique, they are able to provide better liquidity and market depth.
Once the market maker receives an order from a buyer, they immediately sell off their position of shares from their own inventory. This allows them to complete the order, quickly executing pending trades. In short, market making facilitates a smoother flow of financial markets by making it easier for investors and traders to buy and sell.
An illiquid market means there is a big spread or price difference between the closest Bid and Ask orders, which hinders the trading volume. On the other hand, a liquid market attracts more traders, since they are able to trade higher volumes without incurring losses as a result of price disparities.
The Order Book is where all the Bids and Asks get registered and the market depth is proportionate to the size of the orders and the way they are spread across different prices. Markets with low amount of orders near the current price, but heavy accumulations at much lower prices are examples of shallow markets or those with 'thin Order Books'.
Market depth has a close relationship with liquidity, since healthy markets require well-spread trades across Order Books. New markets may suffer from insufficient transactions without Liquidity Bots, resulting in fewer investment activities.
Plutus NEXT
PlutusFi helps people with the ability and willingness to become opinion leaders and develop their own communities. Plutus NEXT provides essential tools for community leaders, so they waste less time worrying about or seeking for the latest crypto market trends and, instead, dedicate more time growing their own communities.
Finfluencers can check how engaged they are through the dashboard and the effectiveness of their contents. They can also check their earnings with PlutusFi services, as well as other relevant Business Intelligence data to guide their growth. The Plutus NEXT dashboard also provides hot leads about the latest events, trading signals regarding market shifts, airdrop possibilities and much more.
NFT
NFT is another tool within the PlutusFi platform, that can greatly benefit community management and social interactions. They can be utilized for many purposes, such as community tickets, representing different social ranks.
Each NFT is a relevant social marker that might unlock specific events, special rewards, additional features, governance rights, property shares and even share revenues inside the ecosystem. The best part about NFT is that owners can eventually monetize them, trading for assets with other members, transferring their rights to a new owner, while profiting from such deals. These tokens serve as credentials for community services, enjoying the benefits of community growth.
PLUFi
The utility token of PlutusFi is called PLUFi and its symbol is PLUT. PLUFi serves many purposes, ranging from a simple utility token to pay for products, services and special features as well as the possibility to store value. Around 30% of all PLUT collected will be either burned, donated or distributed to top community contributors, thereby creating a deflationary system to benefit all users and stakeholders.
PLUT Tokenomics
The Burn mechanism of PLUT has been designed in such a way that around 15% of all tokens collected in taxes will be burned every month to reduce market supply. Another 5% of all tokens collected in taxes will be donated every month to charity institutions.
In terms of the overall token distribution, 30% each will be earmarked for the PlutusFi ecosystem and the early investors. The tokens earmarked for PlutusFi ecosystem will be locked for three years. A fraction of this amount will be released for platform development, community development rewards and seasonal incentives to users every three months.
Another 30% has been earmarked for the early investors, of which 10% will be released to kickstart the project with initial fund raising and 20% unlocked linearly during the first 10 months after the ICO launch.
Another 14% will be reserved for the core team, which they can unlock 2% every three months after the launch. The entire 10% set aside for the public presale is unlocked, as is the 6% reserved for marketing.
The balance 10% will be equally divided between legal and advisors, both of which will be vested for six months after the launch.
Conclusion
Financial freedom and social engagement are the driving forces behind the success of cryptocurrencies. In addition, ease of usage and mass adoption are necessary goals for financial freedom. They grow much stronger and effective through social engagements.
The emergence of social networks has changed the way most people communicate and has also brought in great changes to the way most businesses communicate with their customers and other stakeholders. The attention and conversion rate of social media has become the success metrics for most internet companies.
The internet is gradually moving to Web 3.0, which allows users to have full control of their own data. The Web 3.0 is bringing new and unprecedented opportunities for social trading networks in the financial area and SocialFi platforms will be the most important social tools in the near future.
The ideal of SocialFi is to simplify asset trading and adoption of cryptocurrency. PlutusFi, through its relevant tools and business model, aims to gain the early mover advantage in this space. Its commitment to the cause is evident from its range of decisive services to assist in the growth of the community and enhancement of its performance.
Hopefully, you have enjoyed today's article. Thanks for reading! Have a fantastic day! Live from the Platinum Crypto Trading Floor.
Earnings Disclaimer: The information you'll find in this article is for educational purpose only. We make no promise or guarantee of income or earnings. You have to do some work, use your best judgement and perform due diligence before using the information in this article. Your success is still up to you. Nothing in this article is intended to be professional, legal, financial and/or accounting advice. Always seek competent advice from professionals in these matters. If you break the city or other local laws, we will not be held liable for any damages you incur.