Quick Links
Blockchain Gaming
The gaming industry has seen exponential growth in the last few years, especially during the pandemic, when people were stuck at home for weeks and months. Another factor that has significantly drove the global gaming market is the integration of blockchain technology in gaming.
Blockchain, as we all know, is a decentralized and distributed ledger that enables secure transactions and maintains all the records. These features have opened up new opportunities for businesses that want to create decentralized gaming apps and is set to be the next big thing in the gaming industry.
Blockchain has created a new gaming experience for both businesses and players who use cryptocurrencies and NFT to purchase in-game assets that could be exchanged for real money. With the rise in crypto games or blockchain games, there are various ways in which blockchain technology is being used in the gaming industry, such as NFT, play-to-earn games and virtual events and tournaments, to name a few.
While it is known that blockchain offers solutions to problems faced by many industries across the world, its effect on the gaming industry is still relatively unexplored, in comparison to much of its potential. ZiberBugs is one such project which is exploring the infinite possibilities of blockchain gaming, as it aspires to enhance the overall number of professional gamers in the world.
ZiberBugs
ZiberBugs is a competitive auto battler created for gamers as part of its goal and endeavour to greatly increase the number of professional gamers in the world. The game seeks to attain the perfect balance between people wanting to pay for entertainment and people wanting to contribute to the ecosystem while getting rewarded for it. It also strives to capitalize on the success of other NFT games while, at the same time, repairing some of the design flaws that exist with those NFT games.
ZiberBugs is developed with the fun-first principle in mind, thus intended to maintain value and playability without financial incentives. As with many other games, ZiberBugs too has both PvE and PvP elements within it. The PvE elements focus more on the gatherer mentality and puzzler while the PvP part is aimed towards the competitor personality.
Cardano
Cardano is a third-generation and a proof-of-stake blockchain platform, the first to be founded on peer-reviewed research and developed through evidence-based methods. It was designed by engineering and cryptography academics, built entirely off scientific and mathematical principles.
Cardano combines pioneering technologies to provide unparalleled security and sustainability to decentralized applications, systems and societies. Its multi-layer architecture distinguishes it from other blockchains, alongside its security and development.
It claims to be secure enough to protect the data of billions, scalable enough to accommodate global systems and robust enough to support foundational change. It has huge scalability plans for this year.
Unlike other blockchains, Cardano does not require exponentially more energy to increase performance and add blocks. The performance-sustainability balance is achieved through a combination of novel approaches, including multi-ledger, side chains, and parallel transaction processing through multi-party state channels.
The combination of sustainability and scalability allows Cardano to achieve the throughput required to meet the evolving demands of global systems. According to Cardano, it has brought in a new standard in technology – open and inclusive – to challenge the old and activate a new age of sustainable, globally distributed innovation through a scientific approach.
The native token of Cardano is called Ada and is named after Ada Lovelace, a 19th century mathematician who is often referred to as the world's first computer programmer. Cardano's Ada is a digital currency that can be used as a secure exchange of value, without requiring a third-party to mediate the exchange.
Every transaction is permanently, securely and transparently recorded on the Cardano blockchain and every Ada holder also holds a stake in the Cardano network. Ada stored in a wallet can be delegated to a stake pool to earn rewards or pledged to a stake pool to increase the pool's likelihood of receiving rewards.
As Cardano's native token, Ada is used by platform users to perform peer-to-peer transfers, as well as participate in the network's staking functionality. This means that Ada cannot be mined like most cryptocurrencies as it uses the Proof of Stake (PoS) algorithm. As in all protocols based on the PoS algorithm, all users who are holders of Ada tokens and who bet their tokens can participate in its governance, become validators, and function as their node.
Meanwhile, token burn is one of the strategies used by the crypto community to deflate an asset value by permanently removing a certain number of tokens from circulation. It often contributes to the token's price growth by ensuring scarcity. It is similar to share buybacks performed by companies listed on the stock exchanges.
Numerous cryptocurrency projects have used a burning mechanism to maintain their coins' scarcity. Cardano too is working on its own token burning mechanism, according to a recent update from the Cardano Foundation.
ZiberBugs and Cardano
The positive aspects that made ZiberBugs choose Cardano as the blockchain partner for its project are: ease of implementation, competition, community, stability and security, fees and the good cause. The above aspects are discussed in details below.
Ease of implementation – The fact that Cardano has native support for minting and burning tokens and NFT is a great advantage because you can implement an entire NFT game without having to utilize a single smart contract. You can use your game server as a Layer 2 solution – let your game server keep track of transactions using blockchain analysis and db sync and then build your own transactions, including any burning and minting natively.
Competition – Although there are some really big players in the Cardano NFT gaming ecosystem, there are, however, few that are triple-A and very few competitive initiatives. Another aspect is that the Cardano community takes up a bigger percentage of the entire crypto community than the Cardano NFT games take up of all NFT games. Overall, there is less competition as a Cardano NFT game, even if only Cardano users play the game.
Community – The ZiberBugs team believes there is no other blockchain with a community such as Cardano and there is a completely different mentality when hanging out on a Cardano forum than any other crypto forum. It claims that the Cardano ecosystem helped them get in touch with many helpful people and therefore they want to be part of it and contribute too.
Stability and Security – Cardano has never had any downtime issues since launch. In case of other blockchains, there have been issues of blockchains going down, smart contracts being hacked and emptied on millions of dollars. Hence for the ZiberBugs team, Cardano is their best option.
Fees – While Cardano is far from being the cheapest of blockchains, it is not the most expensive one either. The ZiberBugs team is confident that transaction fees will pose no problems for the game and is likely to reduce further as scaling solutions are deployed further.
The Good Cause – The Cardano organization and community are developing many initiatives on the blockchain to prevent poverty, climate change etc. Although an NFT game doesn't seem to have such noble cause, it still resonates with ZiberBugs because they too have something planned in this aspect and that will be announced soon.
However, notwithstanding the advantages of Cardano mentioned above, the blockchain platform also have certain shortcomings and ZiberBugs team hopes those issues would get sorted out over time. Here are some of the shortcoming and ZiberBugs' approach to them.
Immaturity – The suitability of Cardano for running certain types of DeFi applications can seem a bit lacking but the use case of ZiberBugs is an NFT game which is much more suitable and straight forward.
EVM Non-compatibility – People are not using a Cardano wallet browser extension as much as they are using Metamask. ZiberBugs believe this is going to change as the ecosystem develops and the average number of crypto wallet browser extension a crypto person has will be two by the end of the year.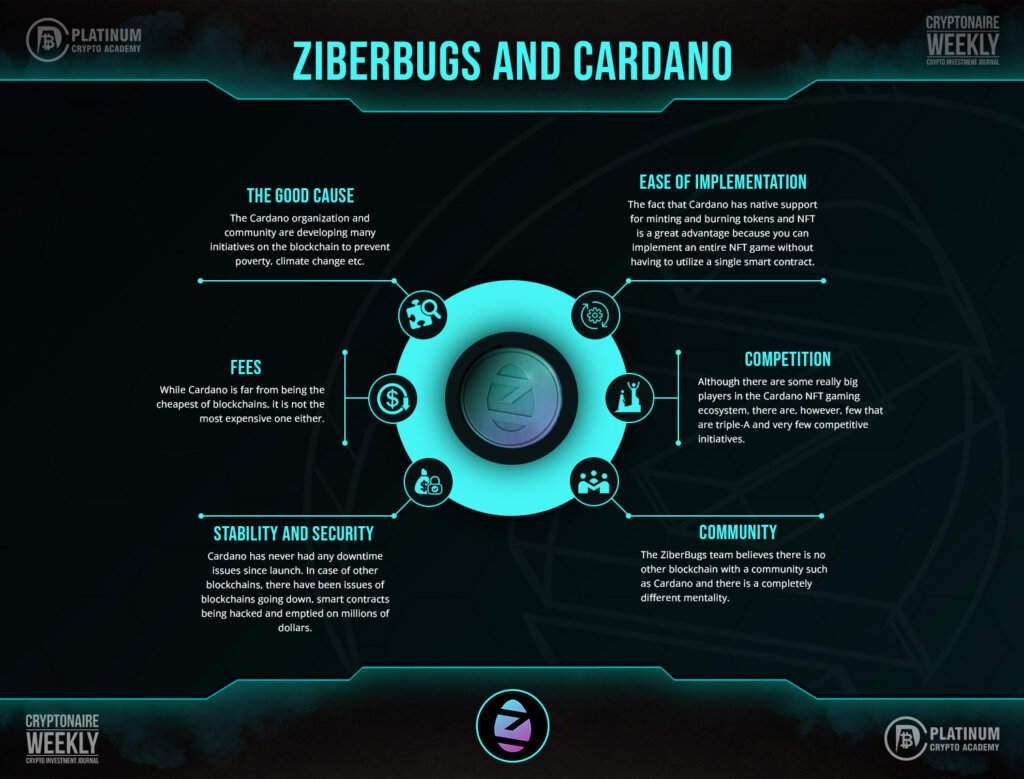 However, it will be closer to one again by the end of next year as someone would have invented a cross-chain solution by the time which will integrate all the big ones.
Conclusion
Although the advantages are more than the disadvantages, some of the latter are quite strong. The ZiberBugs team believes that, by the time it is launched, the blockchain will have developed itself further and the prevalence of Cardano wallet browser extension will have increased by then.
With more and more businesses exploring blockchain technology, we can expect to see more games and platforms using blockchain in future. In addition, as the technology continues to develop and become more widely adopted, we can expect to see more features and applications for blockchain in gaming, including faster and more secure transactions, decentralized platforms for virtual worlds and new form of digital assets.
Hence, we can conclude that the future of ZiberBugs and the blockchain gaming industry are both bright and it is crucial to invest in blockchain now to reap the benefits in future.
Hopefully, you have enjoyed today's article. Thanks for reading! Have a fantastic day! Live from the Platinum Crypto Trading Floor.
Earnings Disclaimer: The information you'll find in this article is for educational purpose only. We make no promise or guarantee of income or earnings. You have to do some work, use your best judgement and perform due diligence before using the information in this article. Your success is still up to you. Nothing in this article is intended to be professional, legal, financial and/or accounting advice. Always seek competent advice from professionals in these matters. If you break the city or other local laws, we will not be held liable for any damages you incur.