Fundamental Analysis
Responsible investing is not only about choosing the company or token that will multiply your money but also make the earth greener and rid it of poisonous pollutants. While the equity markets boast of several such companies and exchange-traded funds, the crypto investors had very few options until Intelligent Fluids GmbH introduced SmartChem ICO (SMAC) tokens.
SMAC token is an ERC-20 token that has also been integrated into the Binance Smart Chain Ecosystem as a native BSC BEP-20 token.
Intelligent Fluids is a deep tech company that is set to disrupt the rapidly growing industrial cleaning market whose value is projected to exceed $54 billion by 2025. The innovative technology of Intelligent Fluids has numerous advantages over the existing solvent-based chemicals. It is dermatologically approved, reducing the risk to human health. It reduces energy consumption by 65%, benefiting the climate. There is 70% less necessity of waste disposal as it is biodegradable. As it does not require high operating temperatures and has no hazards, it reduces process costs. It is no surprise that the company has won several awards for its technology such as the Green Product Award in 2021, Blockchain Starts winner in 2019, NOURYON Imagine Chemistry Award in 2019, and many more.
The company is backed by a strong management team that has a combined science know-how of more than 58 years. In terms of entrepreneurship, the company boasts a total experience of 35 years, increasing the possibility of success.
While the IDO on Atnir has ended, users who would still like to purchase the token can do it Stex.com and Pancakeswap. Users can also make direct purchases for bulk investments above 10,000.00 USDT which is still possible.
With many advantages over the conventional cleaning systems and a strong management, the company is on track to capture market share from the existing players. Intelligent Fluids expects its revenue to grow to more than $400 million by 2030, a huge increase from its 2020 revenue of about $1.5 million. By 2030, the company anticipates its market share to increase to more than 5%. All this will be achieved by keeping an eye on profits, which are expected to reach over 40% by 2026.
Owners of the token will be able to avail a 30% discount on Intelligent fluids products until 2022. The discount will reduce to 20% in 2023 and to 15% by 2024. The attractive discount structure suggests that the demand for the tokens may go up sooner than later as companies buy more tokens to avail greater discounts on the purchases of Intelligent fluids products.
According to an estimate by the company, by 2031, it would have sold an estimated 255 million litres of fluids, which is well above the total tokens in circulation.
Along with the potential profits from the increase in token value, investors can also be part of a project which claims to reduce carbon emissions by more than 50%, save 60% energy costs in the projects they undertake. In addition, investors will also end up supporting OceanCare, a marine wildlife protection project, and several other environment-friendly organisations.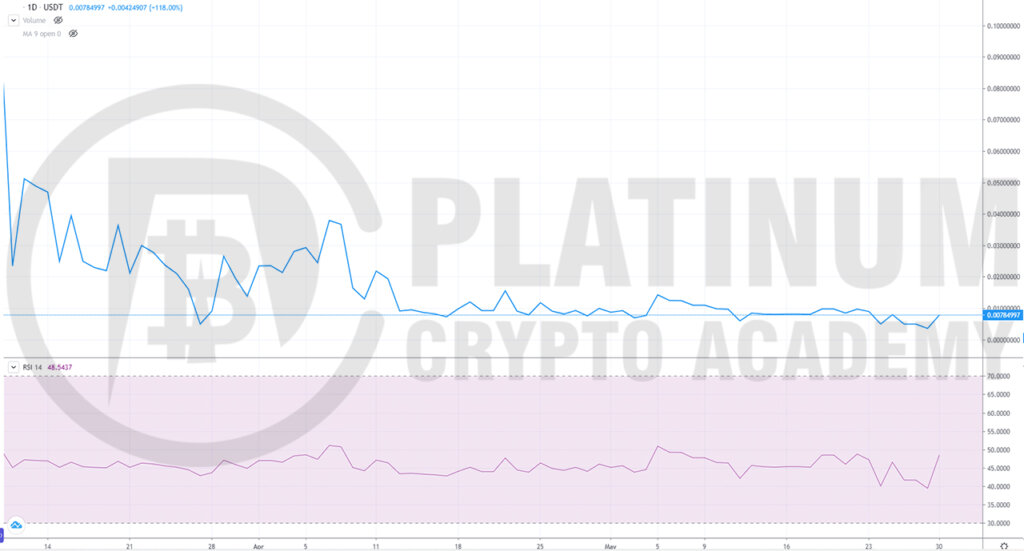 Technical Analysis

SMAC token rebounded off the strong support at $0.005 on May 24 but the bulls could not sustain the higher levels. The negative sentiment in the crypto sector rubbed off on the SMAC/USD pair and the bears sold with vigour. This pulled the pair below the immediate support of $0.005 on May 28.

However, a positive sign is that the lower levels attracted aggressive buying by the bulls. The pair made a strong comeback and rallied from $0.0036 on May 28 to $0.0078 on May 31, completing a 116% rally within three days. The relative strength index has also climbed back near the midpoint, suggesting that the bearish momentum may be weakening.

The buyers will attempt to build upon this strength and push the price above the overhead resistance at $0.010. If they manage to do that, the bullish momentum could pick up and the pair could start its northward march toward $0.015.

This level may again act as a strong resistance but if bulls do not give up much ground, the possibility of a break above $0.015 increases. If that happens, the up-move could reach $0.022, followed by a rally to $0.038.

Contrary to this assumption, if the price turns down from $0.010 or $0.015, it will indicate that higher levels continue to attract strong selling by the bears. That could keep the pair range-bound for a few days.

On the downside, the bulls are likely to defend the zone between $0.005 and $0.0036 with all their might because if this zone gives way, the selling momentum could pick up. The pair could then decline to $0.0002.

Conclusion
The above risk factors aside, this method of fund-raising offers a high degree of flexibility for customers, liquidity for investors and a unique opportunity to benefit, as early adapter, from attractive discounts on fluid purchases or from a possible appreciating token value. Not to mention, the impressive eco-footprint that comes along with it.
Hopefully, you have enjoyed today's article for further coverage please check out our crypto Blog Page. Thanks for reading! Have a fantastic day! Live from the Platinum Crypto Trading Floor.
Earnings Disclaimer: The information you'll find in this article is for educational purpose only. We make no promise or guarantee of income or earnings. You have to do some work, use your best judgement and perform due diligence before using the information in this article. Your success is still up to you. Nothing in this article is intended to be professional, legal, financial and/or accounting advice. Always seek competent advice from professionals in these matters. If you break the city or other local laws, we will not be held liable for any damages you incur.