27TH JULY LATEST CRYPTO NEWS DIGITAL MAGAZINE
The crypto markets extended their decline on Monday due to the broad-based risk-off sentiment across assets, which saw the Dow Jones Industrial Average plummet 725.81 points, its worst fall since last October. The increase in Covid-19 cases in many parts of the world due to the delta variant was touted as one of the several reasons for the flight to safety.
Jeffrey Gundlach, CEO of investment management firm DoubleLine Capital, said in a CNBC interview recently that Bitcoin has formed a head and shoulders pattern that "looks pretty convincing." Gundlach expects Bitcoin to correct to $23,000.
OUR BLOG ARTICLES FOR THIS SPECIAL ISSUE ARE
HOW TO GET STARTED AND INVEST WITH WEREWOLF NFT – COMPLETE
GUIDE
&
FERRUM NETWORK UNLOCKING DECENTRALIZED FINANCIAL OPPORTUNITIES
We had mentioned in our previous analysis that the possibility of a fall is greater and that is what happened. Bitcoin broke below the £23,620 support on July 15, indicating that bears have overpowered the bulls.
The bulls tried to push the price back above £23,620 on July 18 but failed. This may have attracted further selling and the bears will now try to capitalize on the weak sentiment by pulling the price below £21,000.
If they succeed, the BTC/GBP pair will complete a bearish descending triangle pattern. This negative setup could start the next leg of the downtrend, which may reach £15,000. The downsloping moving averages and the relative strength index (RSI) in the negative territory indicate the path of least resistance is to the downside.
However, the bulls may not surrender the £21,000 to £20,000 support zone easily and will try to defend it. A strong rebound will indicate accumulation at lower levels. The bulls will have to push the price above the downtrend line to signal a trend change.
As the trend is negative, traders may remain on the sidelines until a bottom is confirmed. Pre-empting a bottom could quickly result in a loss.
Lastly please check out the advancement's happening in the cryptocurrency world
Enjoy the issue!
FEATURING IN THIS WEEKS EDITION
– Koji
– Kaiken
– Gain Protocol
– Werewolf
– The Coop Network
– BeatBind
– Ferrum Network
– World Mobile Token
– Zumo
CRYPTO TRADE OPPORTUNITIES
BITCOIN – BTC/GBP
Bitcoin price gbp we had mentioned in our previous analysis that the bulls may not surrender the £21,000 to £20,000 support zone easily and that is what happened. Bitcoin soared from the support zone and broke above the downtrend line of the descending triangle pattern on July 26.  Read more
ETHEREUM – ETH/GBP
Ethereum price gbp bulls aggressively purchased the dip to the strong support at £1,216.19 on July 21. Strong buying propelled the ethereum to gbp price above the downtrend line of the descending triangle pattern on July 26 but the long wick on the day's candlestick shows selling by the bears at higher levels. Read more
RIPPLE – XRP/GBP
Ripple price GBP after struggling near the 20-day EMA for two days, the bulls pushed the price to the 50-day SMA on July 26 but the long wick on the day's candlestick suggests that bulls aggressively sold at higher levels.Read more
CARDANO – ADA/GBP
ADA to GBP bulls pushed Cardano above the downtrend line on July 26 but the long wick on the day's candlestick suggests that bears aggressively sold at the 50-day simple moving average. This suggests that the sentiment remains negative and the bears have not surrendered.  Read more
BINANCE – BNB/GBP
BNB price GBP broke above the downtrend line on July 24 but the bulls are struggling to push and sustain the price above the overhead resistance at £236. This suggests that bears have not ceded and are selling on rallies.  Read more
Subscribe to the latest crypto news digital magazine for the latest updates about profit and loss in cryptocurrency.
CONSOLIDATING THE FRAGMENTED MUSIC INDUSTRY – BEATBIND
BeatBind is providing token holders and existing partners with updated information and the status of the project launch.
BeatBind is the world's first decentralized blockchain event organization and talent auction platform that will allow artists and venues to focus only on providing unforgettable experiences to their fanbase. We aim to connect three key players in music event coordination: venue owners, performers, and fans. Our innovative solution will be supported with BBND, a universal cryptocurrency token for the music industry. Read more
KAIKEN INU IS A BRAND NEW GEM YOU SHOULDN'T MISS
Your chance to become a millionaire is here!
KaiKen Inu is soon going to set the crypto world on fire through its new ICO launch. With bigger, better, and stronger ICO features than ever before, it aims to create whales by rewarding holders generously.
But what is KaiKen Inu? Let's find out!Read more
GAIN PROTOCOL HAS SKYROCKETED 27X IN LESS THAN 24 HOURS POST COINGECKO LISTING
Gain Protocol is a fully decentralized finance ecosystem that puts holders first. Through static rewards and massive sweepstakes opportunities, Gain Protocol puts the power in the hands of the people.
Decentralized Finance (DeFi) is growing at a breathtaking pace. In the sea of new projects and ICOs, finding quality projects that users can trust has become a big challenge for space. Read more
WORLD MOBILE TOKEN LTD LOOKS TO RAISE $40M IN CARDANO-BASED NATIVE TOKEN SALE
World Mobile Token Ltd, which is enabling a new global mobile network built on the sharing economy, announces the launch of its utility-based World Mobile Token (WMT) on the Cardano blockchain. The company aims to raise 40 million USD within the first five weeks of the public sale on top of the 5 million USD it has raised privately.
The sale started on July 5 and will close on August 16 at 11 a.m. UTC. Tokens can be purchased with ADA, BNB (BEP2), BTC, DAI (ERC20), or ETH. Read more
GLOBAL BITCOIN ATM INSTALLATION SHOOTS PAST 24,000 IN 2021
This year has seen a sharp increase in the number of crypto automated teller machines (ATMs) installed worldwide. Data from Coin ATM Radar shows that crypto ATM installation has increased by more than 70% to over 24,000 this year. Over 10,000 Crypto ATMs Installed In 2021 No less than 10,000 new crypto ATMs have been installed this year alone, surpassing the 7,620 added in 2020, per Coin ATM Radar. These crypto ATMs are being installed at a speed of roughly 52.3 ATMs per day. Read more
GOLDMAN SACHS FILES FOR 'DEFI' ETF TIED TO PUBLIC COMPANIES
The Goldman Sachs Innovate DeFi and Blockchain Equity ETF is more traditional than the proposed crypto ETFs. Goldman Sachs is a major traditional investment bank. It's filed for a DeFi fund that is like traditional ETFs. Investment bank Goldman Sachs has edged toward Ethereum and decentralized finance (DeFi) in recent months. According to a filing today with the Securities and Exchange Commission (SEC), it's ready to offer an exchange-traded fund (ETF) linked to companies in the sector. Read more
HOW TO GET STARTED AND INVEST WITH WEREWOLF NFT – COMPLETE GUIDE
Non-fungible Tokens (NFTs) are a remarkable use case of revolutionary blockchain technology. While the idea has been there, NFTs shot to popularity in early 2021, with Beeple's $69 million sales at Christie's. That sale was a breakthrough, and the event grabbed the eyeballs of crypto-savvy investors from across the globe. However, once NFTs started making headlines, we got to learn about the value proposition of these rather different applications of blockchain.
As the name suggests, a distinguishing feature of the NFTs is that they are non-fungible. It means there cannot be a duplicate token, and each NFT is unique in its capacity. The Werewolf Project, which is popular for its native decentralised exchange that deploys Automated Market Mechanisms (AMMs), has a dedicated platform for Werewolf NFTs, namely Alpha, Beta, and Omega. Read more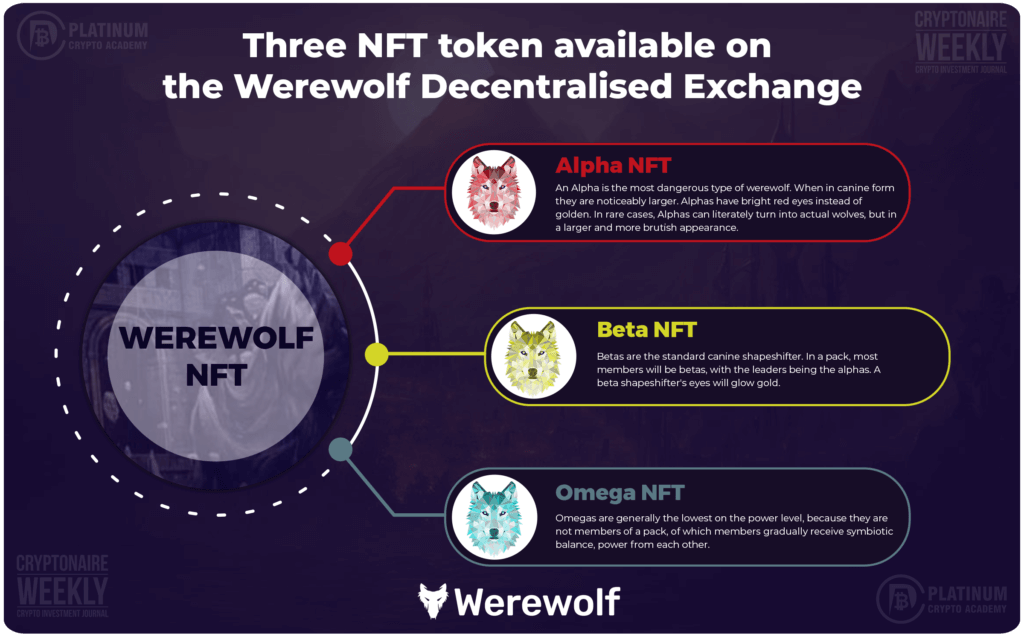 JPMORGAN ALLOWING ALL OF ITS RETAIL WEALTH CLIENTS ACCESS TO FIVE CRYPTOCURRENCY PRODUCTS
These clients include those looking for investment advice, ultra-rich, those using the bank's commission- free trading app, and those whose assets are managed by the bank itself. Banking giant JPMorgan Chase & Co has started to allow all of its wealth management clients access to crypto funds, reported Business Insider on Thursday, citing sources. According to the report, this move applies to all clients looking for investment advice, including ultra-rich, those using its commission-free trading app, and those whose assets are managed by the bank itself. Interestingly, with this move, JPMorgan has become the first major bank to allow its clients access to crypto, while back in 2017, its CEO Jamie Dimon called Bitcoin a "fraud" and threatened to fire its employees who traded the cryptocurrency. Read more
AMAZON DENIES RUMORED PLANS FOR BITCOIN SUPPORT
Despite rejecting rumors the e-commerce giant will soon support Bitcoin payments, a spokesperson for Amazon has said the firm is still interested in the crypto space. Amazon has refuted recent speculation it may be readying to support Bitcoin payments, asserting it currently has no plans for BTC. According to a Reuters report on July 27 citing a spokesperson from the firm, Amazon remains interested in the crypto industry but has no specific plans to onboard digital assets for payments just yet: "Notwithstanding our interest in the space, the speculation that has ensued around our specific plans for cryptocurrencies is not true." Read more
FERRUM NETWORK UNLOCKING DECENTRALIZED FINANCIAL OPPORTUNITIES
The Defi market is exploding. In the past 18 months, it has grown by over 300% on its continued upward trajectory. The number of active wallets interacting with Defi protocols has also risen sharply. With Ethereum 2.0 on the way, it is expected that the growth will only accentuate further. With major conventional financial bodies and their intermediaries acknowledging the power of Defi and bigger hedge funds already actively endorsing Defi protocols, there is no doubt that Defi has all the potential to reshape the world of finance.Read more
BINANCE TO CEASE CRYPTO MARGIN TRADING ON STERLING, EURO, AUSTRALIAN DOLLAR
The announcement comes hours after CEO Changpeng Zhao tweeted that Binance was reducing the maximum leverage users can use to trade futures contracts. Binance is set to stop its crypto margin trading involving sterling, the euro and Australian dollar, as the world's large cryptocurrency exchange seeks to stave off a widespread regulatory backlash against some of its services. Starting Aug. 10, Binance Margin will suspend borrowing for its GBP, EUR and AUD pairs and major cryptocurrencies including bitcoin (BTC, -4.63%), ether (ETH, -7.43%) and Binance coin, an announcement Monday said. Read more
JACK DORSEY CALLS BITCOIN A 'BIG PART' OF TWITTER'S FUTURE AS A GLOBAL CURRENCY
Twitter CEO Jack Dorsey says that bitcoin will be a big part of the company's future. "If the Internet has a native currency, a global currency, we are able to move so much faster with products such as Super Follows, Commerce, Subscriptions,
Tip Jar, and we can reach every single person on the planet," he said. Bitcoin Set to Be a Big Part of Twitter Twitter announced its quarterly earnings Thursday that beat analysts' forecasts. During the company's Q2 earnings call, CEO Jack Dorsey said that bitcoin would be a "big part" of the company's future. Read more