5TH OCTOBER LATEST CRYPTO NEWS DIGITAL MAGAZINE
Despite the slight downturn, the institutional adoption of Bitcoin continues to increase. Filings with the United States Securities and Exchange Commission show that four wealth management firms have bought shares in Grayscale's Bitcoin Investment Trust.
A survey of about 42,000 people in 27 countries by product comparison website Finder showed a high adoption rate in Asia. Among the countries polled, Vietnam had the highest adoption rate at 41%, while India and Indonesia had a 30% adoption rate.
OUR BLOG ARTICLES FOR THIS SPECIAL ISSUE INSURACE.IO: AN INNOVATIVE DEFI PROTOCOL TO SECURE YOUR CRYPTO INVESTMENTS
OMNIA DEFI: TOKENISATION OF REAL-WORLD ASSETS
BONDEX: A GROUNDBREAKING BLOCKCHAIN-BASED NETWORK THAT REDEFINES THE FUTURE OF WORK
MAKE YOUR CRYPTO INVESTMENT WITH THE BEST HYBRID INTELLIGENCE SYSTEM
THE WORLD FIRST ISPO ATTRACTS 1 BILLION USD WORTH OF ADA
Bitcoin and altcoins have made a strong recovery in the past week. The sentiment turned around after the U.S. Federal Reserve Chairman Jerome Powell, during a House Financial Services Committee meeting on September 30, made it clear that he does not intend to ban cryptocurrencies but said that stablecoins should be regulated. This energised the bulls who had been on the backfoot since China renewed its crackdown on crypto services on September 24.
Bitcoin bounced off the 100-day simple moving average (SMA) on September 29 and broke above the descending channel on October 1. This move suggests that the downtrend could be over. The 20-day exponential moving average (EMA) has turned up and the relative strength index (RSI) has jumped into the positive territory, indicating that bulls have the upper hand.
The BTC/GBP pair could now rally to £38,257.06 where the bears are likely to mount a stiff resistance. If the bulls defend the 20-day EMA during the next dip, it will increase the possibility of a break above £38,257.06 If that happens, the pair may start its northward march to £42,653.53 and then retest the all-time high at £47,240.05. Alternatively, if the price turns down from the current level or the overhead resistance and breaks below the 20-day EMA, the pair could plummet to £31,011.
Lastly please check out the advancement's happening in the cryptocurrency world.
Enjoy the issue!
FEATURING IN THIS WEEKS EDITION
– Bondex
– Omnia
– MELD
– Mining
– Gain Protocol
– Aristo
– DeGeThal
CRYPTO TRADE OPPORTUNITIES
BITCOIN – BTC/GBP
Bitcoin price GBP bounced off the 100-day simple moving average (SMA) on September 29 and broke above the descending channel on October 1. This move suggests that the downtrend could be over. The 20-day exponential moving average (EMA) has turned up and the relative strength index (RSI) has jumped into the positive territory, indicating that bulls have the upper hand.  Read more
ETHEREUM – ETH/GBP
The tight range trading in Ether resolved to the upside on October 1 when bulls pushed and closed the price above the 20-day EMA. This was the first sign that the bears are losing their grip. The recovery is currently facing selling near £2,576.33 but the positive sign is that bulls are buying on dips as seen from the long tail on the October 4 candlestick. The 20-day EMA has turned up and the RSI has climbed into the positive territory indicating an advantage to bulls. Read more
RIPPLE – XRP/GBP
Ripple price GBP tight range trading between the 100-day SMA and the 20-day EMA resolved to the upside on October 1. This was the first sign that the bears may be losing their grip.
However, the XRP/GBP pair has not been able to pick up momentum since breaking above the 20-day EMA, suggesting a lack of demand at higher levels. A minor positive is that bulls have held the price above the 20-day EMA. Read more
CARDANO – ADA/GBP
ADA to GBP broke above the downtrend line on October 1 but the bulls have not been able to push the price above the 20-day EMA. This suggests that sentiment remains negative and traders are selling on rallies.
The bears are currently attempting to sink the price below the uptrend line. If they succeed, the ADA/GBP pair could drop to £1.50 and then retest the critical support at £1.33. Read more
BINANCE – BNB/GBP
Binance Coin recovered above the 100-day SMA on September 29 and followed that up with a move above the 20-day EMA on September 30. This was the first indication that the selling pressure may be reducing. Sustained buying pushed the price above the £305.40 overhead hurdle on October 1. The bulls have been sustaining the price above this level for the past few days, which is a positive sign.   Read more
Subscribe to the latest crypto news digital magazine for the latest updates about profit and loss in cryptocurrency.
RMRK LAUNCHES MONTH-LONG $50000+ NFT HACKATHON
Zug, Sept 30th 2021 – RMRK Association – the steward and main developer of the world's most advanced NFT protocol – announced a launch of the RMRK Hackathon on Devpost with a prize pool of $50'000 plus valuable NFTs.
The hackathon, in partnership with ecosystem heavy-hitters like PAKA, Phala, PoCoCo, D1, Signum, Illusionist Group, Subsquid, and AMPnet, is meant to expand the NFT ecosystem on Dotsama (Polkadot and Kusama) by building on top of and around the RMRK protocol and its tools and products. Read more
GET CASH FOR CRYPTO, MELD'S CRYPTO COLLATERALISED LOANS ARE A GAME CHANGER
Cryptocurrencies have solidified their position as one of the most profitable asset classes.
LATEST UPDATE:
In latest news, the MELD ISPO has over One Billion USD staked! This event is historic, not only as being the world's first ISPO but also beacuse of its enormous popularity, now attracting over 1 Billion USD worth of ADA. The current ISPO participants amount to more than 26,000 delegators. it's to be noted that the total amount of ADA delegated is imminently going to surpass 500 million! Read more
MARKET WRAP: BITCOIN RISES TOWARD $50K ON HOPES FOR US ETF APPROVAL
Bitcoin strengthened on Monday as buyers attempted to push the price toward $50,000 for the first time since early September. The cryptocurrency is up about 15% over the past week as traders appear to be exiting short positions. Analysts are waiting for the U.S. Securities and Exchange Commission (SEC) to approve a bitcoin exchange-traded product (ETF), which could happen in a matter of weeks
BITCOIN HAS ALREADY EFFECTIVELY REPLACED GOLD, ACCORDING TO BILLIONAIRE INVESTOR CHAMATH PALIHAPITIYA
Billionaire investor and former Facebook executive Chamath Palihapitiya says that Bitcoin (BTC) has already effectively replaced gold as a store of value. In a new CNBC interview, the founder and CEO of Social Capital shares why he believes the market share of the flagship cryptocurrency will continue to grow. He also predicts a swath of other crypto projects growing in prominence due to solid use cases. "Bitcoin, I think, has effectively replaced gold, and it will continue to do so and so that market cap is just going to grow.
MAINFRAME PROTOCOL – LAUNCHPAD, VIDEO GAME BUILDER AND STREAMING PLATFORM BUILDER
MainFrame Protocol is a suite of applications explicitly built for the content creators of the future. It consists of 4 major components: a no code video game builder, a marketplace for game resources (NFTs) a launchpad for Theta projects and video games, a low latency CDN component with near real time communication. Read more
CRYPTO TRANSACTIONS SURGE 706% IN ASIA AS INSTITUTIONAL ADOPTION GROWS — CHAINALYSIS
When it comes to cryptocurrency transactions, the region of Central and Southern Asia and Oceania, or CSAO, is growing rapidly. Emerging markets across Central and Southern Asia have registered a dramatic uptick in cryptocurrency transactions, highlighting a diverse range of motivations among locals for gaining exposure to digital assets such as Bitcoin (BTC) and Ether (ETH). New research from blockchain analytics firm Chainalysis finds that crypto transactions surged 706% in Central and Southern Asia and Oceania — a broad region that includes countries such as India, Pakistan and Vietnam — between July 2020
BONDEX: A GROUNDBREAKING BLOCKCHAIN-BASED NETWORK THAT REDEFINES THE FUTURE OF WORK
The way cryptocurrencies have emerged as an asset class, there is no doubt that the future of finance and many other business process solutions will be driven by revolutionary blockchain technology. Bondex, a blockchain startup, is here to disrupt an essential business process with its innovative and futuristic ecosystem. Bondex aims to play a pivotal role as a next-generation talent acquisition platform to redefine the future of work. Read more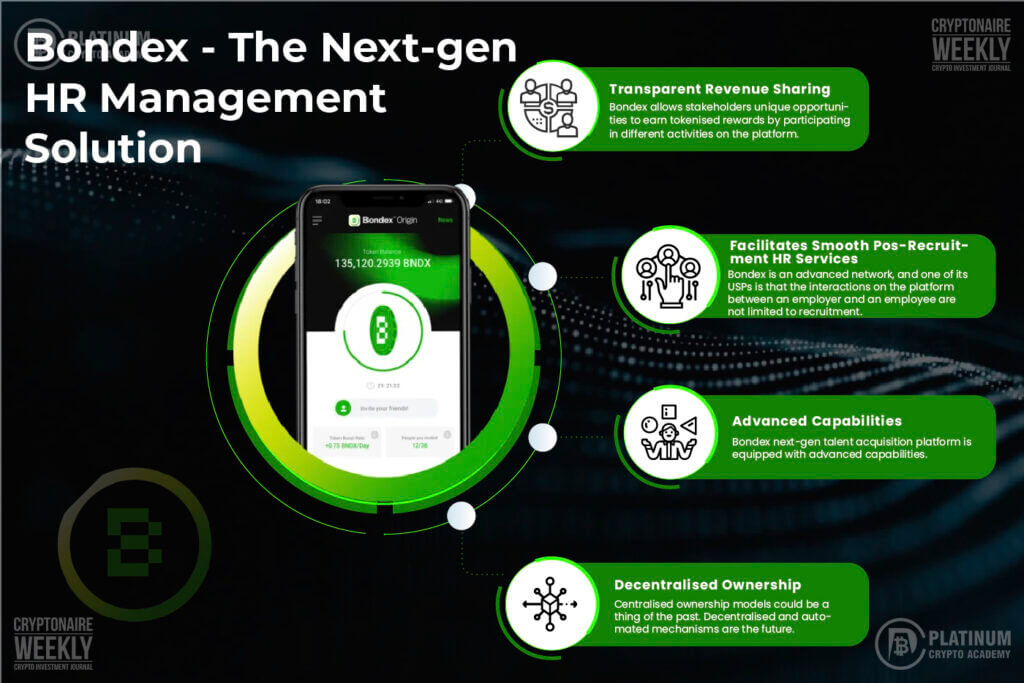 BONDEX IS CREATING A BLOCKCHAIN-DRIVEN NEXT-GEN TALENT MANAGEMENT AND ACQUISITION PLATFORM

A lot is happening with the way human resources are organised and channeled today. The COVID-19 pandemic has shown how the majority of the tasks can be performed without having to physically visit a modern workplace. There has also been a significant increase in the number of professionals looking for only flexible working opportunities. Read more
TOTAL VALUE LOCKED ACROSS MULTIPLE DEFI CHAINS NEARS $200 BILLION — ETHEREUM'S TVL DOMINANCE 69%
While the crypto economy has seen a decent uptick in performance during the first week of October, a number of decentralized finance (defi) tokens have seen tremendous gains. Furthermore, the total value locked in defi has risen to $195 billion, jumping more than 14% over the last two weeks from $171 billion. Defi Tokens Skyrocket, Total Value Locked in Dapps Grows to $195 Billion, Axie Infinity, Shiba Inu See Top Gains Digital currency markets of all sorts are seeing some gains this week and defi coins and smart contract tokens have all seen significant rises during the last seven days.
OMNIA DEFI: TOKENISATION OF REAL-WORLD ASSETS
A blockchain is an immutable ledger in the digital currency investment; however, the real power of the new piece of technology facilitates utmost security. The blockchain-based tokenisation of assets is a game-changer in digital currency investment due to its security paradigm and secured database.  Read more
HASH RATE AND DIFFICULTY REBOUND SHOWS MINERS HAVE RECOVERED FROM CHINA EXODUS
BBitcoin mining profitability is up 275% since before the May 2020 halving. Bitcoin mining operations are on the path to full recovery following the most dramatic short-term disruption in network history earlier this year, and miners are reaping the rewards in revenues. In its Oct. 4 Week on Chain report, on-chain analytics provider Glassnode reports that Bitcoin hashrate has largely recovered despite 50% of the network's hashing power going offline in May following China's crackdown on the sector. Hash rate measures the total computational resources of a Proof-of-Work network.
MAKE YOUR CRYPTO INVESTMENT WITH THE BEST HYBRID INTELLIGENCE SYSTEM
Crypto investment is becoming more relevant among new-age traders and investors. Aristo is great for anyone aiming to achieve a stable trading profile with higher returns. It is a new age crypto token named after Aristotle. It is an ERC20-based token inheriting security from Ethereum. the mother brand is planning to make crypto investment secure and hassle-free with the new Aristo token. Read more
EL SALVADOR BEGINS BITCOIN MINING OPERATION USING GEOTHERMAL ENERGY FROM VOLCANOES
E l Salvador has begun mining Bitcoin (BTC) using geothermal power harnessed from volcanoes. Salvadoran President Nayib Bukele, who spearheaded the country's move to adopt BTC as legal tender, revealed a video teaser to his 2.9 million followers showing clips of the new mining facility. Bukele also shared a screenshot of a wallet that the country is using to collect the BTC generated from its mining operations. At the time of Bukele's post, 0.00599179 BTC, worth $286, had been mined using energy from volcanoes. "We're still testing
CRYPTO CUSTODIAN HEX TRUST GETS $10M IN LATEST INVESTMENT ROUND LED BY ANIMOCA BRANDS
Fresh capital will go toward expansion efforts, security and market infrastructure of the Hex Safe custodial platform. Crypto custodian Hex Trust has secured $10 million in fresh funding to further the market infrastructure and security of its licensed custody platform, Hex Safe. Animoca Brands, a gaming and non-fungible token unicorn, led the round. Participation in the investment round also came via Ripple Labs, Algorand Foundation, BCW Group, Tessera Capital Partners, Mind Fund, Double Peak Group, and Token Bay Capital.
VALUED AT $4.3B, NFT PLATFORM SORARE TO INVEST IN WOMEN'S SPORTS
"We believe that NFTs can significantly accelerate the development of women's sports," Sorare CEO Nicolas Julia told Cointelegraph. Following a $680-million funding round, nonfungible token (NFT) marketplace Sorare is looking to be an active player in bridging the gap between sports and digital entertainment. Now valued at $4.3 billion, Sorare told Cointelegraph that the company plans to use the fresh capital to expand its business with new hires and partnerships, as well as support communityled programs.
KEVIN O'LEARY: 'MY CRYPTO EXPOSURE IS GREATER THAN GOLD FOR THE FIRST TIME EVER
S hark Tank star Kevin O'Leary, aka Mr. Wonderful, has revealed that he has more crypto exposure than gold for the first time. He hopes to increase his crypto allocation to 7% in the next few months, emphasizing: "I don't see a situation where crypto's ever going away." Kevin O'Leary Now Has More Crypto Than Gold Kevin O'Leary has revealed that his portfolio now has greater exposure to cryptocurrency than gold for the first time. He tweeted Saturday: For the first time ever, my crypto exposure is greater than gold.