28TH DECEMBER LATEST CRYPTO NEWS DIGITAL MAGAZINE
The US equity markets are witnessing a Santa rally but Bitcoin has been left behind as it has been trading near the $50,000 level for the past few days. As the year comes to an end, the focus shifts to what Bitcoin could achieve in 2022.
Mexico's third-richest person Ricardo Salinas Pliego in his Twitter message called out fiat currencies, the Dollar, the Euro, or the Yen as "fake money made of paper lies." He told investors to "steer clear of fiat money" and "invest in Bitcoin."
Bitcoin broke and closed above the downtrend line on December 23 but the bulls could not sustain the momentum and push the price above the overhead resistance at £39,299. This suggests that bears have not yet given up and are selling on rallies.
The BTC/GBP pair has turned down from the overhead resistance and could now drop to the 200-day simple moving average. The downsloping 50-day SMA and the relative strength index (RSI) in the negative zone indicate that bears are in control. If bears pull the price below £34,000, the selling could intensify and the pair could extend its downtrend. Alternatively, if the price rebounds off the 200-day SMA or the support at £34,000, it will suggest that bulls are aggressively buying at lower levels.
The pair could then remain range-bound between £39,299 and £34,000 for the next few days. A break and close above £39,299 and the 50-day SMA will indicate that the downtrend could be over. The pair could then rally to £45,000 and later retest the all-time high at £51,000. We will wait for the price to break and sustain above £39,299 before recommending a trade in it.
Lastly please check out the advancement's happening in the cryptocurrency world.
Enjoy the issue!
FEATURING IN THIS WEEKS EDITION
– Xanto
– Bitshiba
– bitcci
– World Mobile Token
– Smartchem (SMAC)
– DeGethal
– Deepsquare
– Mirai Labs
– Candao
– Solidus
– Fren
CRYPTO TRADE OPPORTUNITIES
BITCOIN – BTC/GBP
Bitcoin broke and closed above the downtrend line on December 23 but the bulls could not sustain the momentum and push the price above the overhead resistance at £39,299.
This suggests that bears have not yet given up and are selling on rallies. The BTC/GBP pair has turned down from the overhead resistance and could now drop to the 200-day simple moving average. Read more
ETHEREUM – ETH/GBP
Ether bounced off the 100-day SMA but the bulls could not push and sustain the price above the downtrend line. This suggests that demand dries up at higher levels.
The downsloping 50-day SMA and the RSI in the negative territory indicate that the path of least resistance is to the downside.  Read more
RIPPLE – XRP/GBP
XRP broke above the 200-day SMA on December 21, indicating that the bulls are making a comeback. However, the buyers could not clear the overhead hurdle at the 50-day SMA, which suggests that bears are selling on rallies.
The XRP/GBP pair turned down from the 50-day SMA on December 24 and the price dipped to the 200-day SMA. The bulls attempted to defend this level but the failure to achieve a strong bounce off it indicates a lack of demand at higher levels. Read more
CARDANO – ADA/GBP
Cardano re-entered the channel on December 22, indicating the start of a recovery. The bulls pushed the price to the 50-day SMA but could not clear this barrier. This suggests that bears continue to sell at higher levels.
The ADA/GBP pair could now drop to £1.03 and then to the support line of the channel. A break and close below £0.89 could signal the start of a deeper correction to the critical support at £0.70.  Read more
BINANCE – BNB/GBP
The bulls pushed Binance Coin above the overhead resistance at £411.50 on December 27 but could not sustain the higher levels. The bears have pulled the price back below £411.50 today.
If the price sustains below £411.50, the BNB/GBP pair could drop to the strong support at £377. This is an important support for the bulls to defend because a break below it could complete a double top pattern.   Read more
Subscribe to the latest crypto news digital magazine for the latest updates about profit and loss in cryptocurrency.
bitcci – Revolutionising The Sex Industry
As blockchain technology evolves, it will have a dramatic impact on nearly every aspect of commerce. Blockchain is changing the way we do everything, from financial transactions to medical services. The adult industry is also embracing blockchain to make business operations more efficient. Currently, adult industries are facing a number of obstacles that prevent them from entering the crypto market. These obstacles include legal restrictions, a lack of transparency, and a lack of safety. That's where bitcci comes in. The bitcci protocol provides sex workers with full transparency, blockchain-based payments, and a secure environment. Below is a short overview of the project. Read more
Mirai: A sustainable ecosystem based on DeFi, NFTs and GameFi
Mirai, a Japanese word meaning the future, is a platform that seeks to promote eco sustainable projects and make ecology look cool to the future and current generations. Until now, we have had piecemeal efforts by entrepreneurs and companies as they strive to create projects that are deemed to be ecologically sustainable. These projects have borne little to no fruit.
This may be attributed to a number of factors. First, there is a limited budget on these projects as they are not the core products of the sponsoring entities. Secondly, poor marketing and rollout of some of these projects has made them achieve little success. Finally, the level of ownership of some of these projects by the general public has been left wanting. Read more
https://youtu.be/6fKWegYuRts
The Importance of DeGethal and DTM Tokens
The need for cryptocurrencies today
A few years ago, if you had mentioned the term 'cryptocurrency', we would have thought of some kind of digital currency involving an underworld banking system, sitting behind shady computers, or something illegal.
But now this term 'cryptocurrency' is booming and not only in the business sections of daily websites or financial publications but on their cover page. Entire sections of news publications are becoming devoted to things like Bitcoin, Ethereum, and Blockchain.
Jurisdictions around the world are working for regulations to allow or make it easier for companies to carry out initial coin offerings (ICO's) or token issuances. Is 'cryptocurrency' even the right terminology? Or should it be 'digital currency'? 'virtual currency'?
So, the question we ponder now is: what do we call it? Do cryptocurrencies really deserve this much attention? Should we care this much? What is the long-term impact of crypto? Read more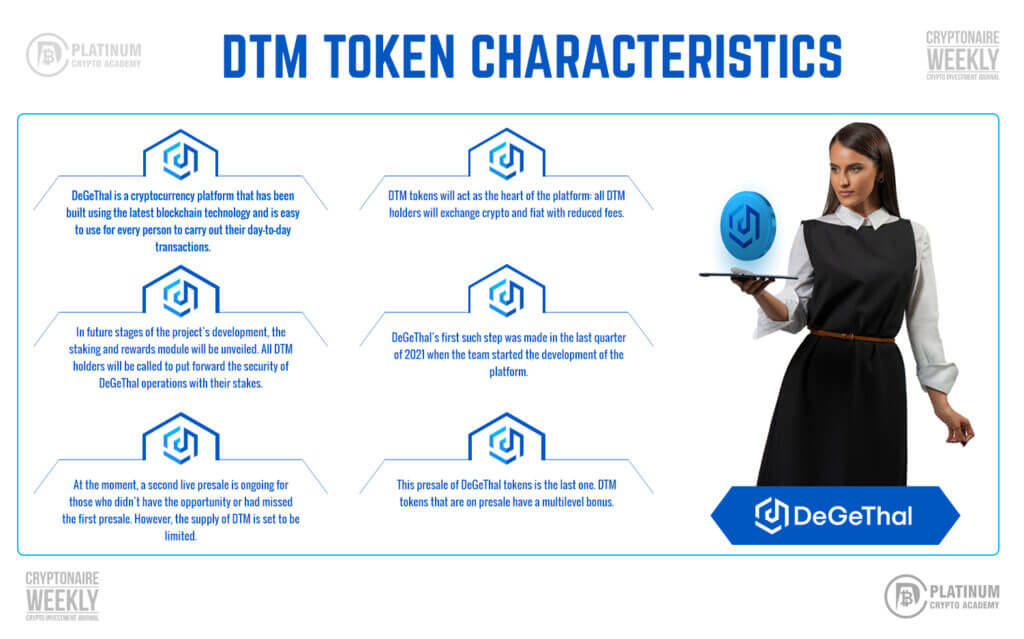 Intelligent Fluids: The chemical industry embraces blockchain!
Smart but powerful green chemistry doesn't only disrupt the global industrial cleaning markets but also encourages corporates to transition to environmentally-friendly products. The Intelligent Fluids technology replaces the chemical reactions of solvents with physical interactions on the molecular level to enable cleaning agents to break down and wash off all kinds of surface dirt with zero negative impact to health and the environment, and will also soon offer a crypto-coin (SMAC – Smartchem) that attracts early adaptor companies to change to green chemistry.  Read more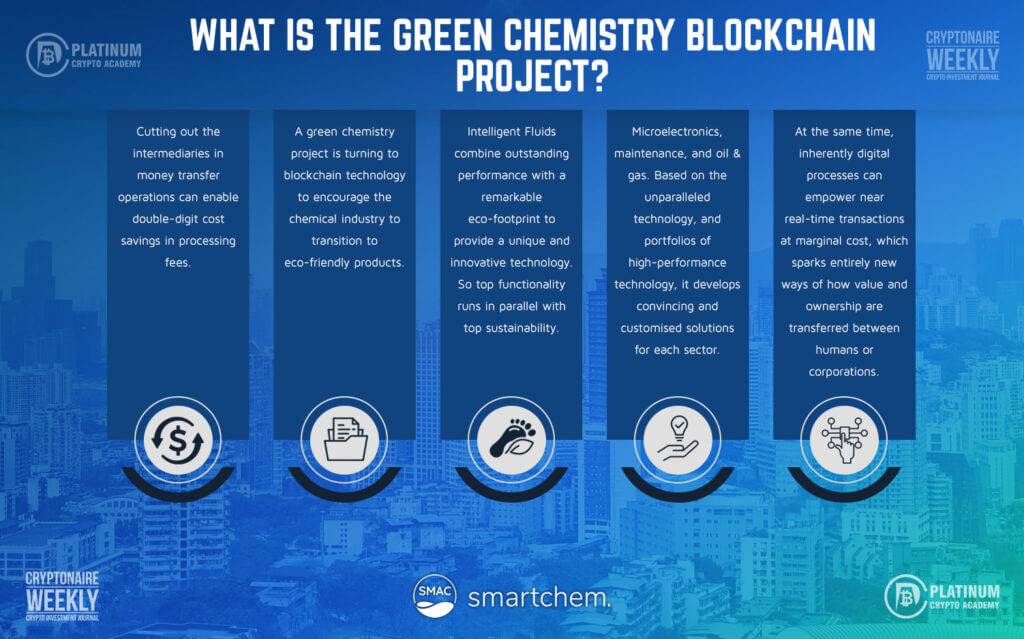 Turkish President Erdogan Says Cryptocurrency Law Is Ready as Crypto Regulator Fines Binance 8 Million Lira
Turkey's President Recep Tayyip Erdoğan reportedly announced that the country's cryptocurrency law "is ready" and will be submitted to parliament "without delay." Meanwhile, Turkey's Financial Crimes Investigation Board (MASAK), which oversees crypto exchanges, has reportedly fined Binance Turkey over violations found during liability inspections. Turkish Cryptocurrency Law 'Is Ready' Turkish President Recep Tayyip Erdoğan said at a meeting with journalists Friday that the country's cryptocurrency law is ready, ABC Gazetesi reported. While providing information on crypto legislation, Erdogan said: The law is ready, we will send it to the parliament soon without delay.
Nearly 50% of the blockchain industry's usage comes from games
VCs invested over $4 billion in blockchain-based games and infrastructure in 2021, while gaming unraveled as the most potent movement in the industry. With more than 1.4 million Unique Active Wallets (UAW) connecting daily to blockchain games, they surpassed DeFi and became the industry's leading category this year, according to the BGA Blockchain Game Report 2021, recently published by DappRadar. While game dapps accounted for 49% of the blockchain industry's total usage, game NFTs recorded over $4.5 billion in trading volume, accounting for 20% of this year's total NFT sales.
Institutions Have Only Dipped Their Toes in Crypto, Says Ex UK Chancellor
According to Philip Hammond bitcoin and the alternative coins are "highly volatile" and people should invest in them only funds they have "written off." Philip Hammond – former Chancellor of the UK and an ex-member of the Conservative Party – believes people should be extra cautious when entering the cryptocurrency space. He said that institutions, despite recognizing the asset class, have only dipped their toes in terms of investing. Dipping Toes In October this year, former Chancellor Lord Hammond became a senior advisor at Copper – a British cryptocurrency custody firm that provides infrastructure for the institutional digital asset investment community. Although he is part of the world of bitcoin and alternative
Dogecoin Foundation Working with Ethereum Co- Founder Vitalik for DOGE Staking Proposal
Dogecoin Foundation is working with Vitalik Buterin, the co-founder of Ethereum, on crafting a DOGE proposal for a 'Community Staking' version of Proof-of- Stake (PoS) that will allow every coin holder to stake their coins and earn rewards for their contribution to running the network. Ethereum itself is transitioning from Proof-of- Work (PoW) consensus mechanism to PoS. While Ether holders can already stake their ETH, nearly 8.8 million ETH have been staked so far; they are not yet unstakable as it is yet to be merged with ETH 2.0.
Concerts in the Metaverse could lead to a new wave of adoption
Colin Fitzpatrick is a Dubliner based in Dubai who turned a bad time during quarantine into a business that promises to bring your favorite artists to a metaverse near you. His company Animal Concerts, which launches in January, is in the process of signing world-class artists to perform in the decentralized worlds of the Metaverse. Among the first to get the Animal Concerts treatment was Grammywinning rapper Future
Meme Token Economy Climbs 14% in 2 Weeks — DOGE, SHIB Command 83% Dominance
Toward the end of this week, crypto-assets rebounded in value after meandering for two weeks and consolidating. While specific tokens like decentralized finance (defi) coins, metaverse tokens, and smart contract coins improved a great deal, the meme-token economy increased in value as well, as a number of meme coins like dogecoin, shiba inu and dogelon mars have seen significant gains during the last seven days. Meme Coins Climb Higher in Value This Past Week — Shiba Fantom and Luni Lead the Pack 21 days ago on December 5, the meme token economy was down more than 12% and hovering just above the $47 billion region.
Just 1.3 million Bitcoin left circulating on crypto exchanges
6.3% of total Bitcoin supply is left on exchange wallets, according to a new analysis by Cryptorank. In glad tidings for an orange Christmas, Bitcoin (BTC) supply is drying up to lows not seen for years. In a recent tweet by CryptoRank, just 6.3% of the total Bitcoin supply, or 1.3 million BTC, is held on cryptocurrency exchanges. The decreasing supply is nothing new, trending down since the Bitcoin halving in 2020 when the BTC block reward was cut in two. BTC availability on exchanges followed suit, slowly trending down over the past year. Exchange wallets accounted for 9.5% of the BTC supply in October 2020, just before the 2020 Christmas all-time highs, and 7.3% in July this year. The 6.3% December figure is the lowest recorded in 2021.