1ST JUNE LATEST CRYPTO NEWS DIGITAL MAGAZINE
In the 184th Edition of the latest crypto news digital magazine, you will get to know all the weekly updates regarding the market. Strong bull runs are followed by sharp bear markets and the moves are exaggerated in the crypto markets. Newbie traders had taken on too much leverage when the markets were on fire and it was not uncommon to load up to 100-to-1 leverage. When the going is good, such huge leverage can quickly grow the account but the problem happens when the market turns. A sharp fall can wipe out months of gains for such traders.
OUR BLOG ARTICLES FOR THIS SPECIAL ISSUE ARE
TICAN – THE TRUSTED AND EFFICIENT CRYPTO PAYMENT
GATEWAY,
IZOBI ECOSYSTEM – BRIDGE TO THE CRYPTO COMMUNITY,
&
LEDGER NANO X – THE GATEWAY TO EVERYTHING CRYPTO
We had advised traders to buy 40% of the desired allocation in Bitcoin on a bounce off £21,000. Traders got that opportunity on June 8 when the price rebounded off £21,952.65. Those who bought the dip are already sitting on profits.The BTC/GBP pair is unlikely to start a new uptrend in a hurry. Therefore, traders should book profits on their gains and again attempt to buy at lower levels. About 50% of the position may be closed at the current level and the rest can be held with the stop-loss at breakeven.
The 20-day EMA has started to turn up and the RSI has risen into the positive territory, indicating that the selling pressure has reduced. The pair may now rally to the 50-day SMA, which is likely to act as a stiff resistance.If the price turns down from the 50-day SMA, the pair could drop to the 20-day EMA. A strong rebound off this support will suggest that the sentiment has turned bullish and traders are attempting to buy on dips.
A breakout and close above the 50-day SMA will clear the path for a stronger recovery that may reach the 61.8% Fibonacci retracement level at £33,902.53 and then £38,000. Conversely, if the price turns down and breaks below the 20-day EMA, it will suggest that traders are squaring their positions on rallies. That may result in a few days of range-bound action.
Lastly please check out the advancement's happening in the cryptocurrency world.
Enjoy the issue!
FEATURING IN THIS WEEKS EDITION
– Roocoin
– Amber Group
– Gaugecash
– Tican
– Ledger
– iZOBi
– Zumo
CRYPTO TRADE OPPORTUNITIES
BITCOIN – BTC/GBP
Bitcoin's relief rally again turned down from the 38.2% Fibonacci retracement level at £28,593.47 on May 27. This suggests that traders are selling on every minor rally. Both moving averages are sloping down and the relative strength index (RSI) is in the negative territory, indicating bears have the upper hand. The sellers will now try to sink the BTC/GBP pair below the £23,620 support. If they succeed, the pair could drop to the critical £21,000 to £20,000 support zone. Read more
ETHEREUM – ETH/GBP
Ether broke above the 38.2% Fibonacci retracement level of £1,935.11 on May 26 but the bulls could not push the price above the 20-day EMA. However, the positive sign is that bulls continue to buy at higher levels. This has resulted in the formation of a symmetrical triangle pattern. If buyers can propel the price above the triangle and the 50-day SMA, it will suggest the end of the downtrend. The ETH/GBP pair could then rally to the 61.8% retracement level at £2,379.25. Read more
RIPPLE – XRP/GBP
XRP is trading inside a descending channel. The bulls are attempting to stage a recovery but are facing resistance at the 20-day EMA. If the bulls push the price above the 20-day EMA, the XRP/GBP pair could rally to the 50-day SMA, which is likely to act as a stiff resistance. The bulls will have to push the price above the resistance line of the channel to signal a change in trend. Read more
CARDANO – LTC/GBP
Cardano is facing resistance at the downtrend line but the positive sign is that the bulls are attempting to form higher lows. The 20-day EMA is flat and the RSI is above the midpoint, indicating a balance between supply and demand. If the bulls push the price above the downtrend line, the ADA/GBP pair could move up to £1.40 and then to £1.60. If both these levels are crossed, the bulls may challenge the all-time high at £1.75137. Read more
BINANCE – BNB/GBP
Binance Coin's relief rally hit a wall at the 38.2% Fibonacci retracement level at £281.56. However, the positive sign is that the bulls did not allow the price to drop below the support at £200. This suggests that traders are not waiting for a deeper correction to buy. The relief rally is currently facing stiff resistance at the downtrend line. The downsloping 20-day EMA and the RSI below 42 suggest the bears are in control. Read more
Subscribe to latest crypto news digital magazine for the latest updates about profit and loss in cryptocurrency.
AN INTRODUCTION TO AMBER GROUP – YOUR GATEWAY TO CRYPTO FINANCE
Amid greater crypto participation from an increasingly diverse group of investors, Amber Group is well-positioned to accelerate the democratization of crypto finance through highly accessible crypto finance tools. Amber Group, the leading crypto finance service provider, is pleased to introduce its offerings to users of Platinum Crypto Academy and more users in the UK. Amber Group is an integrated crypto finance platform that provides 24/7 global coverage for services, including market making, liquidity provision, asset management, and structured products. Founded in 2017, Amber Group is now a market leader in pricing, trading, and hedging cryptocurrency products. It has traded over $330 billion since inception and exceeded $1 billion in assets under management. Read more
GAUGECASH – A DEFI MONETARY SYSTEM
GAUGECASH, the first DeFi Monetary System available to crypto users, recently appointed Platinum Crypto Academy and Cryptonaire Weekly Magazine to support and further their platform among cryptocurrency enthusiasts. The platform, expected to hit the market in the fourth quarter of 2021, with technology integrations on Avalanche and Chainlink, will solve the issue of decentralization, as well as the long-term stability of assets. Read more
COINCHECK CRYPTO EXCHANGE ANNOUNCES JAPAN'S FIRST EVER IEO
The Hashpalette token sale on Coincheck is set to become Japan's maiden initial exchange offering event. Coincheck's goal of conducting the first-ever initial exchange offering in Japan is moving closer to becoming a reality. According to a release issued on Monday, the Japanese crypto exchange announced that the Hashpalette (HPT) initial exchange offering will take place in the summer. IEOs are a modified form of initial coin offering, where a crypto exchange platform acts as an intermediary between token issuers and investors. Read more
BITCOIN WILL SURGE 500% THIS YEAR AS TSUNAMI OF CASH COMES BACK TO CRYPTO, SAYS BTC FIREBRAND MAX KEISER
Early Bitcoin investor and proponent Max Keiser is undeterred by the recent crypto market crash. In a new interview on The Wolf of All Streets podcast, Keiser says massive money printing and fresh signs of inflation will force companies to increasingly buy BTC this year. He sees corporations taking part in a Bitcoin buying spree that fuels a 500% price surge by the end of 2021.
"When corporate America really runs out of room to finagle and to escape the Bitcoin reality, they've got to make the move. I think it happens in 2021. My price target for 2021 is still $220,000 per Bitcoin. It's an aggressive price target, but it's based on the US dollar running into severe trouble." Read more
UK BANKS SUSPEND PAYMENTS TO CRYPTO EXCHANGES DUE TO "HIGH LEVELS OF SUSPECTED FINANCIAL CRIME"
Barclays, Starling, and Mozo are blocking their customers from transferring money to cryptocurrency platforms like Binance and Swiss Borg. These banks are cracking down on transfers to crypto exchanges in recent weeks by suspending payments to the sector, reported local media. Earlier this year, HSBC and other unmentioned banks Read more
AVERAGE BITCOIN TRANSACTION FEE HITS LOWEST LEVEL SINCE JANUARY AS MARKET COOLS DOWN
And thanks to new restrictions on Bitcoin mining in China, fewer computers are competing for blocks. The average Bitcoin transaction fee is now 0.0002 BTC, or around $7. That's the lowest it's been since January 1, according to data from BitInfoCharts. Average Bitcoin transaction fees have sunk to lows of $7, according to data from blockchain analytics site BitInfoCharts. Fees haven't been this low since January. The Bitcoin blockchain charges a fee for each transaction and distributes the proceeds to miners. Fees rise when demand for processing transactions outstrips the supply of miners. On April 21, average fees hit a record high of $62.8 per transaction. Read more
DEFI TOKENS RALLY AS ETHEREUM JUMPS 11%
As the crypto market rises from its weekend slumber, Ethereum racks up some significant gains. The price of Ethereum has increased by 11% in the past 24 hours to highs of $2,640. The rise caps off a 24% increase in the past week. Ethereum has brought several coins that use its smart contracts along for the ride. Most of the top decentralized finance (DeFi) tokens have also increased in price in the past day. Read more
RESERVE BANK OF INDIA SLAMS BANKS AFTER THEY STOP SERVICES FOR CRYPTO USERS
The nation's central bank said an old report from 2018 was no longer valid for actions taken by private banks today. The Reserve Bank of India, the country's central bank, released a new directive today after local banks ceased crypto services for users citing a directive from 2018, an official filing shows. "It has come to our attention through media reports that certain banks/ regulated entities have cautioned their customers against dealing in virtual currencies by making a reference to the RBI circular dated April 06, 2018," the bank stated. Read more
SINGAPORE BANK DBS ISSUES $11.3 MILLION IN BLOCKCHAIN BONDS
The announcement comes just a few months after DBS launched its crypto exchange. DBS, a multinational bank based in Singapore, has announced a new tokenized bond. It's part of an $11.3 million (S$15 million) STO. Southeast Asia's largest bank, Singapore-based DBS, has become the latest bank to issue a bond on the blockchain. Read more
TICAN – THE TRUSTED AND EFFICIENT CRYPTO PAYMENT GATEWAY
Today's article explores a crypto payment gateway solution Tican, examining the need and requirement in the emerging space.
WHAT ARE SMART CONTRACTS ON BLOCKCHAIN?
Smart contracts are self-executing business automation applications that run on a decentralised network such as blockchain.
While blockchain acts as a kind of database, confirming that transactions have taken place, smart contracts execute pre-determined conditions. Read more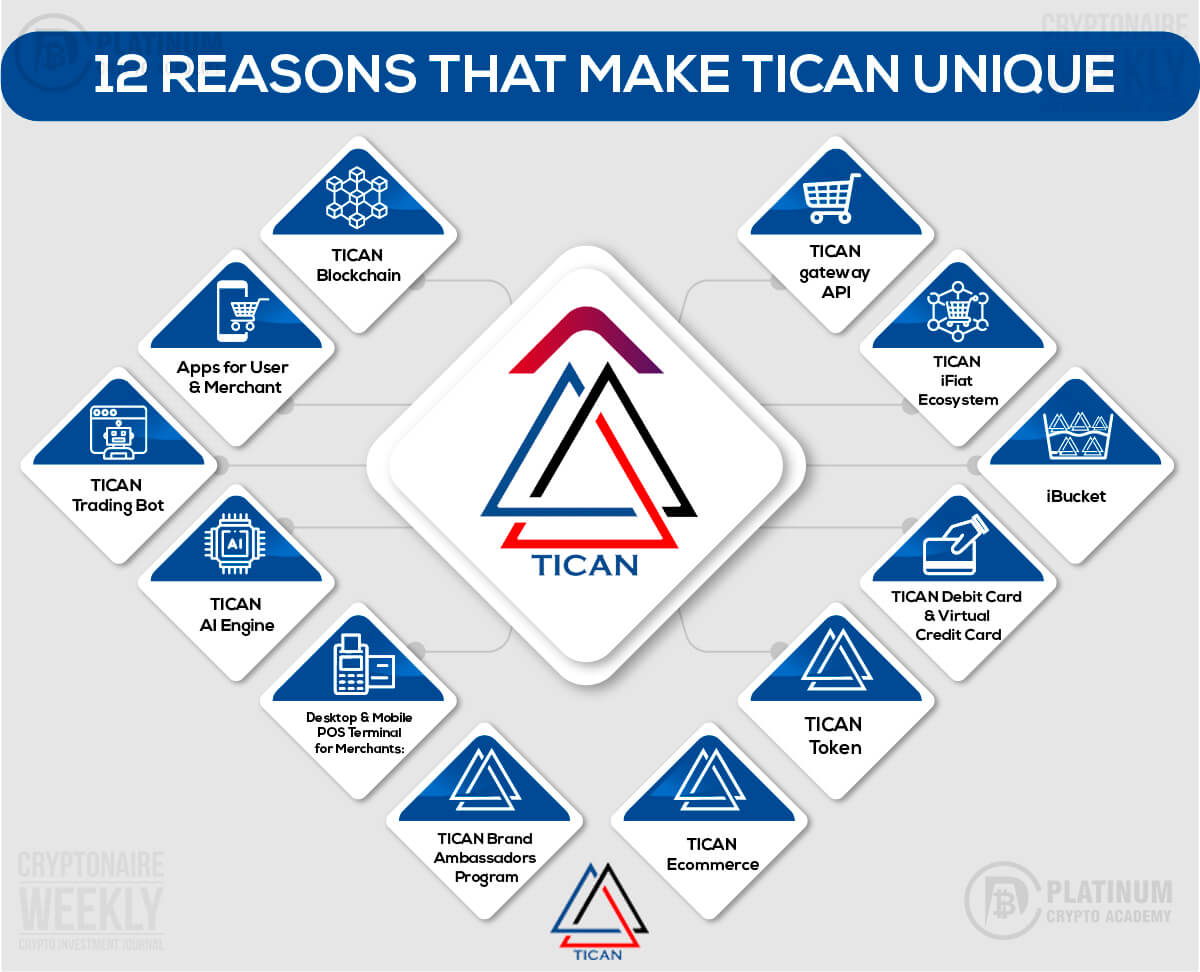 IZOBI ECOSYSTEM – BRIDGE TO THE CRYPTO COMMUNITY
The cryptocurrency industry keeps getting better and bigger each passing day. Would you like to be part of it? That has most likely been on your mind, and the only problem is a chance to do so. You might not need to look for it longer. As an investor looking for a cryptocurrency-investing opportunity with high chances of it paying off eventually, look no further. After all, the iZOBi Ecosystem offers you precisely that. Would you want to buy a crypto token for as low as €0.05? Your answer will most likely be yes, since such opportunities are hard to come by. However, it exists no doubt, and all you have to do is take that first step.
However, before doing so, it would be nice to understand what you are getting yourself into to be sure it is worth the risk. That's why this article focuses on the iZOBi Ecosystem, its crypto token, and the cryptocurrency-investing opportunity it offers anyone looking for ways of joining the crypto sector. Read on to find out that and much more about the platform. Read more
LEDGER NANO X – THE GATEWAY TO EVERYTHING CRYPTO
The crypto market is forecasted to increase from $2.3T in 2021 to $8.5T by 2026, growing at 30% CAGR. Some of the key drivers of this growth in cryptocurrency are DLT (or distributed ledger technology) and increased investments in venture capital. As far as consumers are concerned, cryptocurrency investing opportunities offer them faster and cheaper P2P payment options when compared to those provided by traditional money service providers, without requiring any personal details from them. Read more